Coconut Flour Muffins (recipe)
Hey guys! It's so great to finally, actually be back! This year really ran away from me after taking part in (and winning) the KISS Sandwich Showdown! As has been the pattern in recent years a mix of health and personal struggles meant I had to step away and take care of myself, my mom, and, even more importantly, continually reassess where my energies and finances were focused.
As some of you may already know some Russian hackers had also decided they had plans for this site! Apparently they found their way in and deleted HUNDREDS upon HUNDREDS of posts. As you can well imagine I was beyond devastated. Although I have seemed to be quiet as far as new posts were concerned, that was because I was concentrating on securing and restoring things on the backend first. The post restorations are still in progress but everything else is finally on the up and up (yay!).
Even better, I'm finally in the kitchen regularly again. It's been a rocky emotional ride where the stove is concerned. Taking part in the KISS Sandwich Showdown helped a lot where that was concerned and now that things have stabilized even more and I have a semi-regular routine again it's become easier to tackle having a steady stream of content again! I know you all have missed having that, and I've missed providing it as well!
Earlier this year, when I participated in TTChatterbox's CHATshop series, I was presented with a jar of extra-virgin coconut oil and several bags of coconut flour from Coconuts of the Caribbean. This excited me greatly as I am a huge believer in the powers of coconut oil and well coconut flour is naturally gluten-free (a dietary requirement for my mother) and has a wealth of other health benefits!  Although Trinidad has improved greatly in terms of readily-available gluten-free flour alternatives since mom's diagnosis many of those are still imported. Having my hands on so much of a locally manufactured product made me so happy! I couldn't wait to get started on developing and adapting recipes to this new (to me) item.
"Coconut flour is great, because it is gluten-free. It provides awesome coconut flavor without grit. However, because it is so soft (no gluten) I usually use it with white flour to make biscuits (like the ones you get at KFC)." –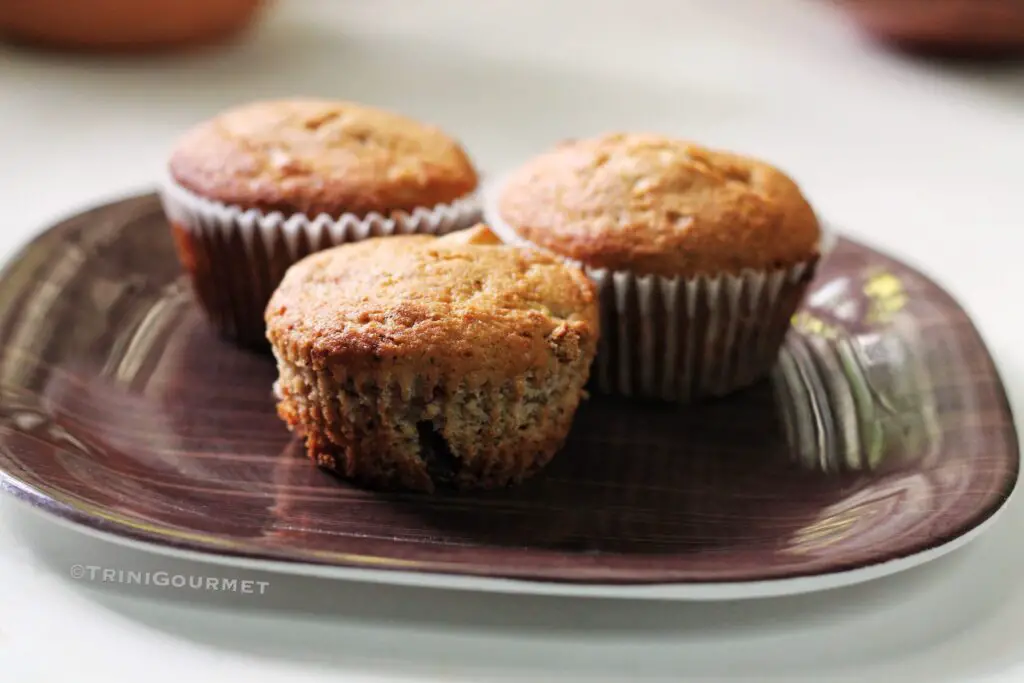 ALSO ON TRINIGOURMET!

• Carmen's Carrot Muffins (recipe)

• Cinnamon-Apple Streusel Muffins (recipe)
[random_content group_id="120"]
From DrAxe.com: "Coconut flour is high in fiber, protein, and healthy fats and is free from wheat and other grains. It is also low in sugar, digestible carbohydrates and calories, and has a low score on the glycemic index.

This makes coconut flour a favorite amongst paleo dieters, gluten free eaters including those with Celiac Disease or a gluten sensitivity, those with digestive problems like leaky gut syndrome, anyone with a nut allergy, those with diabetes, vegetarians, and just about everyone else in between."
Because of its high fiber content and gluten-free composition coconut flour absorbs liquids well and also needs additional binders. Thats' why many baking recipes using it often employ up to 6 eggs! That was way too much for me to devote to a simple 12 muffin recipe so I compromised by blending it with all-purpose flour. The first time I tried this recipe it was a little drier than I would have liked. The addition of the mashed banana was the piece de resistance that balanced the overall flour and softened the final result. I couldn't have been happier!
Coconut Flour Muffins (recipe)
Prep time:
Cook time:
Total time:
Standard muffins take a healthy tropical twist when made with coconut oil, flour and sweetened by mashed bananas and raisins!
Ingredients
1 cup all-purpose flour
1 cup coconut flour
3 tsp baking powder
½ tsp salt
½ cup sugar
1 large ripe banana mashed
½ cup raisins
1 cup milk
1 egg
¼ cup coconut oil
Instructions
Heat oven to 400ºF
Combine flour, baking powder, salt and eggs
Make a well in the dry ingredients
Pour in milk, oil, egg, bananas and raisins
Mix until just moistened
Line a muffin tray with liners
Add batter to each
Bake 20 minutes
If you make this recipe please tag it on social media with #trinigourmet

This recipe is an exclusive TriniGourmet original. Please do not share it or post it to your site without crediting TriniGourmet.com. A link back to our site is not necessary but always appreciated 🙂
---