Oven BBQ Chicken (recipe)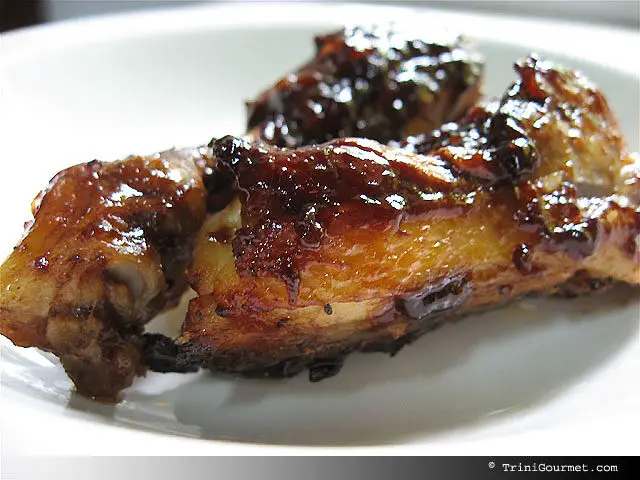 [epq-quote align="align-left"]Although there is no substitute for BBQ from the grill, oven-baked chicken recipes are in my eyes are perfectly acceptable substitute as the results of this recipe will testify! – Sarina[/epq-quote]Summer is the time to fire up the grill… at least that's what the US food programs and magazines tell me. Here in Trinidad, I've never really known or been part of a huge grilling or BBQ culture. As a kid there was a time when my father went on a BBQ kick, that lasted about a month after which the grill was determined too difficult to clean and fell into disuse. I have no idea what became of it or the bag of coals that were so enthusiastically bought for it. But the chicken sure was tasty!
My next initiation into the world of BBQs was as a fundraising mechanism in both primary and high school. There was nothing like the smell of multiple grills all working in tandem to fill up the flimsy paper boxes that our paper chits would procure. The funds from these BBQs (and their equally popular counterpart the Curry-Q) presumably going to help fund the upkeep of a school or to support the mission of an organization. Even then my favourite BBQs had to meet certain requirements. The flavour had to be both sweet and smoky. The sauce had to be thick and shiny. And the chicken? Well the chicken had to have dark, crunchy, practically charred bits. Should any of these characteristics be lacking, and the BBQ would be a failure in my eyes.
Although there is no substitute for BBQ from the grill, oven-baked chicken recipes are in my eyes are perfectly acceptable substitute as the results of this recipe will testify! 😀
Oven BBQ Chicken (recipe)
Prep time:
Cook time:
Total time:
Oven Baked BBQ Chicken Adapted from a recipe on KraftFoods.com Serves 6
Ingredients
½ cup Italian Dressing
1 broiler-fryer chicken (3 lb.), cut up
1 cup Hickory Smoke Barbecue Sauce
1 scotch bonnet pepper, chopped
Instructions
Clean chicken pieces with lime
Season with salt and pepper
Pour dressing over chicken in resealable plastic bag. Seal bag; turn to evenly coat chicken.
Refrigerate 1 hour to overnight.
Remove chicken from marinade; discard bag and marinade.
Preheat oven to 450F
Blend barbecue sauce and chopped pepper; set aside.
Arrange chicken pieces in a single layer in a nonstick, glass, or ceramic baking dish.
Bake for 20 minutes, or until the skin loses its raw look.
Pour about ⅔ of the bbq sauce mixture over the chicken and turn to coat
Bake for 25 - 35 minutes, basting with some of the remaining sauce in the pan every 5 to 7 minutes.
Place the chicken on a serving plate and spoon a portion of the remaining sauce on each piece
[random_content group_id="89″]
---