Trinidad Pholourie (recipe)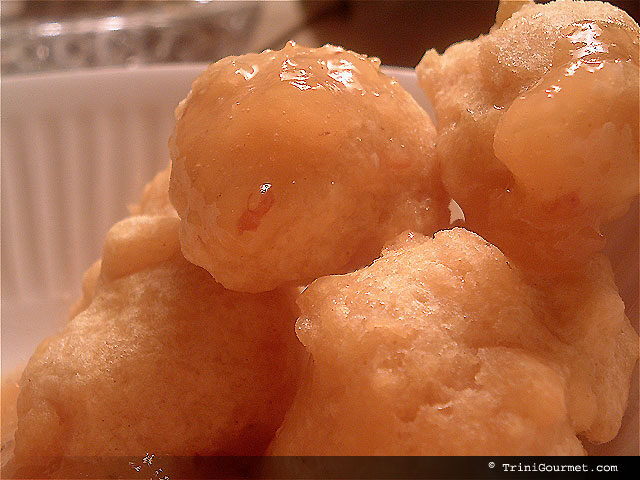 July 5, 2010: Sometime between when this post was originally written in 2007 and now it appears Saveur Magazine selected this recipe as one of its 'Best Of The Web', and Trinigourmet.com as one of its 'Sites We Love'. I can't explain how much this means to me as it has always been my hope and aim to disseminate Trinidadian cuisine to the wider world. It really makes the long hours cooking, writing, photographing and editing, not to mention the ongoing expenses, worth it. Thanks so much! 🙂
Yum Yum Yum. I love Trinidad street food. And I love love love pholourie. Pholourie are basically little balls of split pea flour fried and served in a thin sweet chutney sauce (usually mango or tamarind). You can buy them in little paper bags with the sauce in a little plastic bag included. So yum. When I was working in Port of Spain I would often buy a pack of pholourie and a doubles for my breakfast. So the yum!
Pholourie is not restricted to roadside vendors though, I've also eaten it as hors d'oeuvres at weddings and other events.
This was my first attempt at making pholourie at home and I was really surprised at how easy it came together. I wanted to have to a nice shot of the pholouries as they were draining, fresh out of the oil but my parents kept hovering and eating them still hot, so I never did get that shot. I suppose that's a good sign for a cook tho? 😆 Also surprising, was finding out that this was my mother's first taste of Pholourie. "MMM! So -this- is Pholourie!" she cried. I was shocked!
"C'mon momz, you've been living in Trinidad for over 30 years now!"
"True", she said, adding that she didn't eat street food though. I think she ate more of them than anyone
"They're really moreish, aren't they?"
"Yes mom, they're totally 'moreish'.
She's never had doubles either. Well that will also change by the end of this week 😉
Pholourie
——————————————————————————–
INGREDIENTS:
2 cups split peas powder
1/2 cup flour
1 clove garlic, finely minced/pureed
1- 1/2 teaspoon salt
black pepper
1 teaspoon saffron powder or 2 tsp curry powder
2 teaspoons baking powder
oil for deep frying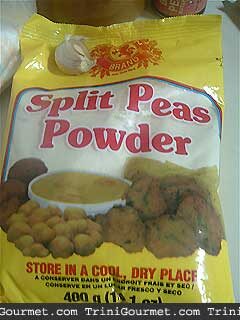 METHOD:
1. Mix split peas powder with all ingredients except water.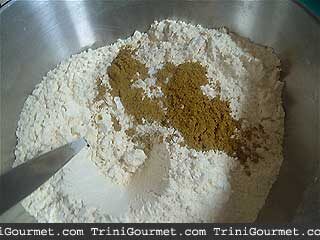 2. Add enough water to make a thick batter. Let rest for 1 hour.
3. Heat oil in heavy pot.
4. Drop batter, a teaspoon at a time into the hot oil, and let cook until puffed and golden brown.
5. Serve with a thin fruit chutney sauce or a peppery tamarind sauce. I made a killer sauce by combining equal parts mango chutney and water and pureeing them with 1 clove of garlic. This is the consistency of pholourie sauce that one usually gets when purchasing locally on the roadside.
Spelling variations: Phoulorie, Pholourhie
This entry was originally published January 30, 2007. It has been updated once since then
---