Taste of T&T 2008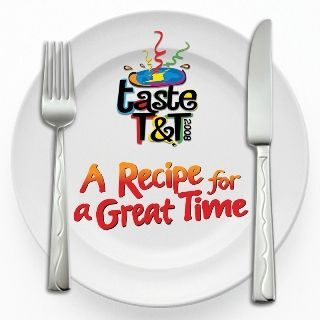 Wow, I can't believe it's been a year since Taste T&T was held. What a year it's been! Those of you have been with me a while may remember that it was just after the last Taste T&T that I was unceremoniously booted from my last webhost, for being 'too popular'. Ever since then I've been hosted on GoDaddy with no problems so far *knocks wood*.
Last year's Taste of Trinidad and Tobago was an utter blast, not only was the food experience one of a kind, I also got to meet up with fellow bloggers Chennette and Lilandra. This year the gathering will hopefully be even larger. Not only will I be carrying my fave boy 'J' in tow, it looks like I'll also get to finally meet Can Cook Must Cook and Karel of CaribbeanPRBlog fame. W00t!
Now with my rising excitement you would never believe that up until yesterday I wasn't even sure when Taste of T&T was being held this year. Somehow the buildup to this year's event does not seem to be as frenzied as in year's past, or is it just me?
Fortunately, asking a few questions led me to the festival's official page, as well as enabled me to download the event's menus and info sheet.
Having learnt an important lesson from last year, this year J and I decided to buy tickets from two different groups, this will enable us to both experience a wider array of foods. Although I expected to be faced with numerous non-kosher options I was a little sad to see that vegetarian options were still few. With a wide variety of religious and spiritual groups vegetarians are hardly a rarity, it would be nice if in future festivals chefs were challenged to include a vegetarian main course amongst their offerings.
With that out of the way, let me just say that I am thoroughly excited for this year's offerings 🙂 I was quite honoured to be approached to participate as a judge in the Iron Pot Spoon Throwdown, however my dietary restrictions forced me to recuse myself. I love what this festival has become and I also embrace and hope that it evolves into what it -can- be (*cough* St. Lucia *cough*).
As I'll be at the event on Sunday I should have my full uncensored views and reportage uploaded early next week, stay tuned!
---