Trackback Love: July 21, 2007
Every week I'm alerted to sites that are linking to TriniGourmet.com via Technorati and HitTail. Some of these links are to roundups of food challenges I have participated in whereas others are sites where others are sharing their experiences with this site or adding me to their blogrolls. I'm grateful for every link and have decided that it is high time to reciprocate the favour by highlighting (where appropriate) those sites and articles that have mentioned TriniGourmet in a (hopefully weekly) feature I'm going to call Trackback Love. 🙂

This week:
Good Luck Deluxe: Let's Visit Trinidad & Tobago
Good Luck Deluxe is one of my favourite lifestyle blogs. It explores 'what's good on the road of life' from a global perspective. Most recently its creator, Tara, featured Trinidad and Tobago as a travel destination. Not only did TriniGourmet get a shoutout, but I also learnt about a Tobago location, "Infinity Villa", that looks awesome 🙂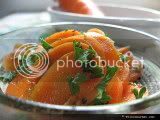 BlogHer: Eating Well Despite Food Allergies With Help From Your Fellow Bloggers
This article included the image of, and link to, my recipe for Carrot, Cumin, Ginger salad, along with a few other recipes that were included in the Cooking for Karina food event 😀
My Chutney Garden
This website contains some of the loveliest photography I have seen lately of Trinidadian flora and fauna 🙂
Ghar Ka Khana: JFI July : Eggplant Roundup
More recipes here for eggplant than you can shake a stick at! The lineup includes my recipe for Eggplant Ragout with Peppers, Ground Beef and Tomatoes (pictured) 🙂
Wild Weed Roundup
Bron Marshall's Wild Food events are so much fun! This time around the theme was Wild Weeds, as culantro (known locally as shadon beni or bandhania, grows plentifully around my home) it was a no-brainer what I would use! To see my contribution, click on the roundup 🙂

preserveless: Muffin Monday 04 round up!
This time around the challenge was to pair a muffin with a complementary drink 🙂 My contribution (pictured) was Cinnamon-Apple Streusel muffins with Blackcurrant Tea.. yummm 🙂
Caribbean Beat: Cooking in Cyberspace
Awesome article by Franka Philip on the development of the Caribbean food blogosphere, and I'm quoted in it as is Chennette and Cynthia of Tastes like Home, so more the whee! 🙂
I really like this guy's writing style, definitely a good complement to my boy 'Manicou', plus he links to TriniGourmet, and that's always a good thing in my book… lolz 🙂
---