Chocolate Sablés (recipe)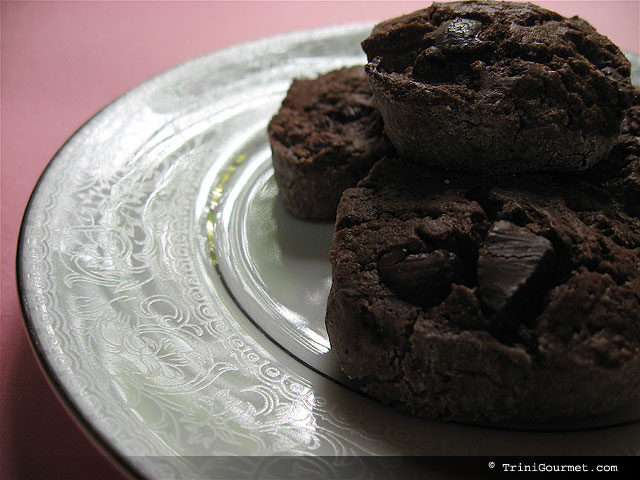 These sablés are dangerous! No, it's not because of their bittersweet chocolatey goodness. And no it's not because of the chocolate chips strewn throughout that provide bursts of sweet creaminess. And no, it's not even their brownie-like denseness that makes me issue this indictment. No, what makes these chocolate sablés so worth of a public warning is their miniature bite-sized goodness evilness. It's easy to snarf down 20 of these in one sitting and still have room for 20 more! And yes, I'm talking from experience :blush:
Chocolate Sablés
Recipe from: Homemade: Delicious Foods to Make and Give

Makes 30 cookies
INGREDIENTS:
1 1/2 cups all-purpose flour
1/3 cup Dutch-process cocoa powder, sifted
1/2 teaspoon baking soda
1/2 cup unsalted butter, at room temperature
1/2 cup superfine sugar
1 large egg, at room temperature
1 teaspoon pure vanilla extract
3/4 cup mini semisweet chocolate chips
DIRECTIONS:
1. Combine the flour, cocoa powder, and baking soda in a mixing bowl and sift them together two times
2. Place the butter in the bowl of an electric mixer and beat until creamy.
3. Add the sugar and continue to beat until light and fluffy
4. With the motor running, add the egg and then the vanilla, beating until the mixture is almost satin smooth
5. Add the sifted dry ingredients to the creamed mixture, beating to incorporate.
6. Stir in the mini chips
7. Scrape the dough from the bowl and form it into 2 logs, each about 1 3/4 inches in diameter
8. Wrap the rolls in plastic film and tightly turn the ends closed
9. Hit each roll against a countertop to make it square.
10. Refrigerate for at least 6 hours
11. When ready to bake preheat the oven to 350F
12. Unwrap the logs and using a serrated knife, cut them crosswise into 1/4 inch thick slices
13. Place the cookies about 1 inch apart on the prepared cookie sheets
14. Bake for about 10 minutes, or until the cookies have risen slightly, are firm to the touch, and are lightly browned around the edges.
15. Remove from the oven and place on wire racks to cool before serving or storing.
---