Gnocchi Pomodoro (recipe)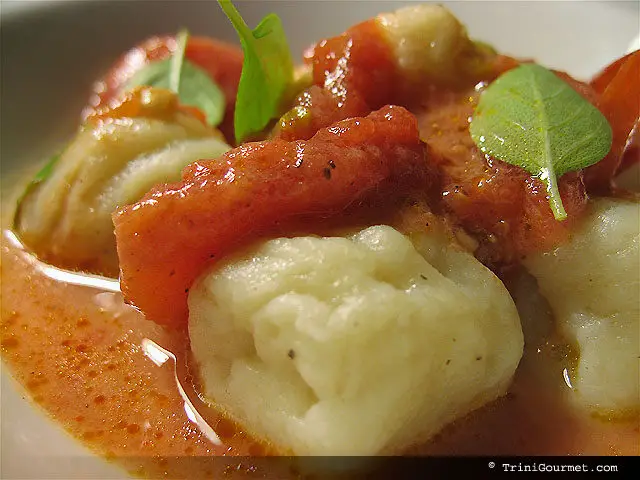 I did it! I finally did it! I made gnocchi!! 😀
If you have been a reader of TriniGourmet since its early days you'll know that making homemade pasta has been one of my biggest desires and one of my biggest fears. I still don't have a pasta machine but having now made gnocchi I'm one step closer to crossing that hurdle 😀
I've heard many times that homemade pastas surpass supermarket boxed brands in every way, and in the case of this recipe I definitely can say that it's true 🙂 "Mmmmm it's so silky", murmured my mother, shortly before pressuring me to cook up a second batch 😆
They -were- silky. Silky, light, buttery, almost melt in your mouth good. "This is really comfort food defined" she stated, and I'm inclined to agree. Thanks to Lynnylu this month's host of Hay Hay it's Donna Day for setting this challenge, without it another year may have gone by before I garnered up the courage to give this a try 🙂
"Don't forget to tell them about the sauce too. The sauce is key!"
I won't mom, I won't… 😉
Gnocchi Pomodoro
Recipe courtesy Della Santina's Trattoria-Rosticceria-Pasticceria
Makes 4 servings
INGREDIENTS:
Pomodoro Sauce:
1 (28-ounce) can whole Italian tomatoes
2 tablespoons olive oil
1 tablespoon chopped garlic
Salt and pepper
Crushed chile flakes
6 to 8 large fresh basil leaves, chopped
1/2 cup cream
Gnocchi:
6 large baking potatoes, like russets
2 egg yolks
4 ounces (1 stick) butter, melted
Pinch salt
Pinch white pepper
Fresh grated nutmeg
2 cups flour
Grated Parmesan, to serve
DIRECTIONS:
To make the Sauce:
Take the tomatoes out of the can, cut in half, and remove the seeds. Chop the tomatoes into small pieces and reserve the juice. In a saucepan, add olive oil and garlic and saute for 1 minute. Add the tomatoes, salt, pepper and chili and bring to a simmer for 5 minutes. If necessary, add the reserved juice. Add the basil. Finish with cream.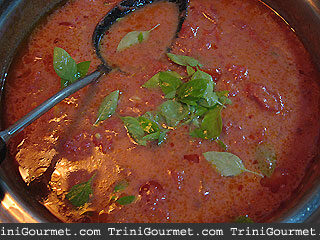 To make the gnocchi:
Preheat the oven to 300 degrees F.
Bake the potatoes for approximately 1 to 1 1/2 hours, until tender. Scoop each potato out of its skin into mixing bowl. Mash the potatoes to a fine consistency.
In a separate bowl, combine egg yolks, melted butter, salt, pepper and nutmeg. Add the egg mixture to the potatoes and mix together. Add flour to mixture, 1 cup at a time, and mix until smooth.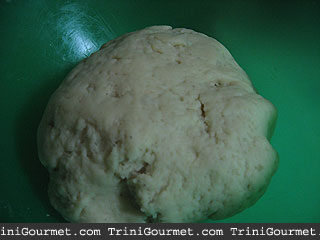 Scoop out and make finger sized rolls on floured board.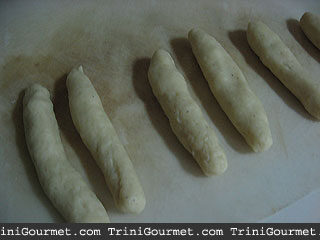 Cut with knife into bite sized pieces. Roll each piece over the back of a fork to make a round form.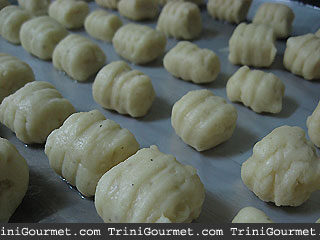 In a pan, freeze until hard enough to handle, and put into portion sized bags.
Fill a large pot with water and add a pinch of salt and boil. Drop gnocchi into boiling water 3 or 4 at a time so the water doesn't stop boiling. The gnocchi is ready when it floats to the top.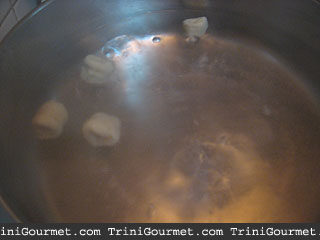 Drain gnocchi and scoop out into bowl and add sauce. Add fresh Parmesan and serve.
---