Dem Tiefin' We?!?: Copyright infringment and the local blogging community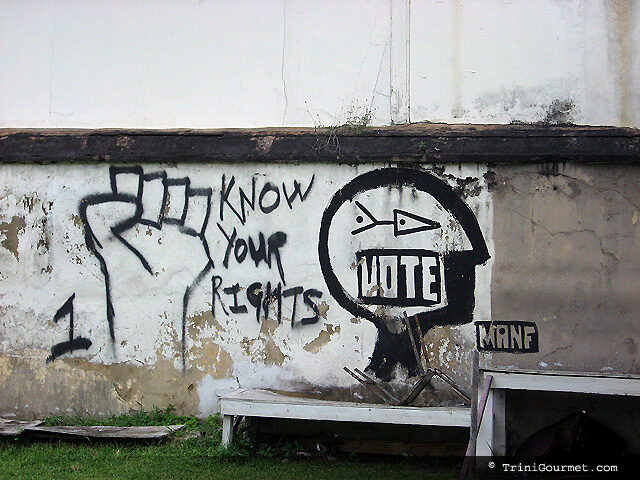 Graffiti Art – Queen's Park Savannah
This post was originally published on November 11, 2008. It has been updated 3 times since then. Last Update November 5, 2010
This post was originally written in November 2008 when I was shocked to learn that an application on Facebook was flagrantly using my images. I'm no stranger to finding my images on other people's sites and I'm usually quite flattered. In most cases bloggers and social network users credit or link to TriniGourmet, and in most of the cases I've spotted so far, they have kept the copyright watermark tag on each photo. What made this case different was that not only were my images used without my permission, and without credit, the individuals involved had also carefully cropped my watermark out of EVERY image involved. This clearly had not been an oversight on their part! Adding insult to injury they were also Trinidadian! After sending a sternly worded email to the creators requesting credit be given, or the watermarks be restored, their response was to pull the application down, rather than mention this site as the origin of the images. Amazing! As a result I have added a Copyright Notice to this website, regarding the use of my images as I would prefer them. Funny thing is for non-commercial use I have no problem letting my images be used for free, or even without written permission (as long as my watermark is kept/or a link to this site is provided). It really is amazing to me that some people aren't even willing to do that!
Since that time, a similar attitude has been displayed, by locals, towards the works of Guyanese based Trini blogger Chennette as well as my local compatriot Lilandra who awoke to find one of her photos boldly featured (but not credited) in the local Trinidad Express newspaper!.
Matters reached a head late last year when a vigilant reader alerted me to the fact that a UK based Caribbean website had lifted approx 10 images and recipes wholesale for use on 3 commercial online properties that they ran. They had also taken material from Chennette, Lilandara and Cynthia of Tastes Like Home. Unlike previous infringers, they were extremely reticent to remove the material and the tug of war was very draining. It eventually laid to me taking a long hiatus from running this site as much of my passion was temporarily dimmed. Especially as many readers of this site thought that I was the petty/wrong one! Fortunately, in the end international law is on my side, as is the international blogging community. A lesson hard learnt by a small publication called Cook's Source earlier this week when it became apparent that for years they have been reprinting (without permission) the images and words of food writers both large and small.
In my mind these infractions are made even even more hurtful because they are being committed by people who share our background and in most cases are representing public institutions that one would hope would be aware of concepts such as intellectual property and 'journalistic integrity'. C'mon people is it really that hard to attribute the work of others? Are you afraid it will take away from your own material? If we're good enough to be stolen from, we're good enough to be compensated for doing -your- legwork. In my case I mainly only ask for attribution. Other bloggers require payment, and that's also their right. If you're not willing to invest your money and time to create visuals for your site these are parameters that you need to respect.If you are asked to remove an image do so. If you are asked to credit an image, do so. If you are asked to pay for an image, do so. And do it quickly, and with a smile. That is unless you are willing to find yourself on the opposite side of a DMCA violation shutdown.
(For local bloggers who have experienced print publication of your images the de facto advice seems to be to send a legal letter and an invoice. The success rate of this approach hasn't been confirmed, but it's something!).
The biggest change I've made in the time since then is a more prominent watermark on all my images. I'd love to not have to have it all, but I have noticed that the rate of 'borrowing' has dropped dramatically since doing so. It appears most internet 'borrowers' want an image that they don't have to pore over for too long. Something with a quick right-click and crop is up their theft alley. The easier you make it for them (through a small discreet watermark or no watermark at all) the more vulnerable you are making yourself.
If you're a blogger who has experienced copyright infringement I'd love to hear your experience and how you handled it.!
ETA (April 8, 2010): In response to the revived interest in this topic Chennette has let me know that in the 1.5 years since this post was originally published the Trinidad Express has made no move to acknowledge her claims to her work, as published by them. She is again moving forward with legal action and has written an amazing post on the whole matter entitled "Copyright, Blogging and the Media"
Excerpt:
"What annoys me about the theft of the photos by big media houses in Trinidad and Tobago and the region, apart from revelations of ignorance of the law governing their particular environment, is the disrespect for the online community and the role we play in recording and sharing our history and culture. Complete disrespect. The small Caribbean food blogging community for example has a dedication and generosity that has produced, in a relatively short period of time, a wealth of information, stories, recipes and photos that rival the archives of local newspapers with its focus on local foods and traditional recipes."

Read the full post.
ETA (November 5, 2010): Trinidad Newsday apparently really enjoys being a repeat offender! Today they are once again in the spotlight for lifting an image from AKA_LOL and stripping his watermark!
ETA (April 7, 2010): Since this post was originally published several bloggers and makeup artists have let me know about their image portfolios being lifted for more print newspaper articles, as well as online sites. The most recent report ocurred today, via Georgia Popplewell of Global Voices and Caribbean Free Radio. Not only was her image lifted and printed by Newsday, they had the nerve to slap their OWN watermark on it. Amazing! You can read her account here.
ETA (Nov. 13, 2008): Since I originally wrote this article I have learnt that the Express has also used Chennette's work without attribution, permission, or compensation. It leads me to wonder if those bloggers whose images are in Flickr's directory (mine aren't) are especially vulnerable. In the days that have passed since this post was originally made I have received messages of support, many stating that this is something that the Express has been doing for quite some time. Tsk tsk tsk. I have to send special thanks to those bloggers who have linked to this article and have helped to spread it among the local online community. We definitely have to watch our own backs and it's sad that rather than taking our journalistic cues from the old guard, it appears that they need to be learning that from us…
Helpful Articles

• What Do You Do When Someone Steals Your Content?
• Protect Your Blog and Counter Copyright Thefts
• How To Defend Your Blog's Copyright
• Intellectual Property in Trinidad & Tobago
---