Grated Carrot and Raisin Salad (recipe)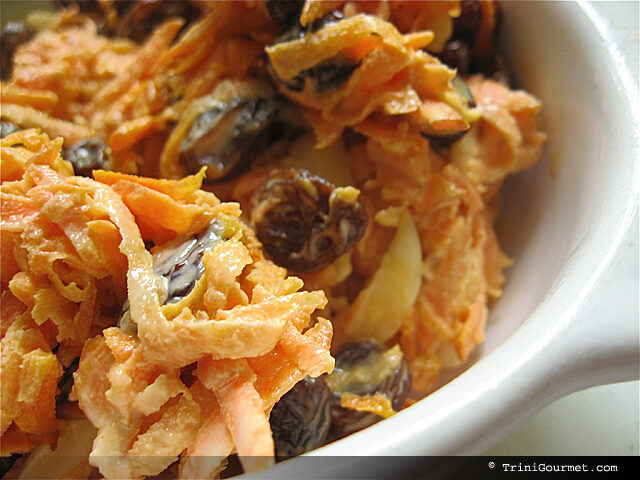 This salad is a nostalgic favourite of mine. It was the only form of vegetables that my Aunt provided on a regular basis when I (and many of her godchildren) would spend part of the school holidays by her. From young I enjoyed the contrast in textures between the smooth creamy mayonnaise, and crunchy carrots… and the occasional burst of sweetness that the raisins provided? Heaven!
So imagine my shock when I came across a recipe for this salad of my youth in my copy of The Good Home Cookbook: More Than 1000 Classic American Recipes
. Apparently my fave salad was interational in origin. Who knew? This recipe replicates the flavours I remember well, and even ups the ante through its inclusion of slivered almonds.
Grated Carrot and Raisin Salad
Source: The Good Home Cookbook: More Than 1000 Classic American Recipes

Serves 6
INGREDIENTS:
6 cups grated carrots
1 cup raisins
1 cup slivered almonds
1 cup mayonnaise
2 tablespoons cider vinegar
2 tablespoons sugar
1 1/2 tsps salt
black pepper
METHOD:
1. Combine the carrots, raisins, and almonds, if using, in a salad bowl
2. Mix together the mayonnaise, vinegar, sugar, and salt in a small bowl.
3. Pour over the carrot mixture and toss with 2 forks
4. Season to taste with pepper
5. Refrigerate for at least 30 minutes, and up to 2 hours to allow the flavors to blend before serving
---