Gub Gub 'Navy Bean' Salad with Feta Cheese (recipe)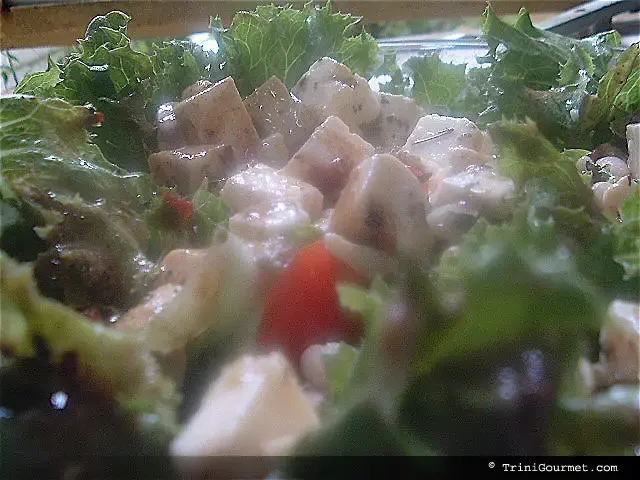 "A navy bean is bigger than it seems put it on and don't ask what it means
Parade around" – Tracy Bonham
Am I the only one who remembers Tracy Bonham, that alt-singer/violinist from the late 1990's? I loved her first CD and really think she should have gotten a lot further. The above quotation from her song 'Navy Bean' started my fascination with the idea of this simple bean. At the time I had no idea what it was, or if it even really existed, but the imagery in her lyrics caught my imagination. Fast forward several years and I am in a local grocery store and see a 'navy bean' tag stuck onto a supermarket shelf. "Oooh! Navy Beans! They're real! They exist!", in a happy tizzy I pulled the bag of dried beans off the shelf only to be simumltaneously amused, surprised and cresfallen. I had been eating navy beans all my life, I just knew them by another name.
You see, here in Trinidad navy beans are more commonly called 'gub gub'. They are the main ingredient in one of my favorite dishes, a simple stew that my mother makes now and then. Stewed gub gub is the only way that I've eaten this bean so when I saw a recipe for a salad that used it I was more than willing to give it a try. After making several modifications I ended up with the following hearty, nutritious, flavourful result, perfect for this week's Weekend Herb Blogging (hosted this week by its creator Kalyn). Substitute dried beans with tinned for even quicker preparation 🙂
From WHFoods.com:

The navy bean got its current popular name because it was a staple food of the United States Navy in the early 20th century. These small white beans are perfect for making baked beans. Dry navy beans are available year-round in prepackaged containers as well as bulk bins. Canned navy beans are also available year round at local markets.

Navy beans are small, pea-sized beans that are creamy white in color. They are mild-flavored beans that are dense and smooth. Like other common beans, navy beans are one of 13,000 species of the family of legumes, or plants that produce edible pods. Combined with whole grains such as rice, navy beans provide virtually fat-free high quality protein.

Health Benefits

Navy beans are a good source of cholesterol-lowering fiber, as are most other beans. In addition to lowering cholesterol, navy beans' high fiber content prevents blood sugar levels from rising too rapidly after a meal, making these beans an especially good choice for individuals with diabetes, insulin resistance or hypoglycemia. When combined with whole grains such as brown rice, navy beans provide virtually fat-free high quality protein. But this is far from all navy beans have to offer. Navy beans are a very good source of folate and manganese and a good source of protein and vitamin B1 as well as the minerals phosphorous, copper, magnesium and iron.
Gub Gub "Navy Bean" Salad with Feta Cheese
——————————————————————————–
Recipe By: TriniGourmet.com
Serving Size: 4
Ingredients:
Cumin Vinaigrette:
2 tablespoons fresh lime juice, about 1 medium lime
2 tablespoons red wine vinegar
2 teaspoons cumin seed, toasted and ground or 1 teaspoon ground cumin
1 teaspoon dried red pepper flakes
1/2 teaspoon brown sugar
1 tablespoon Dijon mustard
1/2 cup olive oil
salt and freshly ground pepper to taste
Salad:
2/3 cup dried navy beans, soaked overnight or a 15 ounce can of beans
1 head lettuce (your favorite kind), torn into 1/2″ strips
2 ripe tomatoes, cored and sliced
1/2 cup loosely packed fresh basil leaves
1 cup feta cheese, diced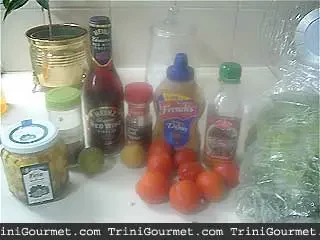 Directions:
1. In a small bowl, combine all the dressing ingredients and whisk together well.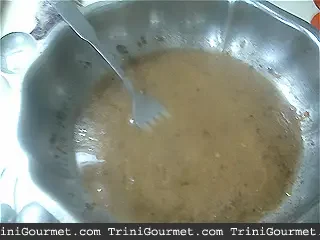 2. Drain the dried beans, and place them in a small saucepan with enough cold salted water to cover by about 3 inches.
3. Bring to a boil over high heat, then reduce the heat to a low simmer until the beans are tender but not mushy, 1 1/2 to 2 hours.
4. Drain, rise with cold water, and allow to cool to room temperature. (If using canned beans, drain and rinse well).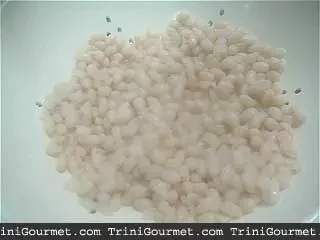 5. In a large bowl, combine the lettuce, beans, tomatoes, and basil.
6. Stir the dressing well, add just enough to moisten the ingredients (you will have some dressing left over), and toss to coat.
7. Place the feta cheese over the top and serve.
---