Sarina's Tropical Mango Hot Sauce (recipe)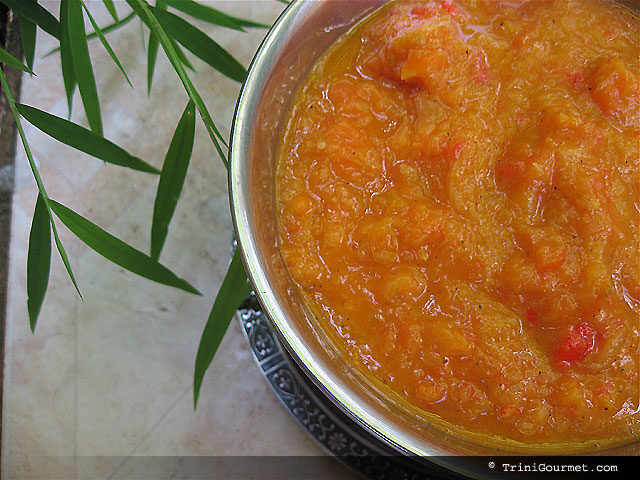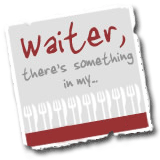 I can't believe it's already been a month since the last installment of "Waiter There's Something in my…"! Where did the time go? This time around the theme was sauces. Originally I had thought of coming up with a pasta sauce as I haven't made pasta in a while, however over the past week we have been flooded with mangoes (from friends and neighbours). The influx of this fragrant ingredient made me ponder the possibilities. What about a sweet (but fiery) mango sauce?
This recipe couldn't be simpler to assemble and prepare. Tropical mangoes and pineapple bits mingled with sweet carrots, tomatoes. A scotch bonnet pepper provides the prerequisite heat and Angostura bitters adds a hint of 'brightness' to the mix 🙂
This sauce is ideal for serving on top of grilled vegetables, meats or fish. I can also see it being great on top of quesadillas or being an unexpected alternative to ketchup on burgers and hot dogs. It's also wonderful served on the side of other dishes as a traditional 'hot sauce'. It's the perfect way to add a fruity, tropical touch to everyday dining 🙂
Sarina's Tropical Mango Hot Sauce
Yield: About 2 cups
INGREDIENTS:
2 mangoes, diced
1 tomato, diced
1 6 oz tinned pineapple, diced
1 carrot, diced
1 scotch bonnet, seeded and diced
1 teaspoon sugar
1 cup vegetable broth
1 teaspoon vegetable oil
1 dash Angostura bitters
1 dash hot pepper sauce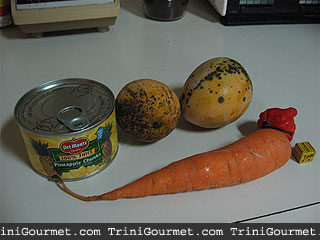 DIRECTIONS:
1. Sauté carrot in vegetable oil for 5 minutes.
2. Add mangoes, pepper, tomatoes, pineapple and stock
3. Simmer for 10 minutes.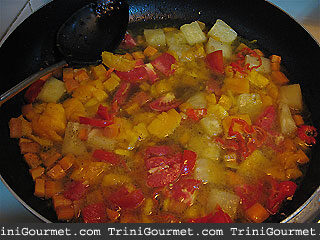 4. Season with salt and black pepper
5. Puree in food processor until thick and slightly chunky.
6. Adjust seasoning (if necessary)
7. Stir in bitters and pepper sauce
This recipe is an exclusive TriniGourmet original. Please do not share it or post it to your site without crediting TriniGourmet.com. A link back to our site is not necessary but always appreciated 🙂
---