Trinidad Stewed Chicken (recipe)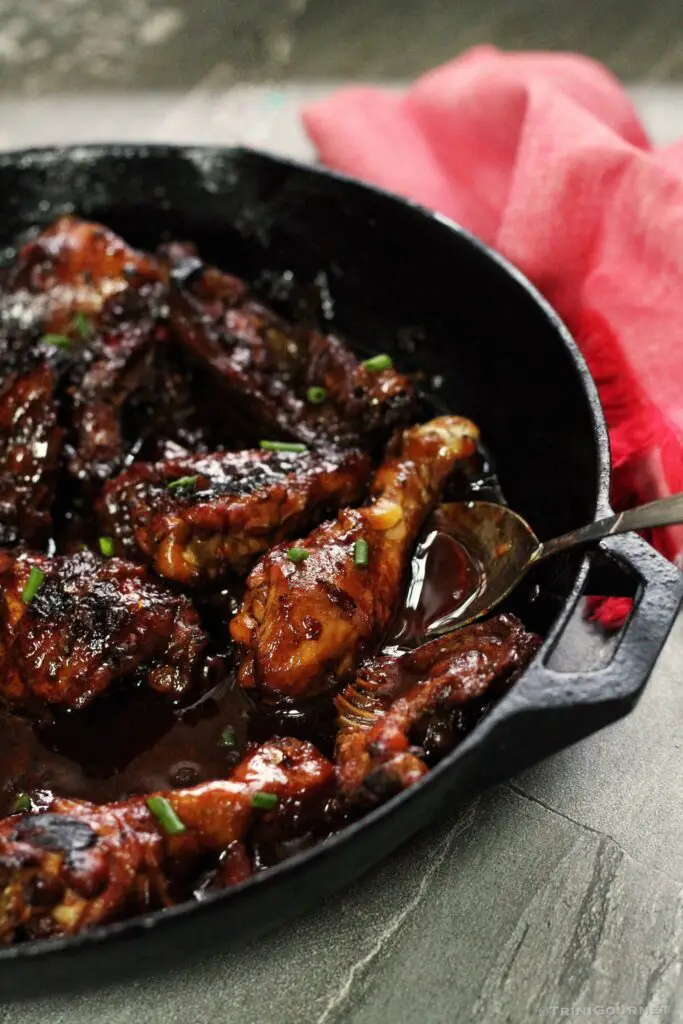 As my friends in the northern climates start to hunker down for the winter, and temperatures start to cool here as well (albeit only at night), I thought it would be good to share some local-styled "stew dishes". Hearty and warm, they're sure to keep you full and satisfied! First up, Trinidad Stewed Chicken or "Stew Chicken" as we say in the local parlance.  Can you believe this site is now over 10 years old? Talk about being one of the original local OGs! In all that time I can't believe that I hadn't gotten around to posting a recipe for Trinidad Stewed Chicken! A staple of many Sunday lunches, as well as dinners and gatherings, everyone puts their own spin on it, however certain components such as the long marinade time in "green seasoning" and "browning" in sugar are non-negotiable! 
Having a Jamaican mother I grew up regularly eating its Jamaican counterpart "Chicken Fricassee". While visually similar that dish is extremely different taste-wise. This is due to the "browning" method that forms the backbone to most of Trinidad's "stew meat" dishes, as well as the green seasoning, redolent in culantro/chadon beni  which we use to marinate our meats.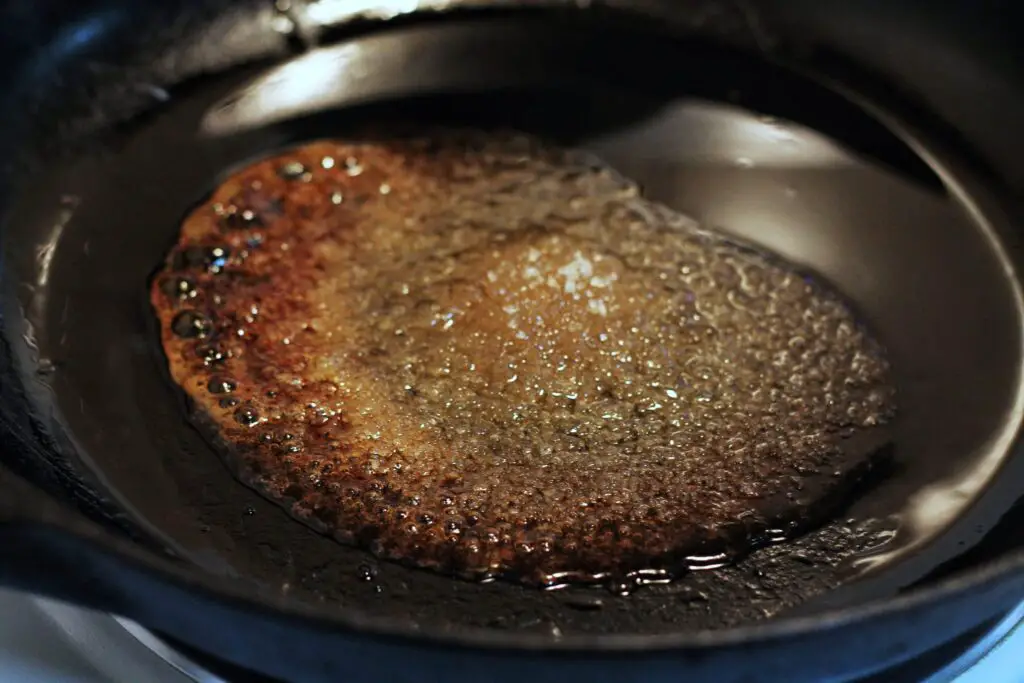 Browning is a non-optional step if you're really interested in getting that authentic Trini flavor in your dish. You want the sugar to reach a rich mahogany shade. Upon which you will immediately add the chicken pieces and turn them to coat thoroughly. You have to be careful to keep your eye on the pan as the sugar melts. When the outer ring turns the desired shade (as shown above) you have about 30 seconds to add your meat before the sugar will start to burn. We don't want that!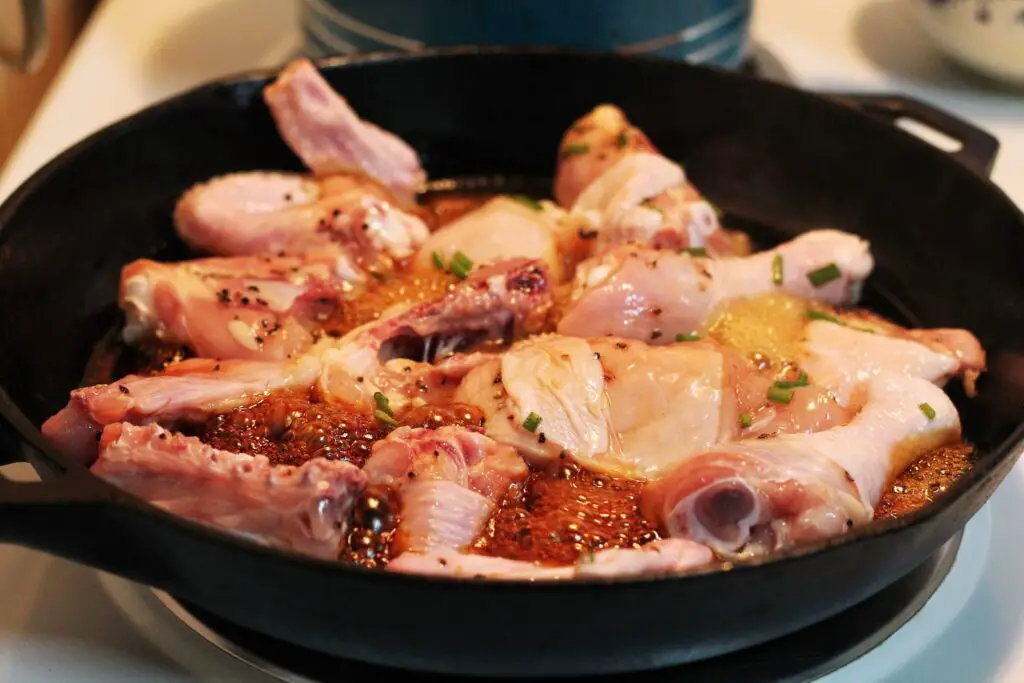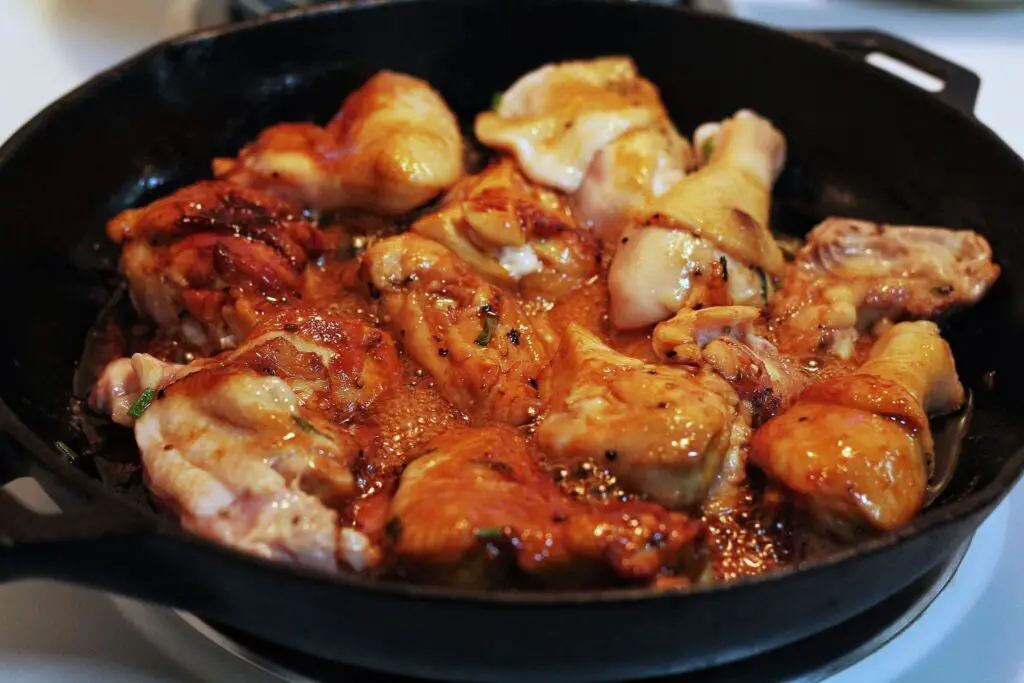 Be sure to turn the pieces at 2-3 minute intervals  so that they are evenly coated and the browning caramelizes to the skin.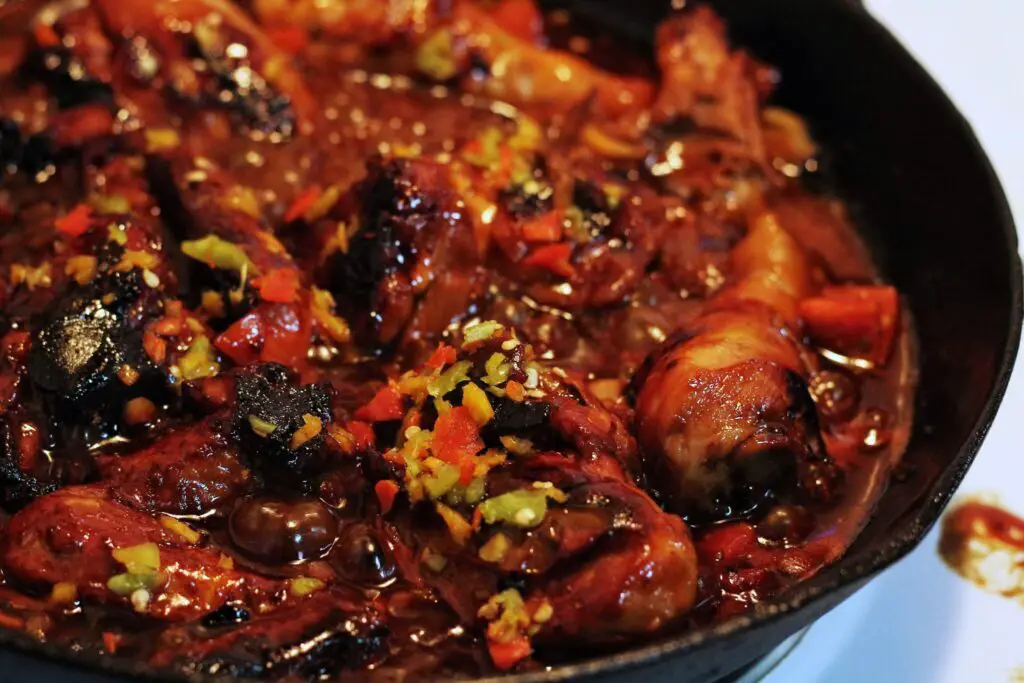 How gorgeous does that look? Most recipes will have you continuing to cook the chicken on the stovetop, however taking a leaf from Trinidad's culinary grand dame Sylvia Hunt, I prefer to finish it off in the oven.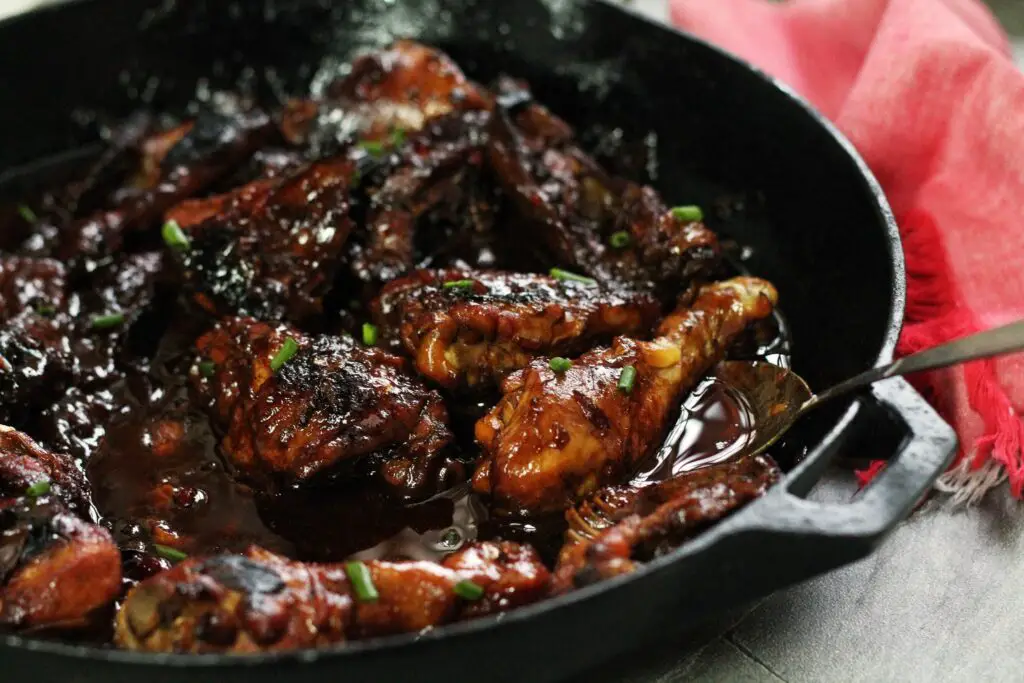 A garnish of chives and we're all done! Leftovers are unlikely but, should you have any, do know it tastes even better the next day! 🙂 Veni Mangé!

Trinidad Stewed Chicken (recipe)
Prep time:
Cook time:
Total time:
This delicious staple is the backbone of many Trinidadian Sunday lunches, as well as dinners and gatherings. Here's my spin on it!
Ingredients
1 4-5lb chicken, jointed
1 lime
1 tsp salt
1 tsp pepper
1 tbs Angostura Bitters
½ cup green seasoning (chadon beni, chives, thyme)
2-3 cloves garlic, crushed
3 tbs brown sugar
2 tbs cooking oil
2 tbs margarine
4 tbs tomato ketchup
1 tbs soy sauce
2 onions, medium sized, sliced
1 tomato chopped
1 bouillon cube (chicken or vegetable)
3 pimento peppers
½ cup dry sherry or cooking wine (red or white)
1 scotch bonnet pepper, left whole
1 chive, for garnish
Instructions
Clean chicken pieces with lime juice
Season with salt and pepper
Toss with green seasoning and bitters for 2 hours to overnight.
Remove chicken from the marinade (reserve the marinade)
Heat oil over medium heat in oven-proof dutch oven or large skillet
Add sugar and brown to deep reddish brown (see above)
Add chicken, turning to coat all sides.
Add margarine
Cook chicken for 12 minutes, turning about every 3 minutes or so, to ensure even caramelization on all sides.
Preheat oven to 350F.
Add reserved marinade, bouillon cube, onions, garlic, tomato, ketchup, pimentos, sherry/wine and scotch bonnet pepper.
Simmer for 5 minutes
Remove scotch bonnet pepper
Spoon liquid over chicken
Cover skillet or dutch oven and place in oven for 30 minutes
Garnish with chopped chives and serve.
[random_content group_id="89"]
---