Ants in A Tree (recipe)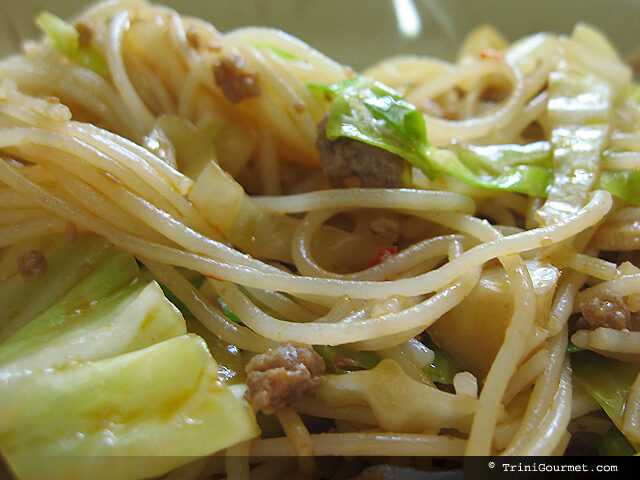 I first learnt of this recipe via Sara Moulton's excellent (and now defunct) Food Network series "Sara's Secrets". It was my first introduction to the culinary history of Singapore, and I've been hooked on learning as much as I can ever since. Much like Trinidad Singapore has been a melting pot of cultures, and these influences are reflected in the local cuisine.
This particular dish, Ants in a Tree, gets its name cos the ground meat separates to resemble ants, against the cellophane noodles. Now, I hate ants but I give this dish two thumbs up! The original recipe used pork, but I substituted with ground beef. Ground chicken would also be quite delightful I'd wager 🙂


Ants In A Tree
SERVINGS: 8
SOURCE: Sara Moulton Cooks at Home

INGREDIENTS:
Kosher salt
1 lb. cellophane noodles (bean threads) or angel hair pasta
2 lb. ground meat
1/2 cup soy sauce
2 tablespoons Asian (toasted) sesame oil
1.33 tablespoons cornstarch
12 scallions, white and green parts, thinly sliced
3/8 cups vegetable oil
2 (2-inch) piece fresh ginger, peeled and finely grated
8 cloves, garlic minced
2 tablespoons Asian chile paste
4 cups shredded Napa cabbage
1 1/3 cups chicken stock, preferably homemade
Freshly ground black pepper
METHOD:
1) Bring a large pot of salted water to a boil over high heat.
2) Add the noodles and bring back to a boil.
3) Boil for 1 minute for cellophane noodles and 2 to 3 minutes for angel hair pasta.
4) Drain in a colander and rinse under running water. Set aside.
5) Stir the meat with 2 tablespoons of the soy sauce, the sesame oil, the cornstarch, and 1/2 of the scallions in a small bowl.
6) Heat the vegetable oil in a wok or large skillet over high heat until almost smoking.
7) Add the ginger, garlic, and chile paste.
8) Cook, stirring constantly, until fragrant, about 30 seconds.
9) Add the meat mixture and cook for 1 minute longer.
10) Stir in the cabbage and the remaining 2 tablespoons soy sauce.
11) Cook, stirring, until the cabbage is almost wilted, 1 to 2 minutes.
12) Add the cooked noodles and cook, cutting them slightly with the side of the spatula, until the meat is no longer pink, about 1 minute.
13) Pour in the chicken stock and add the remaining scallions.
14) Season with salt and pepper and reduce the heat to medium-low.
15) Cover loosely with foil and simmer until the noodles have absorbed some of the stock, about 3 minutes
---