Tyler's Texas Chili (recipe)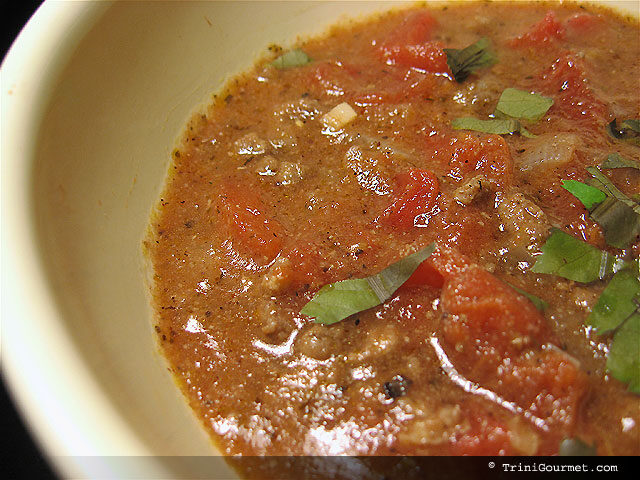 This month's "They Go Well Together" challenge, asked food bloggers to prepare dishes that combined meat and chocolate. Unlike prior challenges this one was rather second nature to me as I have been adding chocolate to my chilis for several years now. Sounds weird? Not really, it's actually quite traditional 🙂
From Moosewood Restaurant Celebrates: Festive Meals for Holidays and Special Occasions:
Using chocolate in dishes other than desserts may seem odd, but it is not so unusual in countries where cocoa beans are grown. Chocolate's deep flavour provides an ambience in which other tastes can flourish.
This is my first Tyler Florence recipe and I was quite pleased with how it came out. The recipe calls for beef chuck and a 1 1/2 hour cooking time. I'm sure it is probably even more soothing this way but I didn't have 1 1/2 hours to wait so I used ground beef instead, which basically eliminated any extra cooking time. I loved the warmth that the ground coriander added to the sauce and also was quietly amazed at what an effective thickener cornmeal was (why hadn't I thought of that before?!).
Tyler's Texas Chili
Recipe by: Tyler Florence/Food Network
Makes 6 servings
INGREDIENTS:
3 dried ancho peppers, stemmed and seeded
2 tablespoons dried oregano
2 tablespoons sweet paprika
2 tablespoons whole coriander
1 tablespoon cumin seed
1 tablespoon chili powder
3 tablespoons extra-virgin olive oil
2 onions, chopped
3 lbs. beef chuck, cut into 1-inch cubes
Kosher salt and freshly ground black pepper
6 cloves garlic, chopped
1 canned chipotle chile, chopped
½ jalapeno pepper, chopped
2 cans (28-ounce) whole tomatoes, hand crushed
1 cinnamon stick
1 teaspoon sugar
2 tablespoons masa harina
½ tablet Mexican chocolate (about 1 1/2 ounces)
Cilantro leaves, for garnish
DIRECTIONS:
In a small dry skillet over low heat add the ancho peppers, oregano, paprika, coriander, cumin, and chili powder. Cook until they begin to smell, about 2 minutes.
Put the spices into a spice mill or food processor and grind until they are powdered. Set aside.
Heat a large heavy bottomed casserole over medium heat; add 3 tablespoons olive oil and the onions. Cook until the onions are soft and beginning to caramelize, about 10 minutes. Pat the beef dry and season it with salt and pepper. Add it to the pot and cook, stirring frequently, until it has browned on all sides, about 10 minutes. Add 2 tablespoons of the toasted spice mix, the garlic, chipotle, jalapeno, tomatoes, cinnamon stick, and sugar. Season with salt and stir well. Add some hot water until the meat is just covered with liquid. Return to the boil, reduce to a simmer, cover, and cook for 1 1/2 hours. Remove the meat and shred it with a fork. Return it to the pot, stir in the masa harina and chocolate, and cook for another 10 minutes, uncovered, to thicken. Taste and adjust seasoning. Serve with the queso fresco, cilantro, and lime for garnish.
---