Bertie's Trinidad Pelau (recipe)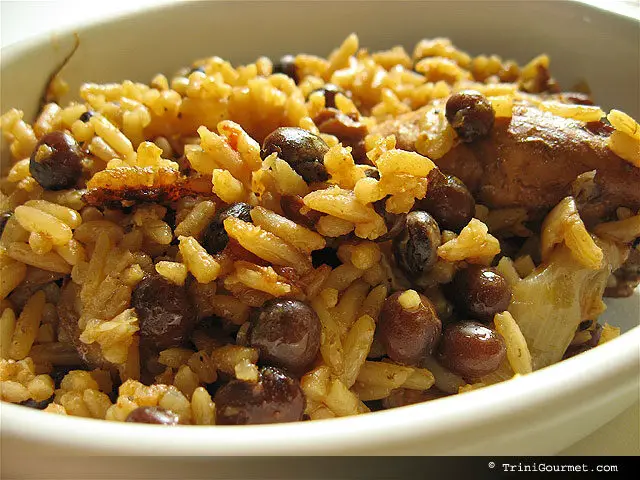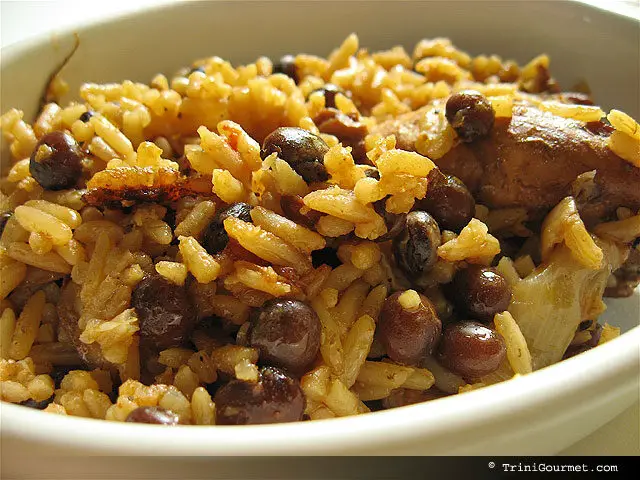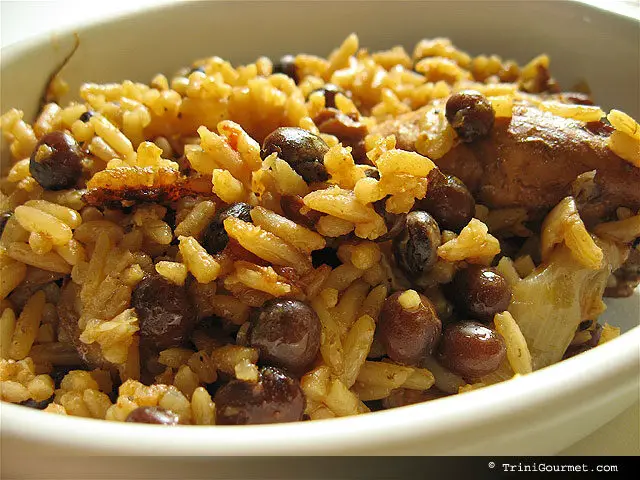 My father's pelau is (not surprisingly) my favourite and has been a staple over the long Carnival weekend in my family, for as long as I can remember.
Now my father is a man with a very narrow cooking repertoire, but what he does do he does well. You've already experienced his truly excellent pepper sauce, so why not give this one a try? 🙂 This recipe is his as he gave it to me when I moved off to college 🙂
Pelau is a wonderful one-pot dish that has come to represent Trinidad's multicultural population and resulting cuisine. Typically consisting of pigeon peas, rice, coconut milk, vegetables, and meats such as chicken, pork, or beef, all cooked together in a single pot the variety of components and cooking steps showcase the cultural tapestry of the nation, representing influences from African, Indian, European, and indigenous cuisines. The dish's popularity at social gatherings and festivals further emphasizes its role as a unifying culinary emblem of our country's society.
Bertie's Trinidad Pelau
Yields: one Dutch Oven
INGREDIENTS:
4 lbs mixed chicken pieces
1 large onion
2 large tomatoes
1 whole head of garlic
2 tins pigeon peas
2 lbs brown rice
cooking margarine
2 scotch bonnet peppers
1 kettle of hot/boiling water
One large batch of seasoning (1 rounded tsp salt, 1 rounded tsp pepper, chopped chives, 1 tsp thyme, 4 cloves chopped garlic, 1 tsp cumin, 1 tsp Angostura bitters, 1 tsp. Worcestershire sauce, 1 tsp. soy sauce and 1 tbsp. ketchup)
DIRECTIONS:
1. Place chicken pieces in large glass dish.
2. Sprinkle seasoning over meat.
3. Add 2 teaspoons of salt, a few shakes of black pepper.
4. Add several dashes of worcestershire sauce and soy sauce.
5. Allow to stand overnight in the fridge (if yuh in a rush 1/2 hours at room temperature is my personal minimum… however, if yuh goin' an' rush pelau doh come complainin' to meh about de results :P)
6. Place 3 tablespoons of oil in a stew pot (or dutch oven).
7. Bring to high heat and add one level tablespoon of sugar and allow to brown
8. Cook chicken until skin pulls away and chicken is -half- cooked.
9. Empty chicken into bowl.
10. Finely chop the onion, garlic, and tomato – place into a separate bowl
11. Pour chicken into a 6-8 quart pot.
12. Empty pigeon peas into the pot with the chicken.
13. Add 2 cups of hot/boiling water.
14. Add the seasonings and salt and black pepper
15. Stir pot to integrate all contents until pot starts to boil again.
16. Add 3 tablespoons of margarine to pot and drop in scotch bonnet peppers.
17. Turn down heat to medium
18. Add 2 potspoons of ketchup to pot and stir (doh buss de pepper!!! 🙂 )
19. When seasoning has softened add 5 cups of rice
20. Stir pot to mix evenly and cover.
21. Maintain moderate to low heat so that the pot continues cooking. Stir periodically to ensure even mix and cooking of rice.
22. Add 1/4 cups of hot water as necessary until rice is cooked and grainy (Basically as the rice slowly swells the water level will drop. Add water periodically to keep the liquid on level with the rice grains. Stirring each time to ensure even cooking).
23. When grains are cooked remove cover.
24. On low heat allow pot to continue to simmer until moisture disappears.

25. EAT!!! 🙂
Want more Caribbean recipes? Check out the Caribbean Cookbook section of my Amazon storefront!
---