Chicken Satay with Spicy Peanut Dipping Sauce (recipe)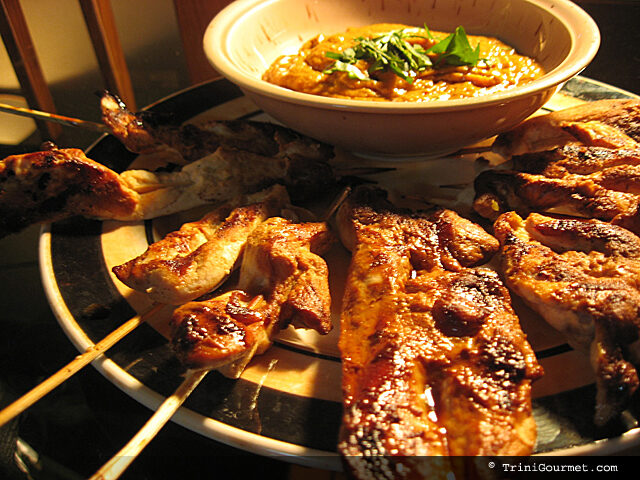 It's that time of the month again! .. No, no, that's not what I meant… I meant it's time once again for The Happy Sorceress' monthly Blog Party 😆 ! This time around the theme was Tiki Party! Tiki Parties are one of my favourite genres of kitsch. I was attending college when the short-lived big band revival occurred and suddenly everything 50's was vogue again. I quickly developed a serious and enduring love for retro music compilations boasting names like Ultra Lounge, Cocktail Hour, and (I kid you not) Colonel Sander's Tijuana Picnic, often putting one on when coming home from work to unwind.
So what exactly is Tiki? Well it's a little hard to define exactly. Let's give Wikipedia a try…
From Tiki Culture on Wikipedia:

Tiki culture in the United States began in 1934 with the opening of Don the Beachcomber, a Polynesian-themed bar and restaurant in Hollywood. The proprietor was Ernest Raymond Beaumont-Gantt, a young man from Louisiana who had sailed throughout the South Pacific; later he legally changed his name to Donn Beach. His restaurant featured Cantonese cuisine and exotic rum punches, with a decor of flaming torches, rattan furniture, flower leis, and brightly colored fabrics. Three years later, Victor Bergeron, better known as Trader Vic, adopted a Tiki theme for his restaurant in Oakland, which eventually grew to become a worldwide chain.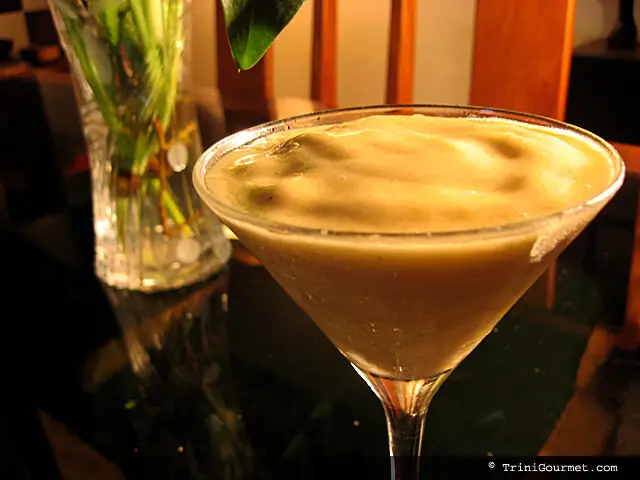 But what about Tiki cuisine? Is there such a thing? Well that has become much looser defined as appetizers and cocktails featuring tropical flavours and design elements. I've seen Jamaican jerk wings on tiki menus as wells as chicken wontons!
I decided to go with a Chicken Satay with Spicy Peanut Dipping Sauce that had everyone in my home smacking their lips, and to wash it all down I prepared 'raw' Frozen Virgin Banana Daiquiris (recipe coming soon)… oo la la!
Chicken satay is a dish that is very popular in Malaysia and Indonesia and one that I had never tried before. Skewers have always intimidated me with their pointy tips. I put out an SOS on Twitter and Facebook asking for suggestions on where to purchase bamboo ones in Trinidad and, thanks to the wonders of that technology, within minutes had several to pick from. (For the record, I grabbed a pack of 100 from D Rite Stuff).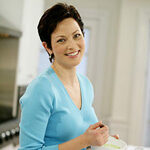 This Chicken satay (also spelled Sate) recipe was the first recipe I've prepared from Ellie Krieger. For those of you not familiar with her, she hosts 'Healthy Appetite' on the Food Network. To be quite honest I've hardly seen her show. It comes on at the oddest hours over the weekend. It's quite unfortunate cos I find her quite engaging, and after making this recipe I'm intrigued enough to explore her highly rated recipe archives even more!

Chicken Sate with Spicy Peanut Dipping Sauce
Source: Food Network/Ellie Krieger
Serves 4 (I doubled the recipe to feed 8 🙂 )
INGREDIENTS:
1/2 cup low-sodium chicken stock
1/2 cup lite coconut milk
2 tablespoons low-sodium soy sauce
1 shallot, sliced thin
1 clove garlic, minced
1 1/2 teaspoons Thai fish sauce (or 2 additional teaspoons low sodium soy sauce)
1 tablespoon brown sugar
1/2 teaspoon lime zest
1 tablespoon minced fresh ginger
1 pound skinless, boneless chicken breast pounded slightly and cut into 1-inch strips
8 (8-inch) bamboo skewers, soaked for 20 minutes
3/4 cup Spicy Peanut Dipping Sauce, recipe below
2 tablespoons minced fresh basil or cilantro leaves
1/4 cup chopped toasted peanuts
METHOD:
1. In a medium sized bowl, whisk together the chicken stock, coconut milk, soy sauce, shallot, garlic, fish sauce, brown sugar, lime zest, and ginger.
2. Add the chicken strips and marinate for 1 hour. (I also pounded the strips a bit to flatten them)
3. Remove the chicken from the marinade and discard the marinade.
4. Spray a nonstick grill pan with cooking spray and preheat over a medium-high flame.
5. While pan is heating, thread chicken onto skewers.
6. Grill 2 to 3 minutes per side, until meat is cooked through and has light grill marks.
7. Serve chicken skewers with Peanut Dipping Sauce, and garnish with basil or cilantro and chopped peanuts.

Spicy Peanut Dipping Sauce:
1/2 cup natural creamy peanut butter
1/4 cup low-sodium chicken broth
3 tablespoons low-sodium soy sauce
1 1/2 tablespoons brown sugar
1 1/2 tablespoons minced fresh ginger
2 tablespoons lime juice
1 teaspoon minced garlic
1/2 teaspoon chili flakes
1 teaspoon red curry paste
1 shallot, peeled and roughly chopped
Place all ingredients in blender and blend until smooth.
Sauce can be made 1 day ahead of time, and will keep 3 to 4 days in the refrigerator.
---