Chicken Cacciatore (recipe)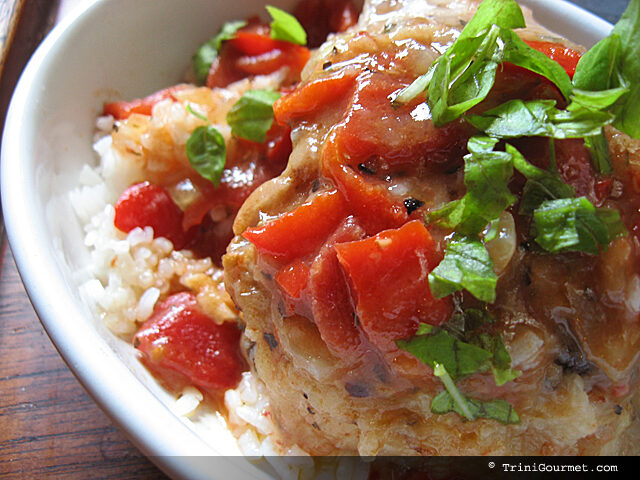 Big Night
, was a movie that I knew nothing about until becoming aware of it via Joelen's Culinary Adventures "Foodie Film" event. Warm and poignant the movie centers around the ambitions of two brothers, Italian immigrants to the US, intent on making their dreams of bringing authentic Italian cuisine to the masses a reality. The passion which the main chef 'Primo' has for his cuisine, causes him to refuse to change any element of it for the American palate. As a result patronage suffers, as people flock to a nearby competitor which makes all the necessary adjustments to prosper.
This key tension in the storyline reminded me of local Italian restaurant Guiliano's. Now a large spacious restaurant on Tragerete Road (in the former space of Woodford Cafe), I first became acquainted with it when it was a much smaller 'hole in the wall' in the heart of Port of Spain. At that time it was hard to locate a seat during traditional lunch hours, so I would take a late lunch to enjoy the paperthin pizza crusts, and fresh deceptively simple pastas. As I watched people coming in to collect 'takeaway' orders I would see them ask time and time again for ketchup and mustard. A request which would visibly infruriate the elderly Italian woman behind the counter. "You don't need no ketchup and mustard. You haven't even tasted it! Let the food shine", I remember her saying rather heatedly to a businessman who looked quite taken aback. Silently I agreed. It's been a pet peeve of mine for many years the tendency I see around me for people to drown their foods in ketchup, mustard and pepper sauce before ever raising a forkful to their mouth. And should more seasoning options be offered to them you can be sure that those will be poured on as well until the food is no longer visible, let alone recognizable. If one is dealing with shoddy, cheaply assembled ingredients then by all means mask away, but if this isn't the case, why not give your tastebuds a challenge and learn to distinguish and appreciate the finer flavour profiles that many cooks and chefs have worked hard to develop and take immense pride in?
Alas, this is probably a pipe dream of mine and is no doubt the reason why almost every establishment prominently displays ketchup, mustard and pepper sauce. It's a matter of economics. As Pascal, the brother's main competitor in Big Night
said. "Give to people what they want; later you can give them what you want." Guiliano's uniqely seems to be one establishment which has remained successful by not compromising, however a factor that I think worked heavily in their favour was that fact that the majority of their early patrons were European ex-pats who probably needed to make no adjustment. This is not a luxury that most eateries can afford. 'Give the people time, they learn' was Primo's ethos. Maybe. The question is how many restaurateurs have the time and resources to wait?
Inspired by the movie, and the directive of this event (cook something Italian) I decided to try my hand at a Chicken Cacciatore recipe from Giada de Laurentiis. This is the first time I've prepared one of Giada's recipes and the result was mouth-watering! The chicken was so tender and juicy, the sauce was thick and rich and by substituting the wheat flour in the recipe with cassava flour I was even able to make it gluten-free 🙂
Also, inspired by this event I have decided to start a 'Dinner and A Movie' series here on TriniGourmet, highlighting 'foodie films' and even more fun, cooking my way through them! I was so captivated by the dishes and foods featured in Big Night
, not least of all by the legendary Timpano, that I have challenged myself to cook every dish prepared in it, and as I do I'll post them here 🙂 Stay tuned!
Chicken Cacciatore
Source: Food Network/Giada de Laurentiis
INGREDIENTS:
4 chicken thighs
2 chicken breasts with skin and backbone, halved crosswise
2 teaspoons salt, plus more to taste
1 teaspoon freshly ground black pepper, plus more to taste
1/2 cup all purpose flour, for dredging (replace with your gluten-free flour of choice)
3 tablespoons olive oil
1 large red bell pepper, chopped
1 onion, chopped
3 cloves, garlic finely chopped
3/4 cup dry white wine
1 ( 28-ounce) can diced tomatoes with juice
3/4 cup reduced-sodium chicken broth
3 tablespoons drained capers
1 1/2 teaspoons dried oregano leaves
1/4 cup coarsely chopped fresh basil leaves
METHOD:
1. Sprinkle the chicken pieces with 1 teaspoon of each salt and pepper.
2. Dredge the chicken pieces in the flour to coat lightly.
3. In a large heavy saute pan, heat the oil over a medium-high flame.
4. Add the chicken pieces to the pan and saute just until brown, about 5 minutes per side.
5. If all the chicken does not fit in the pan, saute it in 2 batches.
6. Transfer the chicken to a plate and set aside.

7. Add the bell pepper, onion and garlic to the same pan and saute over medium heat until the onion is tender, about 5 minutes.
8. Season with salt and pepper.
9. Add the wine and simmer until reduced by half, about 3 minutes.
10. Add the tomatoes with their juice, broth, capers and oregano.
11. Return the chicken pieces to the pan and turn them to coat in the sauce.
12. Bring the sauce to a simmer.
13. Continue simmering over medium-low heat until the chicken is just cooked through, about 30 minutes for the breast pieces, and 20 minutes for the thighs.
14. Using tongs, transfer the chicken to a platter.
15. If necessary, boil the sauce until it thickens slightly, about 3 minutes.
16. Spoon off any excess fat from atop the sauce.
17. Spoon the sauce over the chicken, then sprinkle with the basil and serve.
---