Green Olive Tapenade (recipe)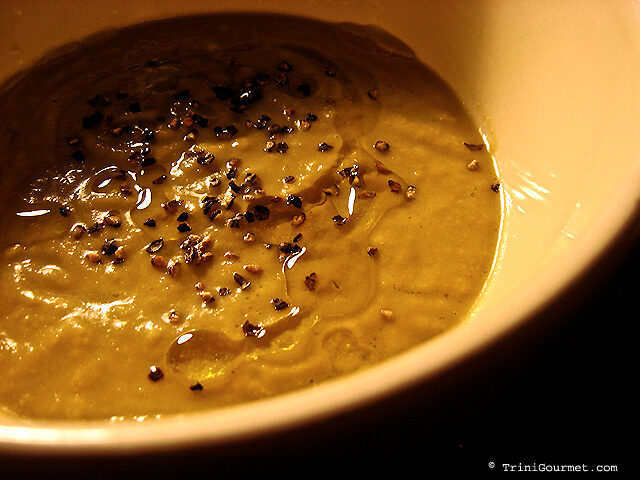 Tapenades are one of my entertaining 'secret weapons'. Blend a few ingredients, add a drizzle of olive oil, some salt and pepper and people think you have been slaving for hours 😆 This one for Green Olive tapenade is one of my favourites. Because there are so few ingredients it becomes even more important that you make them of the highest quality that you can afford. I find that the flavour is piquant enough that additional salt is not necessary, however a drizzle of olive oil and a liberal application of black pepper, perk the final results up considerably 🙂
ETA: A reader just asked me "What is Tapenade?" so I thought it best to add a little definition to this post 🙂
From Wikipedia:

Tapenade is a Provençal dish consisting of puréed or finely chopped olives, capers, anchovies and olive oil. Its name comes from the Provençal word for capers, tapéno. It is a popular food in the south of France, where it is generally eaten as an hors d'œuvre, spread on gourmet breads such as baguette or ciabatta. Sometimes it is also used to stuff fillets for a main course.
Green Olive Tapenade
Servings: 4
Source: Cooking with Three Ingredients: Flavorful Food, Easy as 1, 2, 3
Ingredients
1 cup pitted small green olives
2 cloves garlic, crushed and minced
1/4 cup extra-virgin olive oil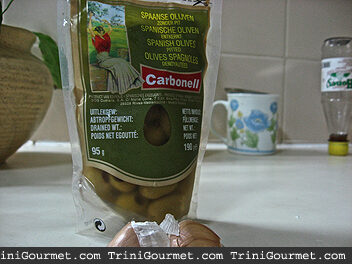 Method
1. In a blender or food processor finely chop the olives and garlic
2. Blend in the olive oil to make a paste.
3. Season to taste with salt and pepper
NUTRITION FACTS

Servings: 4
Amount Per Serving
Calories: 195
Total Fat: 16.65g
Cholesterol: —
Sodium: 297mg
Total Carbs: 10.37g
Dietary Fiber: 1.60g
Sugars: 0.25g
Protein: 1.87g
This post was originally published December 6, 2008. It has been updated once since then.
---