Chocolate Armagnac Cake: A Study in Creative Insurbodination!
It's with bittersweet reluctance that I bid February goodbye. Never has one month seen me cook and consume SO MUCH CHOCOLATE! Although my tastebuds do not approve of the inevitable shift that leaving the 'month of love' will bring, I can only think that my own waistline is relieved by the new page on the calendar!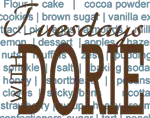 Still, if ever there was a recipe to end a chocolate high on this is the one! Titled Chocolate Armagnac Cake it is this week's Tuesdays with Dorie pick. Found on pages 279-281 of Dorie's book Baking: From My Home to Yours
, it outlines how Dorie's own liberal reinterpretation of a classic patisserie offering got her fired for 'creative insubordination'. Creative insubordination is definitely something I can throw my full weight behind, and I definitely took a few liberties with this recipe that qualified as a dash or two of rebellion on my part! 🙂
When this recipe was first announced more than a few bloggers expressed alarm that it included prunes. Prunes and chocolate? You could feel a collective gag reflex setting in. I have no idea why people were so disturbed by prunes, let alone by prunes in cake. You see once I saw that the cake included alcohol and prunes I could think of only one cake. Trinidad Black Cake! This local holiday favourite consists of little more than macerated dried fruits (predominantly prunes and raisins) soaked for insanely long periods in alcohol. Rich and moist, all I could think was that if this cake could somehow be combined successfully with chocolate then I would have found my own personal sweet tooth Shangri-La!
For this reason, I immediately eschewed the recipe's directions to chop 12 prunes, cook them briefly and then set them alight with armagnac. Instead, I turned to my own personal jar of 'set fruit'. This is a jar of fruit that has been storing my own stash of prunes and raisins since 2007 for my own annual black cake forays. I add and take from it throughout the year so I have no idea how old any particular part of it is, and that's part of the appeal 🙂 Each time I have left over raisins, dates, or prunes from a recipe, I add it to the jar, give it a stir and top it off with dark rum or cherry brandy. With the fruits macerating as long as they have, they are fully infused with a deep liqueur flavour, and are soft enough to completely break down during the baking process without any chopping needed.
I measured out a cup of 'set fruit' and set it aside 🙂
For the chocolate batter and icing I melted significant portions of a block of Callebaut chocolate that I had found at a local gourmet store a few days earlier. I had never heard about Callebaut
before, but I was very pleased with the taste and feel 🙂 Definitely a worthwhile investment, it's gonna be hard to go back to Hershey's now! 😛
With my chocolate melted and cooling slightly, it was time for my next act of mini-insurbodination, making the cake gluten-free 🙂 Honestly, the recipe only calls for a quarter cup of flour (this recipe is basically a slightly more tricked out version of a Chocolate Valentino) so replacing that with cassava flour was a no-brainer. I had used cassava flour successfully last year when I made a gluten-free Black Cake for my mother so I knew it would add to the moistness of the cake without weighing it down 🙂
At this point assembly went without a hitch, and I didn't experience any of the problems with overbaking/underbaking that some other bloggers encountered.
Rich, moist, with bursts of heady liqueur flavour, this was without a doubt my favourite chocolate discovery for February! For the full recipe check out Lyb of And Then I Do The Dishes 🙂
---