Deviled Tomatoes (recipe)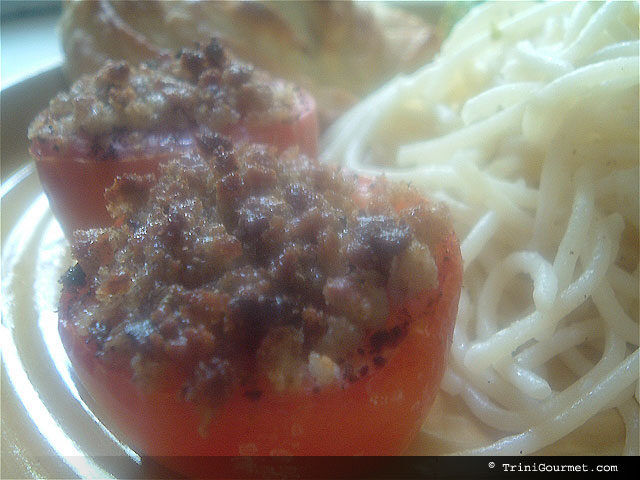 Vegetarian Express
is one of my all-time favorite cookbooks because I can always rely on it to provide a simple quick accompaniment or entree to a more lavish menu. This recipe for deviled tomatoes was used to provide an accompaniment to a meal I made recently of Broccoli Gratin and Fettucine Spaghetti Alfredo. It not only provides nutritional balance but a lovely burst of red to the plating. Even better, it takes no time to put together 🙂
Deviled Tomatoes
——————————————————————————–
Recipe By: Vegetarian Express : Easy, Tasty, and Healthy Menus in 28 Minutes(or Less!)

Serving Size: 6
Ingredients:
6 ripe plum tomatoes
2 slices whole-grain bread, torn into several pieces
2 teaspoons canola oil
2 to 3 pinches each of several dried herbs
Directions:
1. Preheat the broiler in your oven
2. Cut the tomatoes in half and arrange on a baking dish
3. In a food processor combine the bread, oil, and dried herbs.
4. Process to get even coarse crumbs
5. Sprinkle the crumbs over the tomatoes
6. Broil for 3 to 5 minutes.
---