Fried Bake 'n Fish (recipe)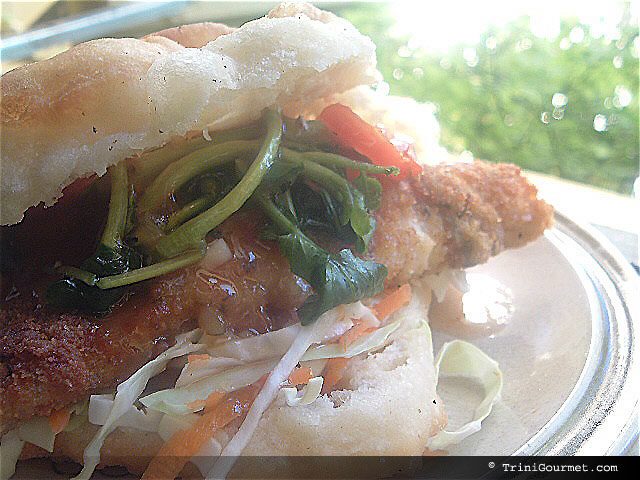 'Shark n Bake' is -the- ultimate beach food here in Trinidad (although it can be bought in other places as well). Its epicentre (where i've been told the dish was also first created) is Maracas Bay (which is also the most popular beach on the island). Many beach seekers who are going to other beaches on the North Coast will stop at Maracas en route, to pick up their 'Bake n Shark' before proceeding to their ultimate destination. Although there are many fish stands, there are usually one or two with the longest lines, and of course that is where to head! 😀 (to see pics of a shark n bake stand up close, click here)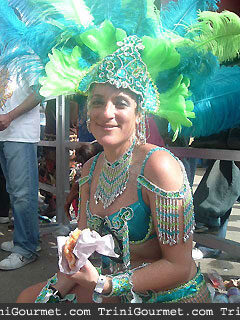 My friend Simi enjoys a bake n shark – Carnival Tuesday 2005
So what is Bake n Shark? Well it is basically fried dough and highly seasoned fried fish. That probably does not sound all that amazing or innovative but it really is all in the execution, and of course the accroutements! The condiment bar is often as large as the fish stand and contains everything from cilantro sauces to garlic sauce, tamarind sauce, chopped vegetables and of course pepper sauce (for pics click here). Also for those like myself who don't eat shark (for religious reasons) most vendors offer alternative fish options such as kingfish or flying fish so no one has to miss out!
My version used butterfish fillets but you can use any mild firm white fish. If I do say so myself it is 'out of this world' 😛
Trinidad Fried Bake 'n Fish (adapted from the Naparima Girls' High School Cookbook)
Ingredients:
Float (Fried Bake)
4 cups flour
1 1/2 tsp salt
4 tsp baking powder
water
oil for frying
Fried Fish
1 lb fish fillets
2 limes
breadcrumbs
flour
2 tbsp minced chive & thyme
1 tsp minced garlic
1 teaspoon salt
1/2 tsp pepper sauce
1-2 beaten eggs
oil for frying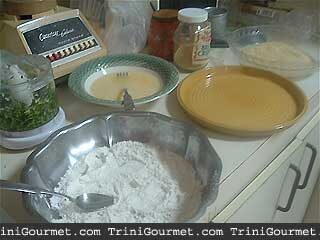 Method:
Fried Bake:
1. Sift flour, salt and baking powder
2. Add enough water (around 2 1/2 cups) to make a soft dough
3. Knead for about 10 minutes.
4. Leave to rest for 1/2 hour or more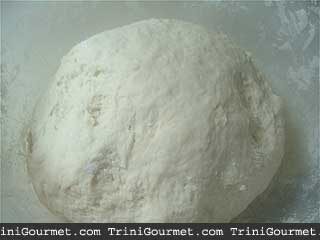 5. Divide into 6 portions.
6. Flatten each portion to a a diameter of 5″ to 6″ and 1/4″ thick. Oil hands if necessary to prevent the dough from sticking to your hands
7. Fry in hot oil untli brown, turning once
8. Drain on kitchen paper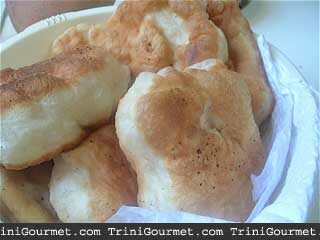 Fried Fish:
1. Combine chive, thyme, garlic, salt and pepper sauce
2. Marinate fish in lime and salt for about 15 minutes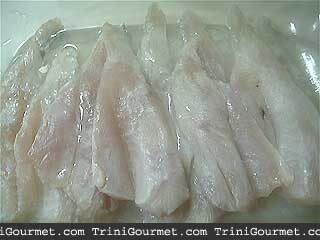 3. Drain well and rub with seasoning mixture
4. Dip fillets in flour
5. Dip fillets in egg
6. Dip fillets in breadcrumbs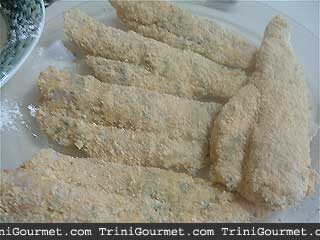 7. Fry on both sides until brown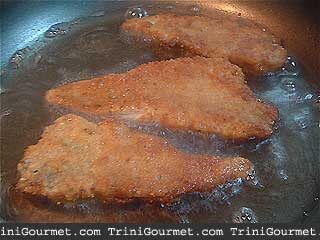 8. Drain throughly on kitchen paper
Condiments:
Condiments for this dish are as varied and freeform as they come. Let your imagination and preferences guide you 🙂
This time around I made some coleslaw, tossed some tomatoes and watercress with olive oil, salt and pepper, and made a lovely sauce by combining diluted mango chutney with ketchup and chopped garlic
Assemble by slicing horizontally into the fried bake 90% of the way through. Insert a fillet and top with condiments.
---