Dewar's Scotch Tasting: Entering the World of Spirits
Friday, October 19th found me at the Trinidad Hilton's Grand Ballroom, for a Dewar's Whisky Tasting with their Global Brand Ambassador Fraser Campbell.
Although I consider myself a neophyte to the world of spirits, I'm not that much in the dark that I don't know that Dewar's is highly renowned. What I didn't know though is that it is also the most awarded blended scotch whisky in the world!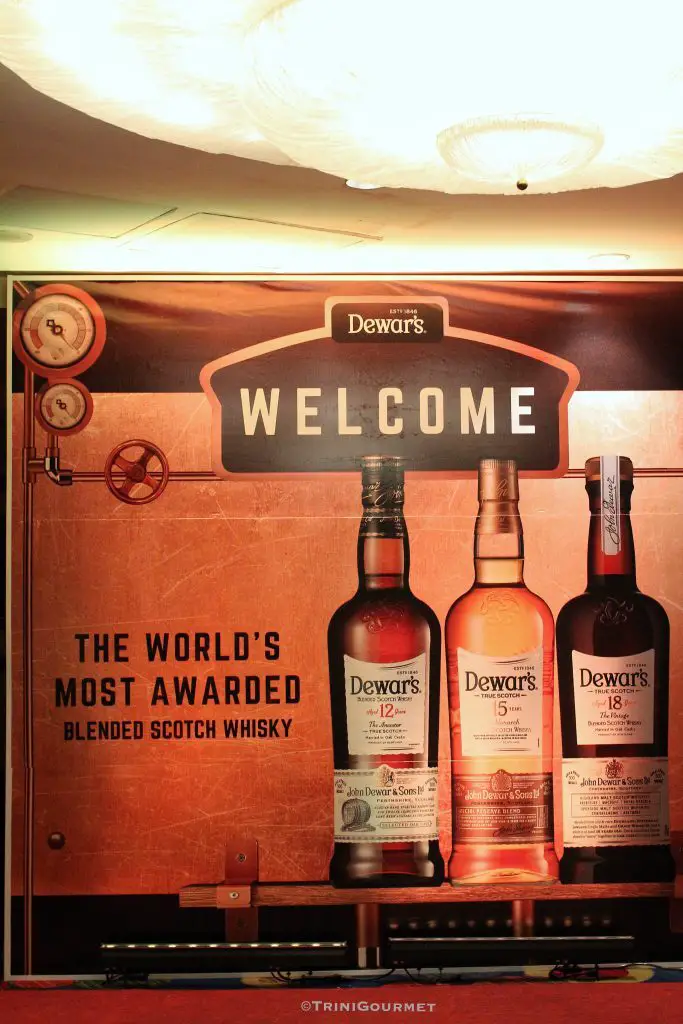 About DEWAR'S®
Founded in 1846 by John Dewar, DEWAR'S has grown from a small wine and spirits merchant shop in Scotland, to one of the largest Scotch whisky brands in the world.  Best known for its iconic DEWAR'S White Label, the top selling blended Scotch whisky in the USA, it has expanded its family to create a portfolio of premium and super premium whiskies including DEWAR'S 12 Year Old, DEWAR'S 15 Year Old, DEWAR'S 18 Year Old and the exclusive DEWAR'S Signature. These whiskies are crafted using the DEWAR'S oak marrying ageing process. Pioneered by DEWAR'S in 1899, it involves returning the hand-crafted blend to vintage oak casks for further maturation. The result is a smoother taste with a long, lingering finish; a taste that wins medals and applause, making DEWAR'S the world's most awarded Scotch.
Above: Preparing The Penicillin, my favorite cocktail of the night! Redolent with ginger flavor, it definitely had me feeling that the holiday season was coming soon! Give it a try!
Dewar's Penicillin

2 oz. Dewar's 12 Years

1/4 oz. Lemon Juice

3 Ginger Slices

1/4 oz. Honey Syrup (equal amounts of Honey and Water)

1/4 oz. of Malt Whiskey of Islay (e.g. Laphroig)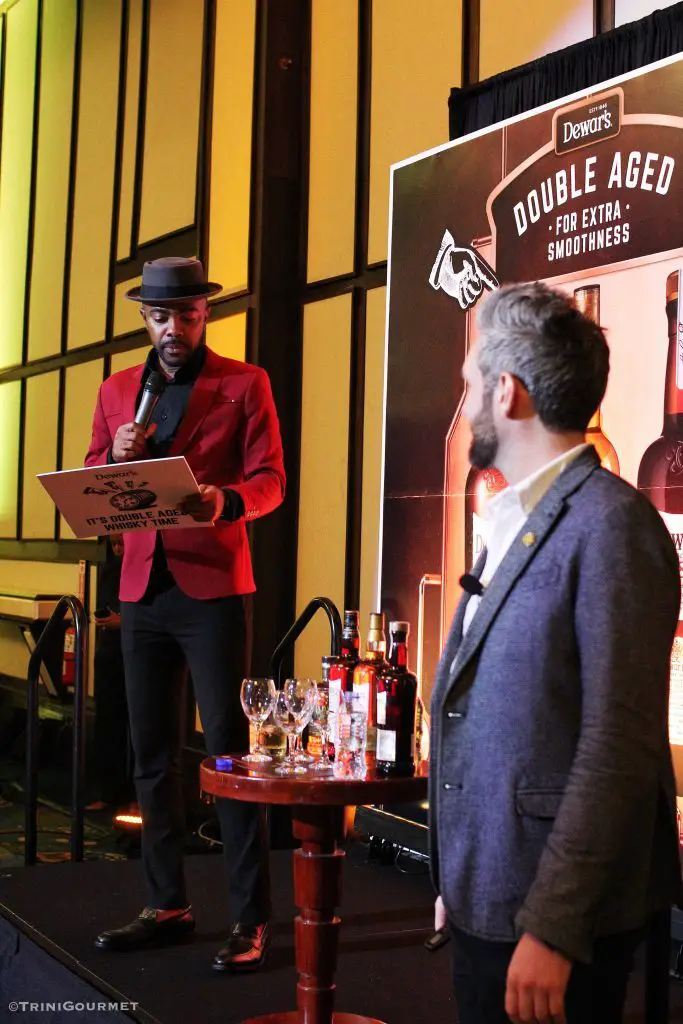 Media personality Jason "JW" Williams was our emcee for the night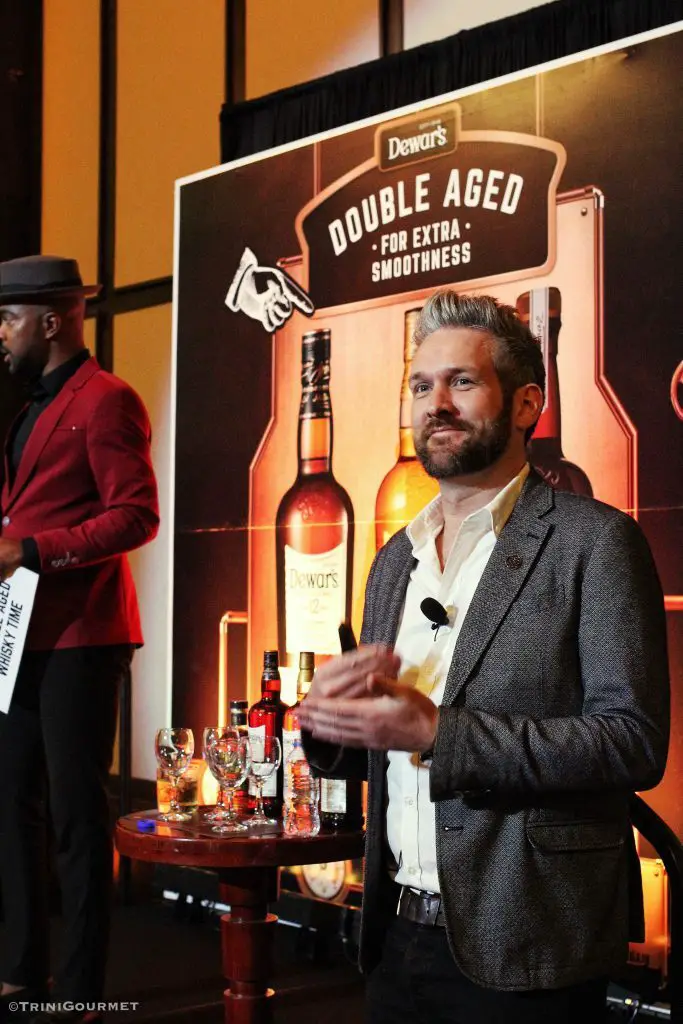 All Scotch is whisky. All whiskies are not Scotch. So began Dewar's Global Brand Ambassador Fraser Campbell in his introduction to the Dewar's product line and whiskey in general. Indeed Scotch is just the internationally recognized term for "Scotch Whisky" For a complete neophyte like myself it was pretty eye-opening!
So what is whisky?
From Wikipedia: Whisky or whiskey is a type of distilled alcoholic beverage made from fermented grain mash. Various grains (which may be malted) are used for different varieties, including barley, corn, rye, and wheat. Whisky is typically aged in wooden casks, generally made of charred white oak.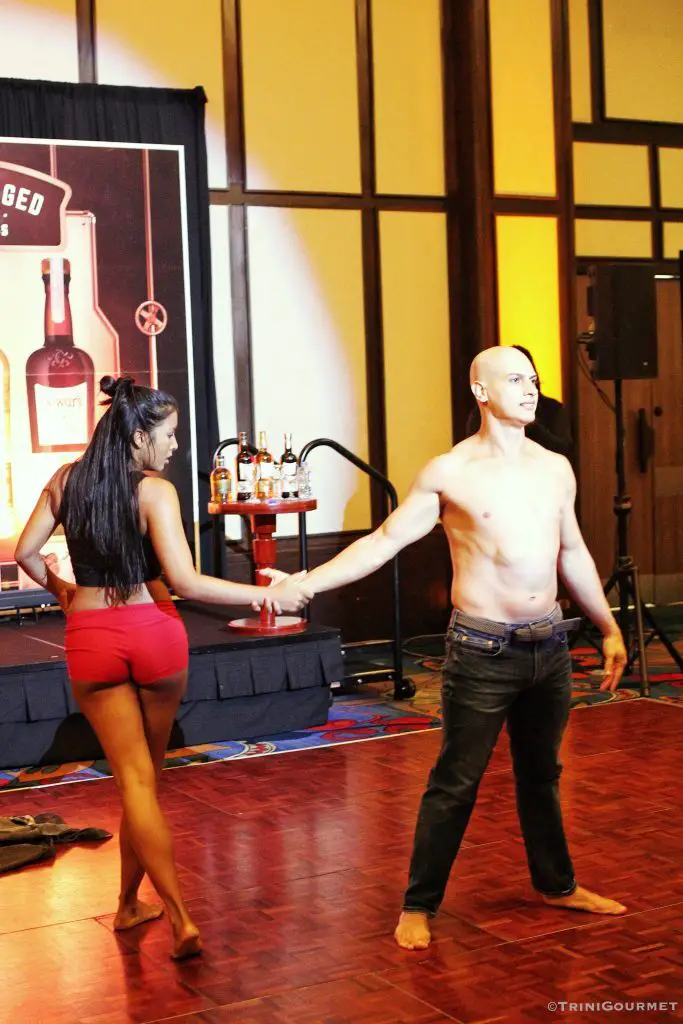 A passionate dance performance, the first of two, from Jody Akal-Gonzalez and Mike Gonzalez of the N9 Dance Company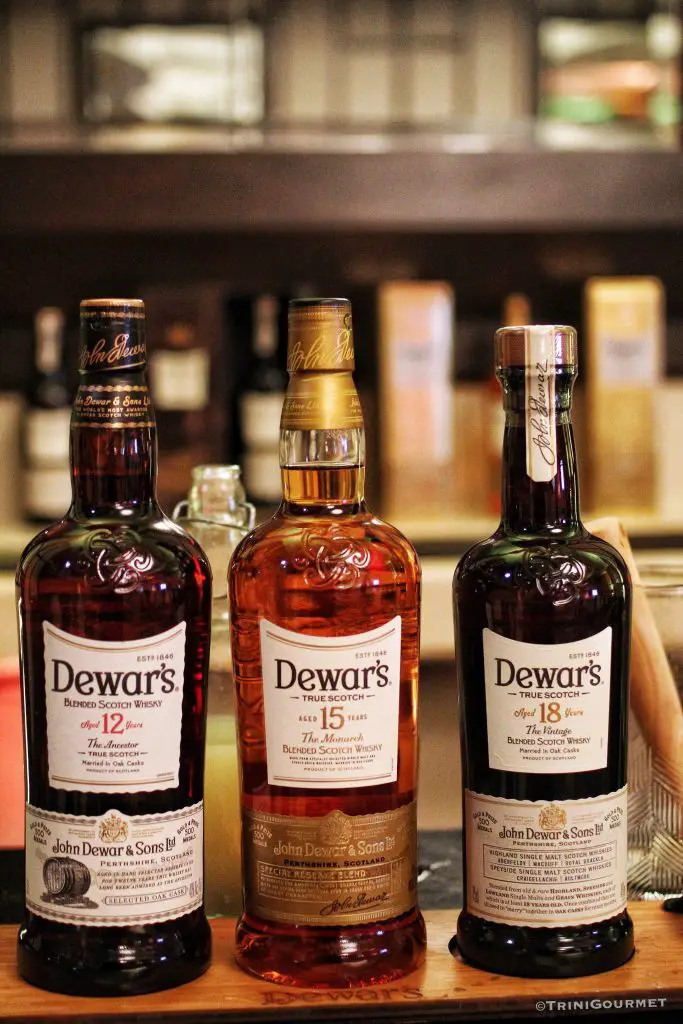 3 of the 5 whiskies we sampled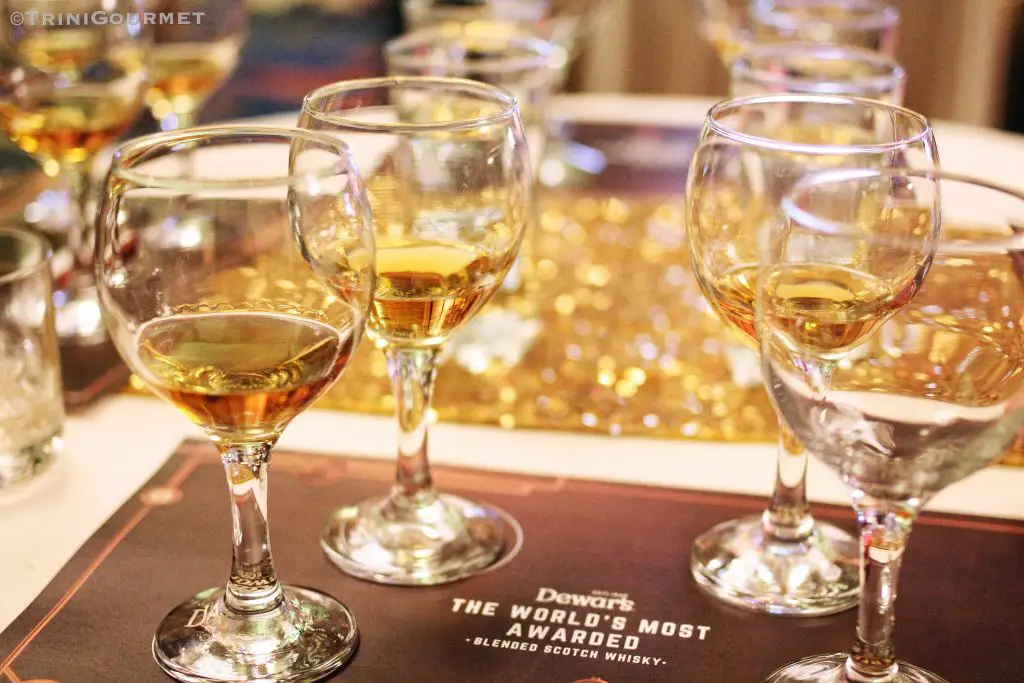 Over the course of roughly an hour, guided by Campbell, we learned more about the Dewar's whisky aging process and tasted four bottles in their product line. Three blends, and one single malt.
DEWAR'S 12 Year Old – Buttery & Mellow. Vanillas and caramel. This was a very accessible flavor, it would go well with coconut water and I think would appeal to people who may not be familiar with scotch.
DEWAR'S 15 Year Old – Warm & Complex. Smooth, well-rounded with a long and warming finish. Hints of honey, toffee and coconut as well as cooked fruits really come through. This was my favorite of the four! This would go great with fruit cocktails or just plain soda.
DEWAR'S 18 Year Old – Oaky with a lingering aftertaste, this whisky seemed to resonate much more strongly with the men at our table than the women! It was definitely bold!
DEWAR'S Aberfeldy Single Malt – Honey notes popped up again, as well as a raisin-like sweetness followed by subtle spice. At first I found it a little puzzling, but after several sips the full profile really developed on my tongue and I realized I quite enjoyed it. For some reason I couldn't get the idea of pairing it with Asian-inspired dishes out of my head. I may need to give that a try!
How gorgeous are those whiskey tears (also called legs)?
It was quite enlightening as well to learn that single malts were not necessarily "better" than blended whiskeys. A popular misconception that has seeped into the general consciousness.  Great whiskies are unique in their own ways and master blenders play a huge role in this!
The second performance from the N9 Dance Company.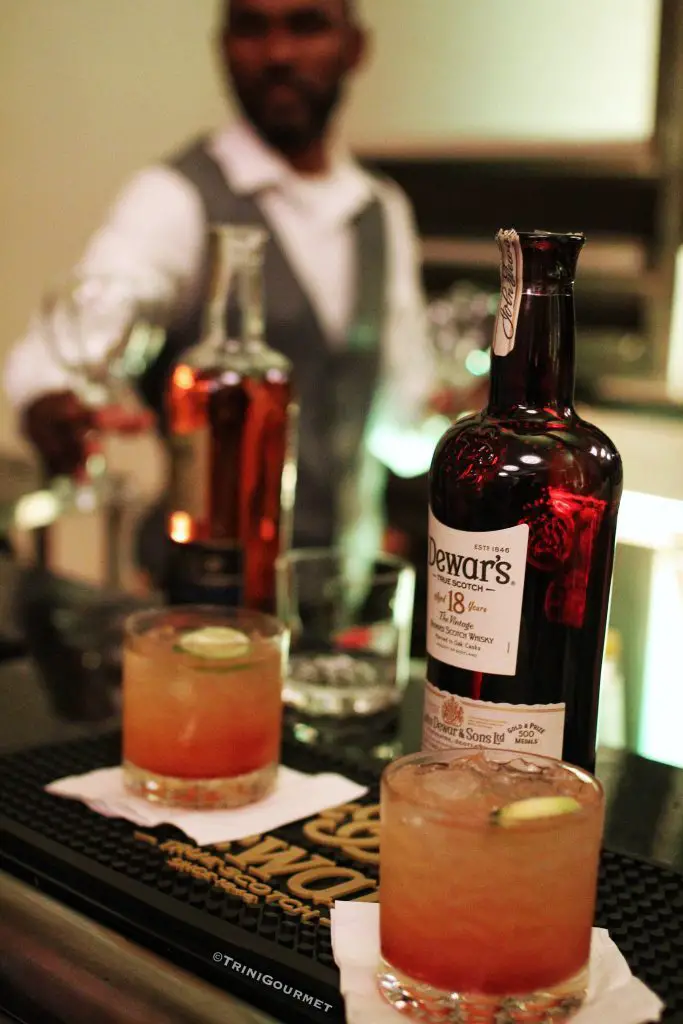 The second cocktail of the night, the Dewar's Dramble.
Dewar's Dramble

25 ml freshly squeezed lemon juice

50 ml Dewar's 15 year old

12 ml Sugar Syrup (2:1 ratio sugar:water)

10 ml Crème de Mûre

Blackberry Garnish
Although I didn't get a chance to sample Dewar's Signature 25 Year Old (shown above) the satisfied moans and sighs from those around seemed to be a resounding endorsement!
Description:  A sophisticated and elegant whisky which truly thrives on the tongue: fresh fundaments of rich apple and apricot are lifted by thick floral notes and honey battles smoke for dominance in a slow, heady finish.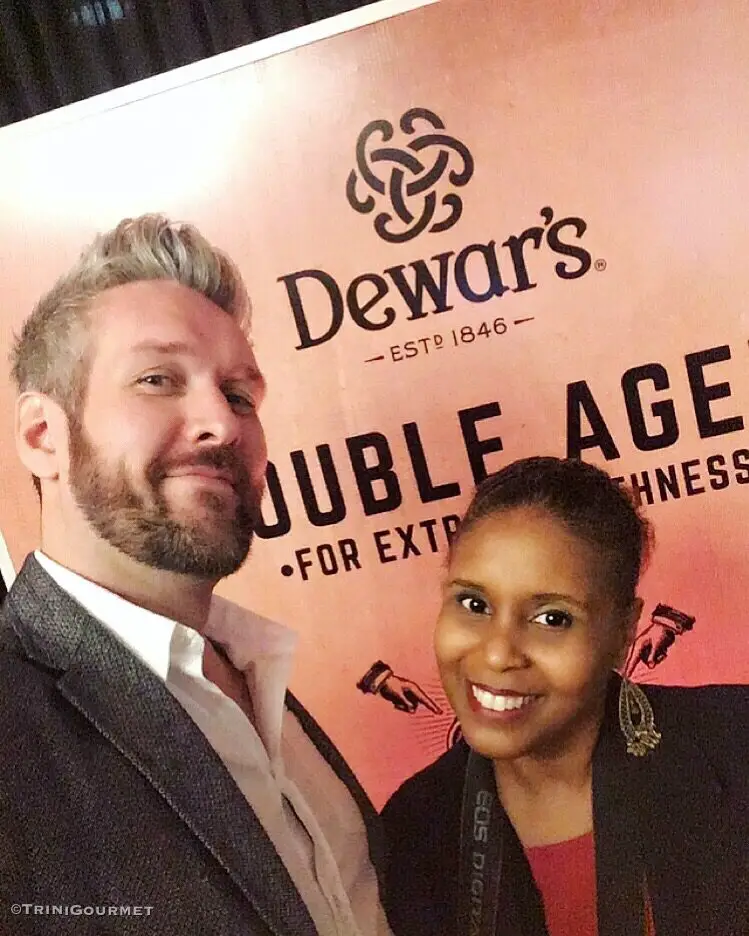 A special thank you to AMCO and Dewar's for the invitation. I do look forward to covering and sharing more about the spirits market here in Trinidad & Tobago!
For even more coverage of this night's events check out the Dewar's highlight album on my TriniGourmet and SarinaNow Instagram feeds (both have different content!)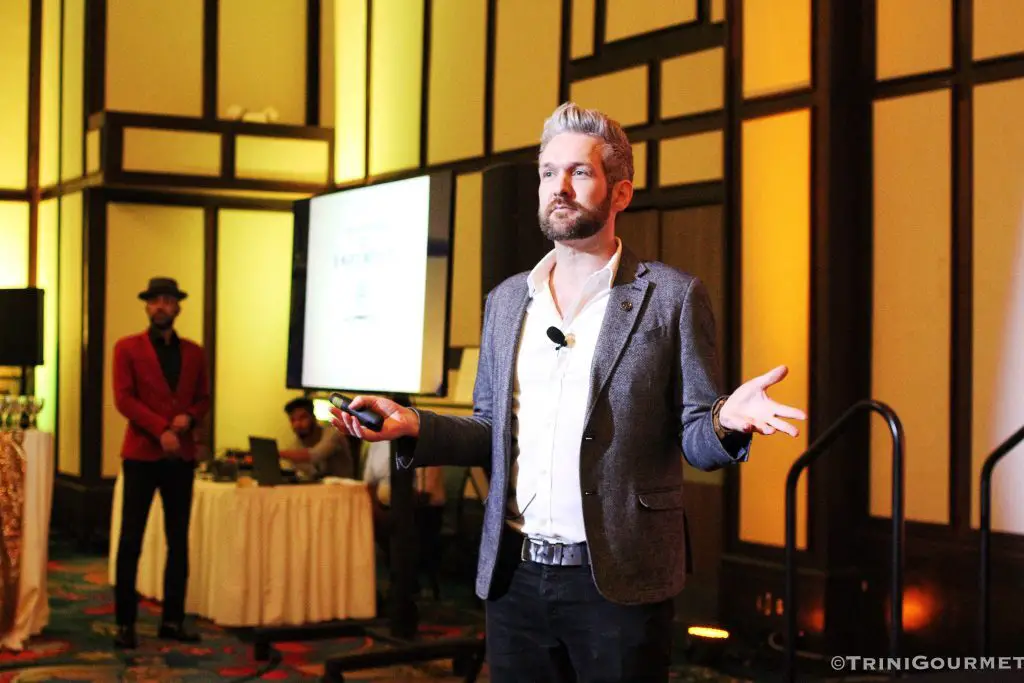 About Fraser Campbell
Having been a firm fixture in the global bar scene for almost two decades, with stints in the UK, Australia and Spain, Campbell has an enormous wealth of industry experience to bring to his role as Dewar's Global Ambassador.
With his valuable insight in the global bar scene he has developed a focused Drink Strategy across the whisky portfolio to help further establish the Dewar's brand.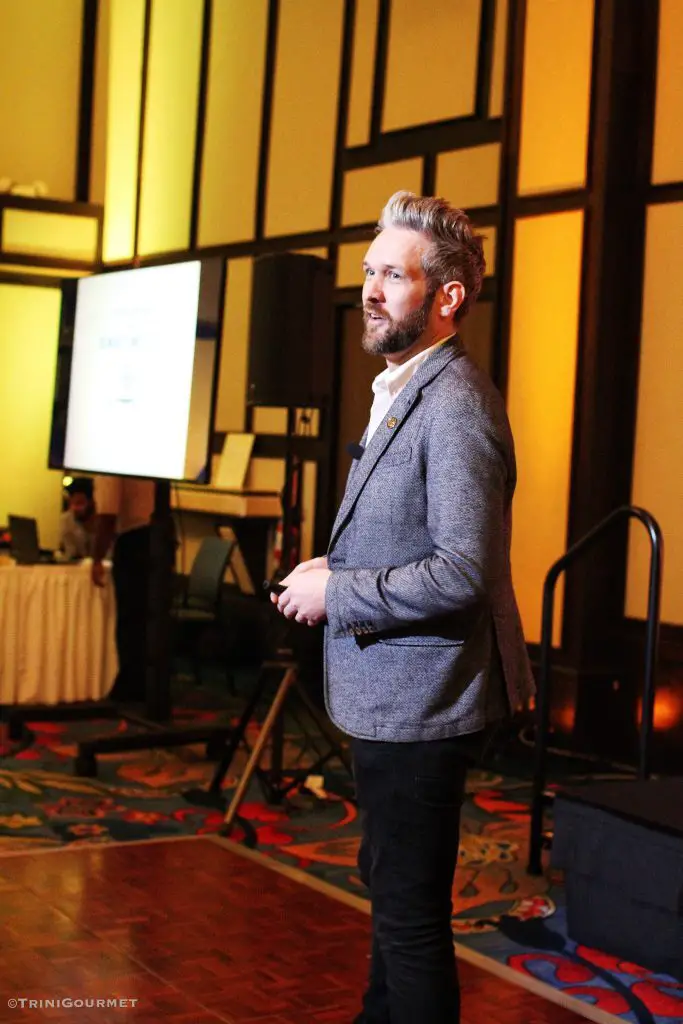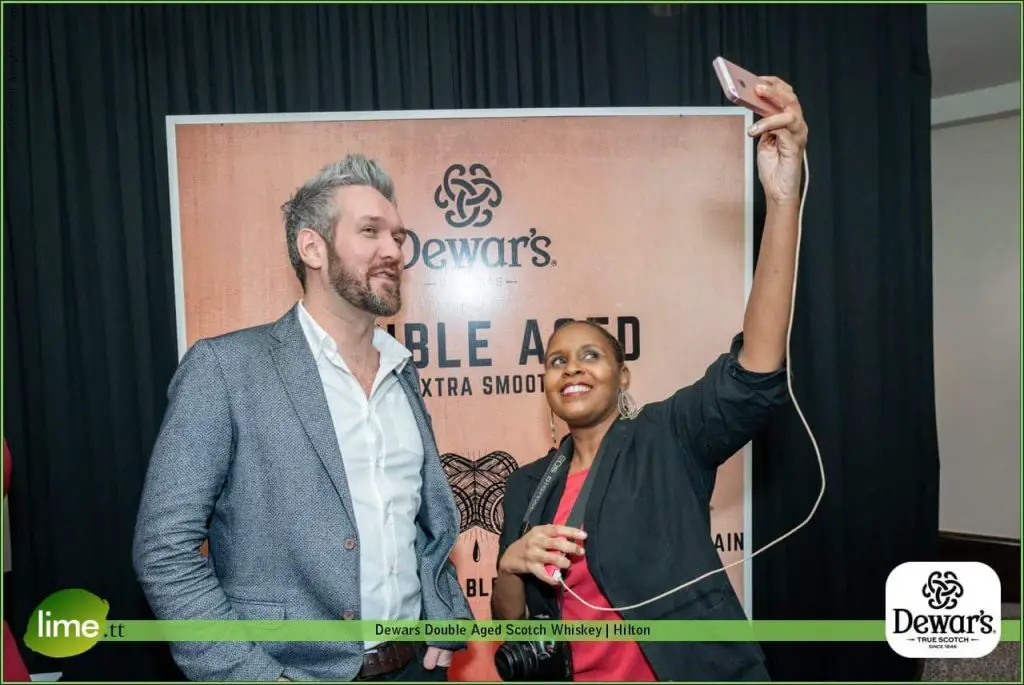 ---