Divali Menu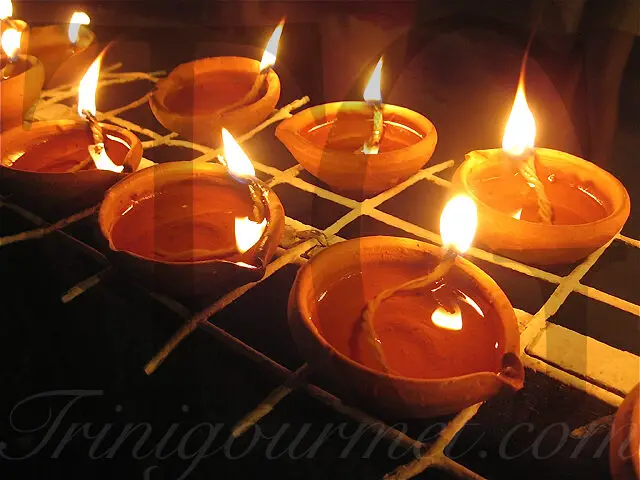 Deyas flickering in the wind during Divali celebrations in Trinidad and Tobago, Adam Smith Square Woodbrook
Friday November 5th, 2010 was Divali in Trinidad and Tobago, a public holiday. Divali (also known as Diwali or Deepavali) is the Hindu festival of lights, and one of my favourite religious celebrations.
Growing up, much of the students at my prep school, including myself,would assemble on the evening of the Divali celebrations to help our Hindu classmates to fill and light the deyas and to take part in the puja which featured performances by our friends 🙂
To learn more about the meaning and history of this festival visit Divali on Wikipedia.
This year our menu consisted of the following. Recipes to follow!
• Buss-up-Shut Roti
• Dhalpuri Roti
• Curried Potato & Channa
• Tomato Choka
• Mixed Vegetable Curry
• Steamed Rice
• Trinidad Barfi
• Trinidad Parsad
Divali celebrations are held throughout Trinidad at both private and public locations, and participation is not restricted to Hindu followers. One of my favourite locations to take in the lights is Adam Smith Square in Woodbrook. The cross-section of families and individuals from all walks of life always brings a smile to my face and reminds me of the Divali celebrations of my childhood.
To learn more about the holiday and its celebrations in Trinidad take in this video I made two years ago for my Kimchi x Kallaloo project.
---