Eggplant Cutlets: Cotolette Di Melanzane (recipe)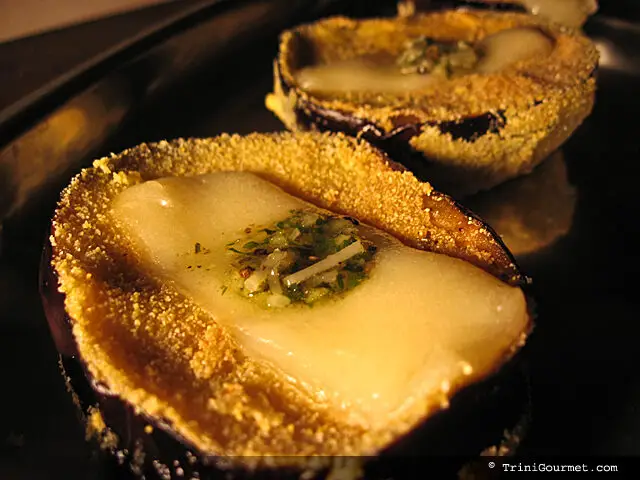 This post was first published February 8, 2009. It has been updated once since then.
What do you get when you combine Fried Eggplant with the skill and experience of a world class chef? These out of this world 'Eggplant Cutlets'. Like many of the Mario Batali dishes that I have tried, this recipe provides rich flavour and a satisfying contrast in textures, through what appears as relatively few ingredients. Although Batali's recipes uses breadcrumbs, I substituted that with cornmeal so that this dish would be gluten-free. The change in flavour was not displeasing, and the crunch was probably even a little more satisfying. At the end of the instructions Batali provides an assorted array of suggestions for toppings and accompaniments. I merrily ignored them opting instead to use up some leftover mozzarella that I had on hand, and topping the strips with my then freshly made 'Blanched' Basil Pesto. As Batali always recommends improvisation based on what you have on hand, and what is freshest, I can't help but hope that he would have approve 🙂
Eggplant Cutlets: Cotolette Di Melanzane
SOURCE: Food Network / Mario Batali
INGREDIENTS:
3 large purple eggplants
Salt
3 large eggs
1 bunch Italian parsley, chopped
1 cup bread crumbs (use cornmeal if gluten-free)
Salt and freshly ground black pepper
1 cup extra-virgin olive oil
4 ounces grated cacviocavallo cheese, for garnish
Fennel fronds and orange wedges for garnish
METHOD:
1. Slice the eggplants into round slices, each about 1/2 -inch thick.
2. Sprinkle the slices liberally with salt and then place them in a colander.
3. It is all right if the eggplant slices overlap or cover one another.
4. Leave the eggplant in the colander for at least 1 hour, giving the salt time to absorb the eggplant's bitterness.
5. Don't rinse the eggplant, just shake off excess water.
6. When eggplant are ready to be used, use a fork to lightly beat the three eggs in a shallow bowl.
7. Spread the breadcrumbs out in a baking pan.
8. Season the eggplant slices to taste with salt and pepper.
9. Lightly dredge each eggplant slice first in the egg and then in the breadcrumbs.
10. In a 2-quart saucepan, heat extra-virgin olive oil to come up a 1/4 way u pthe side of the pan, over medium heat.
11. When the oil begins to smoke, lay several eggplant slices in a single layer in the pan.
12. Fry the slices until golden brown, about 2 minutes on each side.
13. When the first batch is cooked, remove the eggplant from the pan to a serving dish using a slotted spoon.
14. Repeat the cooking process, beginning by adding 3 fresh tablespoons of extra-virgin olive oil to the pan, until all of the cutlets are cooked.
15. Serve warm, garnished with caciocavallo cheese, fennel fronds and juice from the orange wedges.
For more Italian recipes check out the Italian cooking section of Veni Mangé – The Trinigourmet Amazon Bookstore!
---