Fruit & Nut Cookies (recipe)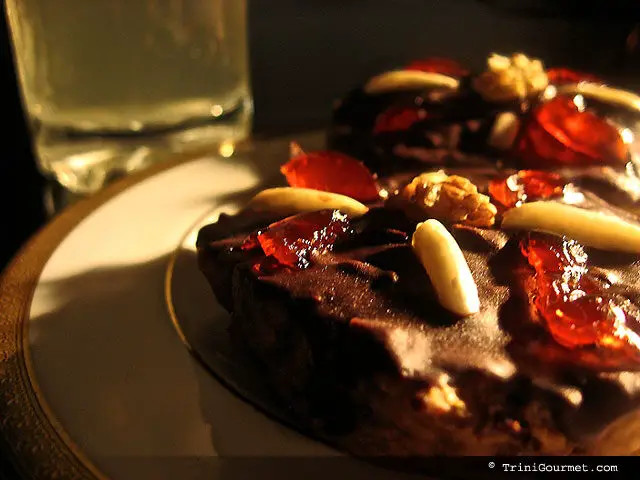 Happy Sorceress'
monthly Blog Party series was one of the first food events that I took part in and I have always marvelled at how she continues to come up with creative and interesting theme. That's why it made perfect sense for me to choose the 40th hosting of her virtual cocktail party as my official re-entry into the world of online food events. This time around the theme is, most fittingly holidays.
From Dispensing Happiness:

With the start of yet another hectic holiday season upon us, we're going to make a promise to ourselves: we WILL set aside that one day to pamper & treat ourselves, to enjoy the company of friends, listen to great music and of course…enjoy all those wonderful holiday appetzers and drinks!
With that in mind I decided to go for sweet over savory this time around. Gingerbread fruit and nut 'cookies' are colorful, festive, and not-too sweet. Perfect for any gathering from formal to informal. Because the gingerbread recipe is not particularly sweet, it becomes extremely important to use good quality chocolate, and not to omit the nuts and fruit. They add much needed texture and flavour. If you are allergic to nuts, feel free to substitute chopped dried fruit. If you are not a fan of maraschino cherries, do still give it a try. I had initially wanted to omit them, but I am so glad I didn't. Again, the cloying sweetness is extremely tempered by the spiciness of the gingerbread and the depth of the chocolate.
To wash everything down I paired it with a cool refreshing Iced Lemon Ginger Tea, perfect for a balmy tropical evening. You can look out for that recipe tomorrow. Until then, enjoy the party!
Chocolate Fruit and Nut Cookies
Source: Edible Gifts (Cook's Essentials)
Makes 20 cookies
INGREDIENTS:
8 ounces plain chocolate
1/4 cup caster sugar
1/3 ccup water
1/2 cup glace cherries
scant 1/2 cup walnut halves
1 cup whole blanched almonds
For the gingerbread:
1/2 cup unsalted butter, softened
1/2 cup light muscovado sugar
1 egg, beaten
1/3 cup molasses
3 1/2 cups self-raising flour
1 teaspoon ground ginger
1/2 teaspoon ground cloves
1/4 teaspoon chili powder
METHOD:
1. First make the ginger bread. Cream the butter and sugar together until pale and fluffy
2. Beat in the egg and treacle
3. Sift hte flour, ginger, cloves and chili powder into the bowl
4. Using a wooden spoon, gradually mix the ingredients together to make a stiff paste (if at this point you find the dough too dry and crumbly add 1/4 to 1/2 cup of water)
5. Turn out on to a lightly floured surface and knead lightly until smooth
6. Shape into a roll 8 in long, wrap and chill for 30 minutes
7. Preheat the oven to 350
8. Grease two baking sheets.
9. Cut the dough into 20 slices and space them on the baking sheets.
10. Bake for 10 minutes.
11. Leave on the baking sheets for 5 minutes and then transfer to a wire rack and leave to cool
12. Break the chocolate into pieces.
13. Put the sugar in a small, heavy-based saucepan with the water.
14. Heat gently until the sugar dissolves
15. Bring to the boil and boil for 1 minute, until slightly syrupy
16. Leave for 3 minutes to cool slightly
17. Stir in the chocolate until it has melted and made a smooth sauce
18. Place the wire rack of biscuits over a large tray or board to catch the drips
19. Spoon a little of the melted chocolate mixture over the gingerbread biscuits, spreading it to the edges with the back of the spoon
20. Gently press a walnut half into the centre of each biscuit.
21. Arrange almonds and brown sugar around
22. Leave to set in a cool place
---