Glitter Gelatin Torte (recipe)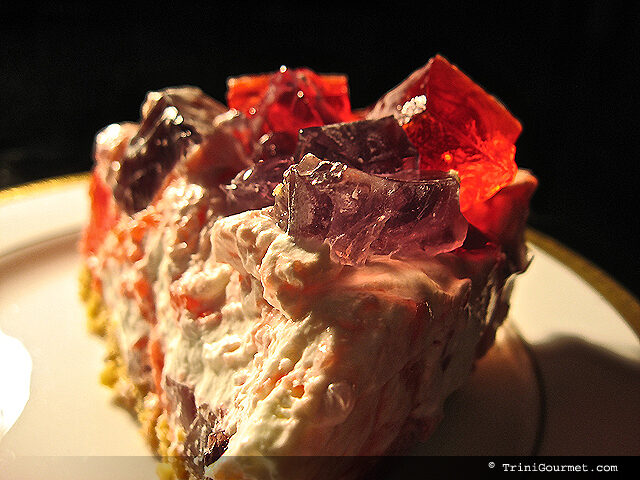 Earlier this year my mother fell seriously ill for several weeks. Numerous doctor visits and tests later it came back that she was suffering extreme toxicity due to an undiagnosed gluten allergy. This allergy appeared to manifest out of nowhere, but as with most things knowledge was power, and we all knew what had to be done to bring her back to health. In the months since it's been a challenge to create and design meals that would not make her feel 'deprived' but I think I'm getting the hang of it, thanks in no small part to the number of gluten-free food blogs which are now out there. Yesterday however was the ultimate challenge of challenges. Her birthday. I was determined to give her a gluten-free birthday of dessert that would make her feel divine and decadent.
First in my arsenal was the dessert I am blogging about here today. A Glittery Gelatin Torte that I am also submitting to this month's Sugar High Friday. Hosted this time around by The Well Seasoned Cook, this month's theme is "All that Glitters" and I think this recipe definitely fits the bill. Shimmering Jello cubes are folded into foamy gelatin, whipped cream, and shredded pineapples. So good! The use of sugar free jello lightened the caloric content, and instead of graham cracker crumbs I made the crust from pulverised corn flakes. For a pared-down adaptation the results were nothing short of heavenly, and the smile on her face was all the confirmation I needed 🙂
As a result of the lifestyle changes that our household has made you can look forward to more gluten-free recipes here on Trinigourmet in the future. I will also be going through my archives and updating old eligible posts with a new 'gluten free' tag. For part 2 of Mom's first Gluten-Free birthday, stay tuned! 😀 And to view the roundups and themes of previous Sugar High Fridays click here 🙂
Glitter Gelatin Torte
Servings: 12
Source: Adapted from a recipe in Country Woman Christmas
INGREDIENTS:
1-1/2 cups pulverized cornflakes (gluten-free i.e. no malt extracts as per this reader's comment)
1/2 cup butter or margarine, melted
1 package (3 ounces) sugar free strawberry gelatin
3 cups boiling water, divided
1-1/4 cups cold water, divided
1 package (3 ounces) sugar free lime gelatin
1 package (3 ounces) sugar free lemon gelatin
1 can (8 ounces) crushed pineapple, drained
3 tablespoons lemon juice
Dash salt
1-1/2 cups whipping cream, whipped
METHOD:
1. In a bowl, combine the cornflake crumbs and butter; press onto the bottom and 2 in. up the sides of a greased 9-in. springform pan. Refrigerate.
2. In a small bowl, dissolve strawberry gelatin in 1 cup boiling water; stir in 1/2 cup cold water.
3. Pour into an 8-in. square dish coated with cooking spray; chill until firm.
4. Repeat with lime gelatin, pouring into another 8-in. square dish.
5. In a large mixing bowl, dissolve lemon gelatin and remaining sugar in remaining boiling water.
6. Add pineapple, lemon juice, salt and remaining cold water.
7. Refrigerate until partially set, about 1 hour.
8. Beat on medium speed until foamy, about 2 minutes.
9. Cut strawberry and lime gelatin into 1/2-in. cubes; set aside 1/4 cup of each for garnish.
10. Fold remaining cubes into lemon gelatin.
11. Fold in whipped cream.
12. Spoon into crust.
13. Top with reserved gelatin cubes.
14. Cover and refrigerate for at least 6 hours.
15. Remove sides of pan.
16. Cut into wedges.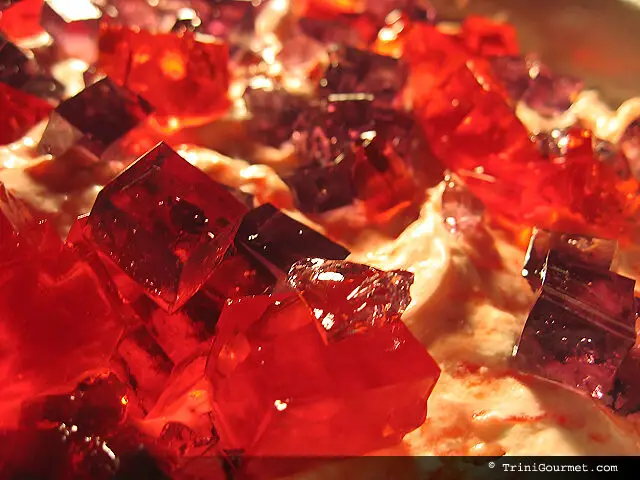 ---