Playing with the Tuile of Hearts (video)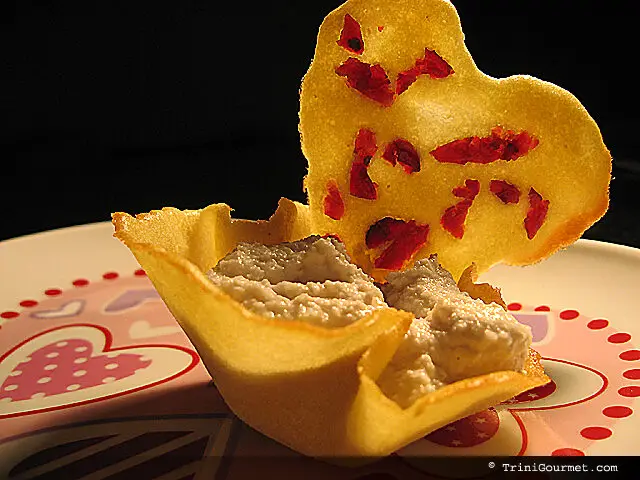 This post was originally published on January 29, 2009. It has been updated once since then.
So here it is, right on the heels of my first Tuesdays with Dorie entry, my very first Daring Bakers challenge! I first learnt about Daring Bakers in 2006 shortly after starting this blog. Back then the pool of participants was quite small and invitation-only. I would read their entries and ooh and aah over the pictures wondering if and when I'd ever feel ready to throw my hat into the ring and join them. Well, I can't say I feel any more ready, but in late December I took the plunge and now you get to see the results of my very first effort, Tuiles.
What are Tuiles?

From Epicurious.com:
tuile
[TWEEL]
French for "tile," a tuile is a thin, crisp cookie that is placed over a rounded object (like a rolling pin) while still hot from the oven. (There is also a special tuile mold, over which the hot cookies may be placed.) Once cooled and stiff, the cookie resembles a curved roof tile. The classic tuile is made with crushed almonds but the cookie can also be flavored with orange, lemon, vanilla or other nuts.
From when I first saw the challenge, I wanted to go in a Valentine/heart-shaped direction. I had recently gotten a heart plate and cookie cutter set in an Avon order and was dying to try them out 🙂 Although I thought I would attempt them on a regular cookie sheet, I quickly realized that many sites recommended the use of silicone mats. I had never used such bakeware before and was a little reticent but several Facebook foodies expressed enthusiastic devotion towards theirs so I made a quick call to J and asked him to pick up 2 mats from De Rite Stuff, on his way over. Boy am I glad I did. Not only did they make removing the paper thin tuiles a cinch, they cleaned up and cooled down in a jiffy. A value that I definitely appreciated as I had to make batch after batch after batch of the deceptively simplistic batter before starting to achieve anything that began to resemble the many photos I had assembled of the finished product.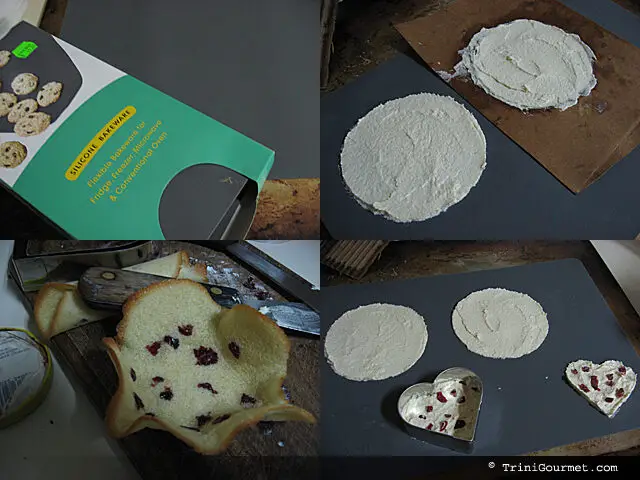 After about 2 hours of nonstop baking, and a stomach full of discarded 'mistakes', finally finally I achieved a feeling of accomplishment. Using my homemade cardboard stencil, and heart shaped cookie cutters, I had spread the batter tissue paper thin. I thought I really had overdid it and there was no way it would hold together, but I was tired of tuiles that first were pancakes, then cookies, then not quite cookies, but not quite tuiles, so I was getting desperate and impatient.
Voila! That was the trick! What had appeared as an almost transparent smear of butter on the silicone mat, miraculously transformed itself into a thin, sparkly wafer-like disc. Using my hands I shaped it into a small 'bowl' and unlike my previous attempts this one set almost immediately! My heart shaped tuiles, sprinkled with dried cranberries, also 'stood up' under pressure. Victory was mine!
For my filling I made a raw coconut cream 'pudding'. So light and delightful! With only moments to spare before heading off to a movie, I took my pics and then ate my accomplishment 😆
Note to self: When they say that tuiles do not keep well, they are NOT lying. The few 'ends' that I had on hand were completely inedible the next day. So make only what you need, and be prepared to have them disappear no more than 3 hours later!
Baking Notes:

• A non-stick, preferably silicone mat surface will make your life a lot simpler. My favourite one is by Silpat and I have included it in the widget below.
• Although you can make your own stencil, after labouring with various incarnations of my own, I can definitely say save yourself the trouble and just buy a template or two (I have included several below)
• Don't allow the tuiles to cool on the mat, they will be too brittle to bend. Waiting around 30 seconds (and no longer than a minute) worked best for me.
This month's challenge is brought to us by Karen of Bake My Day and Zorra of 1x umruehren bitte aka Kochtopf. They have chosen Tuiles from The Chocolate Book by Angélique Schmeink and Nougatine and Chocolate Tuiles from Michel Roux.

Visit their sites for the recipe and their beautiful results. And visit the other Daring Bakers for their variations.
---