Sarina's Vegan Wonder (recipe)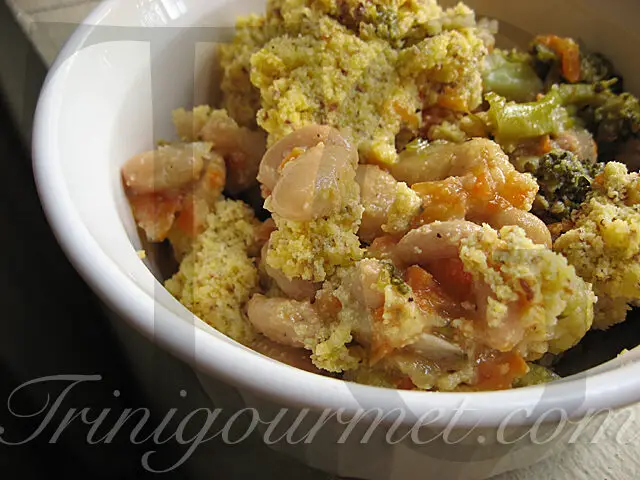 This meal came together relatively quickly. It is a classic one-pot dish based on veggies that are on 'standby' and tinned pantry staple. What gives it a little twist from other cobbler-style casseroles is the use of cornmeal as the crust. As I enter my 3rd year of preparing gluten-free meals where my mother is concerned I have come to have an even greater respect for cornmeal's versatility. In this case, the corn provides a crisp textural contrast to the soft vegetables. I have to give a shoutout to WhitherWanda on Twitter who suggested that I should name it Wanda's Wonder in her honour when I was pondering 'out loud' what to call it 🙂 Well I think this came pretty close 😉
Sarina's Vegan Wonder
SERVINGS: 6
INGREDIENTS:
2 tablespoons olive oil
1 yellow onion, diced
6 cloves garlic, thinly sliced
3 green onions, sliced (white and green parts)
2 carrots, peeled and sliced into 1/2-inch pieces
1 tin (14.5 oz) northern beans
1 tin (14.5 oz) butter beans
3/4 lbs. cauliflower, cored and cut into small florets
1 cup small broccoli florets
2 cups low-sodium vegetable broth
1/2 cup non-dairy mylk
2 tablespoons cornmeal
1/8 teaspoon freshly grated nutmeg
2 tablespoons chopped fresh parsley
Salt and freshly ground black pepper, to taste
1 tablespoon fresh lemon juice
Biscuit Topping:
1 1/2 cups cornmeal
1/4 cup flaxseed meal
1 teaspoon baking powder
6 tablespoons olive oil
3/4 cup nonfat mylk
1/3 cup minced fresh chives
1 tablespoon minced fresh dill
1-2 teaspoons sea salt
METHOD:
1. Preheat oven to 350°. Heat oil in a large skillet over medium heat and add onion; cook until golden brown. Add garlic, green onions, carrots, and beans; cook another 10 minutes.
2. Reduce heat to medium-low. Add cauliflower and broccoli; cook for 2 minutes, then add broth. Cover; cook 20 minutes. Uncover and boil until liquid is reduced to a glaze, 2-5 minutes.
3. In a small bowl, mix 1/2 cup mylk with 2 tablespoons cornmeal and pour into skillet. Add nutmeg, parsley, salt, pepper, and lemon juice. Stir until heated through. Do not boil.
4. Pour into a deep 6-8 cup casserole dish.
5. In a medium bowl, stir together cornmeal, flaxseed meal, and baking powder. Drizzle oil over flour mixture and blend with a fork until crumbly. Add milk, chives, dill, and salt; stir to combine. Do not overmix. Allow to sit for 10-15 minutes. Dough will be very moist. If it looks crumbly add more milk and let sit longer. Should be the consistency of 'batter'.
6. Drop batter over vegetables. Bake until biscuits are golden brown (20-25 minutes).
7. Remove from oven; cool 5 minutes before serving.
This recipe is an exclusive TriniGourmet original. Please do not share it or post it to your site without crediting TriniGourmet.com and linking back to this site 🙂
For even more Vegan recipes check out the Vegan & Vegetarian section of Veni Mangé – The Trinigourmet Amazon Bookstore
---