Salmon "Kalia" (recipe)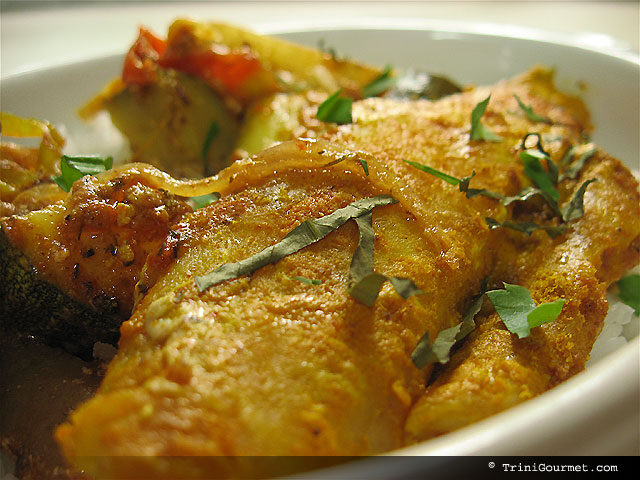 I have 3 large folders of cutouts y'all. You know the folder I'm talking about. The one where you have stashed all those pages you've torn out of magazines through the years. All the recipes you've clipped out of the newspaper. Yeah that one. I have 3 of those folders and I've decided that now is the time to actually start preparing them. Well actually I decided that several years ago when I let my subscription to
Cooking Light Magazine
lapse because I had so many recipes still untried, but nevermind that! 😛
Last Friday I actually got to try one of the recipes from my 'folder files' and it came from one of those ancient copies of Cooking Light Magazine
. Titled Salmon Kalia in Panch Phoron Sauce I loved everything about it (I guess that's why I saved it? 🙂 ) . One problem though, I didn't have many of the spices on hand for the Panch Phoron Sauce. Do you think that I let that dissuade me? Hellz no! As I've said before, I don't think there's anything that a pinch or two of ras-al-hanout can't fix, and that's exactly what I did.
I am not sure if my spice change nullifies this recipe as a 'Kalia' but it sure did taste good, each mouthful a veritable explosion of contrasting textures and flavours. To be safe though, I've put the term in brackets and hope that it won't offend any 🙂
From Cooking Light Magazine:

A favorite of the Bengalis in eastern India, kalia is traditionally made with the local, strong-tasting, freshwater fish called rui or katla, which belong to the carp family.

Salmon "Kalia"
Adapted from a recipe in Cooking Light Magazine

Makes 6 servings
Ingredients
6 (6-ounce) salmon fillets (about 1 inch thick)
1 teaspoon salt, divided
3/4 teaspoon ground turmeric
1 tablespoon vegetable oil, divided
2 teaspoons ras-al-hanout
4 cups thinly sliced onion (about 1 large)
8 ounces peeled Yukon gold potato, cut into 1/4-inch strips
1 pound tomatoes
2 cups (1/2-inch) cubed zucchini
1 cup water
2 teaspoons paprika
1 teaspoon minced peeled fresh ginger
3 garlic cloves, minced
2 tablespoons plain low-fat yogurt
1 scotch bonnet pepper, halved and seeded
1 medium tomato, cut into 1/2-inch thick wedges (about 8 ounces)
1 teaspoon Garam Masala
3 tablespoons chopped fresh cilantro
Preparation
Rub salmon fillets with 1/2 teaspoon salt and turmeric; cover and refrigerate 5 minutes.
(Being Trini I also rubbed the fish fillets with lime juice to start)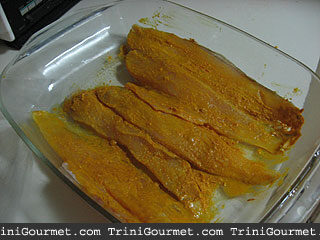 Heat 1 teaspoon oil in a large nonstick skillet over medium-high heat. Add fillets; cook 1 minute on each side. Remove fillets; cover and set aside. (Fish need not be fully cooked.)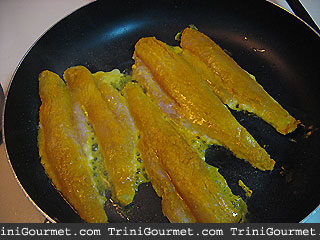 Combine 2 teaspoons oil and Panch Phoron Blend in pan; cover and cook for 30 seconds, shaking pan constantly. Add onion and potato; stir-fry for 6 minutes or until vegetables begin to brown, stirring frequently.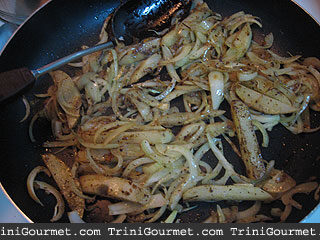 Place 1 pound tomatoes in a food processor; process until pureed. Add 1/2 teaspoon salt, tomato puree, zucchini, and the next 4 ingredients (zucchini through garlic) to pan; bring to a boil. Cover, reduce heat, and simmer 10 minutes or until vegetables are tender. Stir in yogurt until well blended.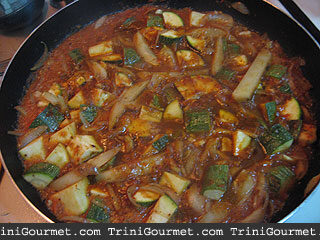 Return the fillets to the pan, carefully nestling them into the vegetable mixture. Arrange the pepper and tomato wedges on top of the vegetable mixture; cover and cook 20 minutes or until fish flakes easily when tested with a fork.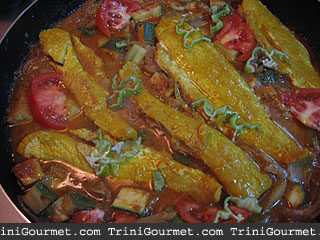 Sprinkle with Garam Masala and cilantro.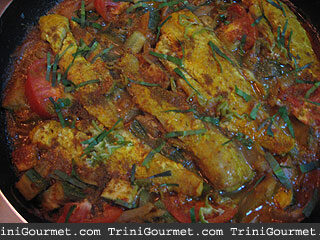 This post was originally published August 12, 2007. It has been updated once since then.
---