Trinidad Chicken Chow Mein (recipe)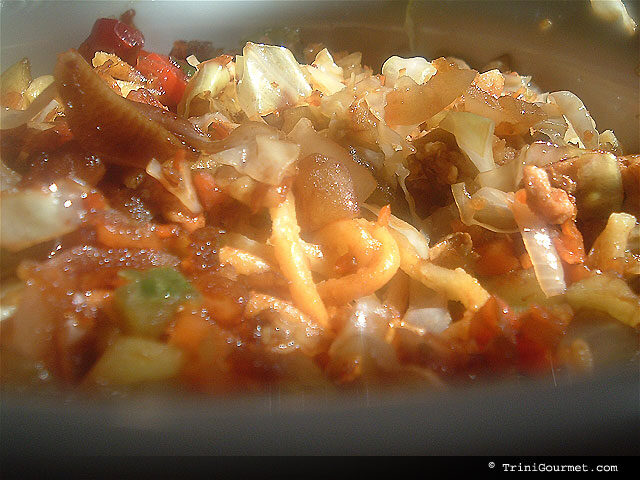 Chicken chow mein is a perennial fave of mine, especially with PLENTY of soy sauce 🙂 It was another of the dishes that I made in February as part of my Year of the Pig menu 🙂 Last year Trinidad celebrated the 200th Anniversary of Chinese Immigration to our country with a public holiday and a month of festivities that included dragon boat races and more. To learn more about the Chinese influence in Trinidad & Tobago you can see the official BiCentennial website here, it's quite good!
Several months ago Trini food blogger 'Can Cook Must Cook' posed the provocative question "Is Chinee food ours?" … Personally I would say yes. Just because the flavours are different to what I find overseas and preserved sweet n sour fruits are an indelible part of the memory of many a Trini childhood. Having said that, Chinese food here is nowhere as fusion in result as for example the Chinese community in India or Chinese-Cuban cuisine. Still, the Chinese presence in India, for example, is 300 years strong, and who knows what Trini Chinese food will look and taste like in 2107? 😆
What -is- interesting though, and may be the first step to a deeper form of fusion, is the number of eateries boasting 'Chinese Creole' food. This seems to be a fairly recent phenomenon but I may be wrong. Basically these establishments offer traditional Trinidadian creole dishes alongside the traditional Trinidadian-Chinese dishes cafeteria-style. This creates odd and very unique combinations on the plate to say the least!
Trinidad Chicken Chow Mein
——————————————————————————–
Recipe By: Naparima Girl's High School Cookbook
Serving Size: 6
Ingredients:
1 whole chicken breast
2 tablespoons cooking oil
salt and b.pepper
2 carrots
1 christophene (cho cho/chayote)
1/2 head cabbage
1 package bean sprouts
1 clove garlic
soy sauce
1 package mein(egg) noodles
1 small cauliflower
1 large sweet pepper
1 medium onion
Directions:
1. Remove chicken skin and bone, cut meat in small pieces, season with salt, bl peppper and crushed garlic
2. Cut all vegetables in thin strips
3. Cook chicken in oil until cooked but not brown, add carrots and cauliflower, cover and cook 3 mins. Vegetables should be tender.
4. Add soy sauce to taste
5. If bean sprouts are to be used add at the end and steam 2 mins. on top of the mixture
6. Noodles: Boil until tender in salted water, drain, cool then fry in hot oil until crisp.
7. Drain. Serve with chicken and vegetables.
---