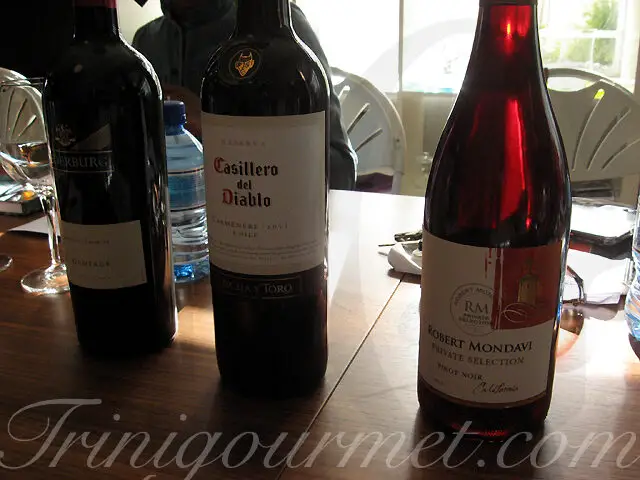 On January 26, 2013 I attended a winetasting class (along with TriniChow) at Lotus. Led by Lisa Johnstone it was just what I needed to get over my jitters regarding terminology, food pairing, and get my feet (or palate) wet!
On the table were the following wines:
• Robert Mondavi Private Selection Pinot Noir
• Casillero del Diablo Carmenere
• Nederburg Winemasters Reserve Pinotage
• Monkey Bay Sauvignon Blanc
• KWV Classic Collection Chenin Blanc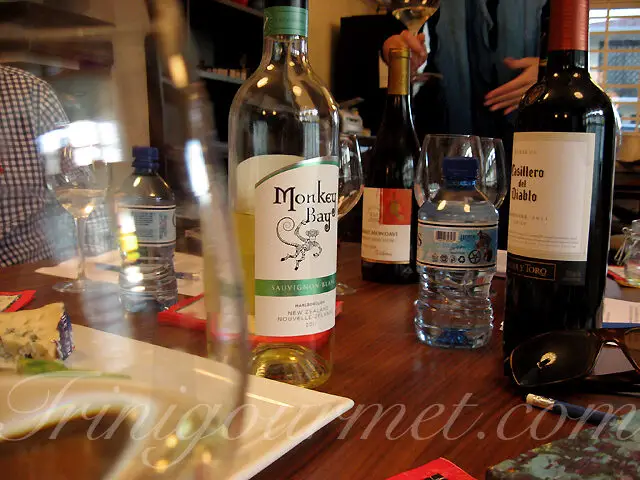 These were paired with the following to see and discuss which combinations worked and which didn't.
• Roquefort
• Sage Derby
• Smoked Cheddar
• Dutch Goat Cheese
• Stonewall Kitchen Red Pepper Jelly
• Stonewall Kitchen Fig & Ginger Jam
This pairing exercise allowed us to understand the notes and qualities in each wine, and to see how pairing could enhance or diminish a glass, as opposed to the experience of tasting it on its own. It was quite a revelation to find a glass that amazed on its own, become quite lackadaisical when paired 'incorrectly', and conversely, to have a glass that was unpleasant on its own, suddenly become smooth and fragrant when 'correctly' paired.
Snap Thoughts:
• The crisp green notes of the Sauvignon Blanc paired well with the creaminess of the Roquefort. I thought it also played well with the sage notes in the Sage Derby but I was in the minority there.
• The complexity of the Chenin Blanc pairs well with spicy foods, as do Reislings. It paired exceptionally well with the fig and ginger jam, and when the Dutch goat cheese was added to that combo I thought I had ascended into the heavens *lol*. The Chenin Blanc also melded more appealingly with the Red Pepper Jelly than the Sauvignon Blanc.
• Many of us didn't enjoy the Robert Mondavi Pinot Noir upon a first tasting. However what happened when we paired it with a smoky cheddar was nothing short of miraculous. The wine immediately mellowed and we were able to appreciate and taste various spice notes that previously had been masked by the acidity. Wines like this, Carmenere and Pinotage are perfect for pairing with rich roasts and meat stews.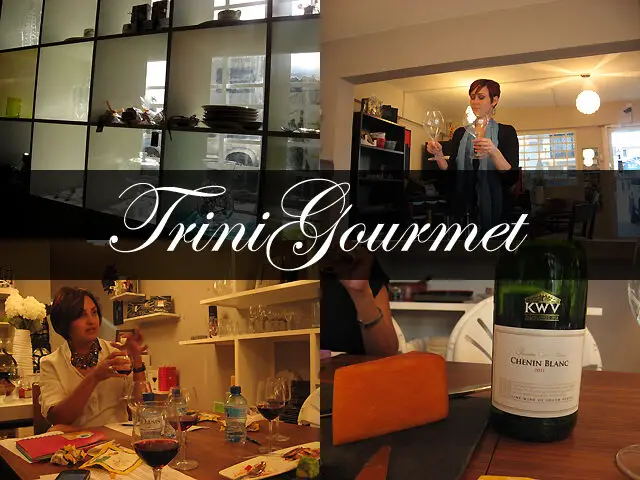 Over the 4 hours that we were assembled we covered a lot of ground, touching on areas such as grape varieties, vintages, houses, regions, New World vs. Old World, wine labels and grape styles. Lisa was an effective guide, thorough in her explanations without being overwhelming or stand-offish.
Key Takeaways:
• Food changes wine. Wine does not change food, wine complements food.
• When pairing food and wine, pair power for power. Delicate dishes with delicate wines. Assertive dishes with assertive wines.
• Avoid the fad of stemless wine glasses as the wine will be harmed by one's hand.
As a result of this class I have become a lot more confident to experiment with wine and pairings and to not see it as a tension-filled 'all or nothing' exercise. Getting a sense of what I like and why , and what I like it with and why is like a whole new chapter of my culinary journey opening up. I have added a recurring wine segment to my HOA *"Sweet Han'"(and have also started a "Wine Notes" chapter to each episode's recap post here on TriniGourmet).
Lotus will be hosting a Tea Tasting workshop in the near future, I can hardly wait!

Visit Lotus On Facebook: www.facebook.com/lotuswares
Official Website: lotuswares.com