PAIR IT! Mario's Veggie Pizza & Monkey Bay Sauvignon Blanc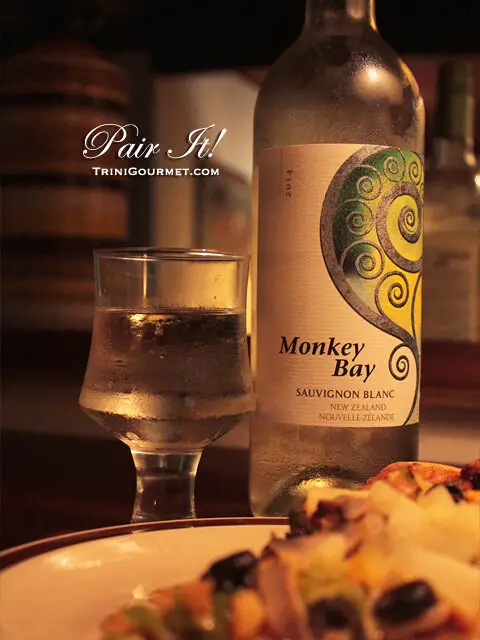 Sometimes I just don't want to cook. There, I've said it. Surprised? Don't be! I love cooking but like all love affairs sometimes I just want to be the center of attention, want to be able to kick back, or just enjoy some solitude. That's when I indulge my cravings for restaurant/takeout fare.
Although people sometimes think that I eat gourmet fare 24/7 the reality is that most times I really just hanker for comfort dishes and the guilty indulgences of my childhood. One of these is Mario's Pizza, a veritable Trinbagonian institution. As a child, growing up in St. Augustine, visits to their inaugural and flagship Valpark location was the thing of special occasions. Maybe this is the reason why, even though I occasionally take in offerings from other chains, I always return to them in the end.
Recently I shared a veggie Mario's pizza with TG's event photographer Jason Bodden. Excited to implement one of my New Year Resolutions of demystifying wines and wine pairing I've recently begun pairing them with 'every day' foods. I find it a fun and affordable way to approach something that, even for me, was intimidating up until two years ago.
Monkey Bay's Sauvignon Blanc has been a favourite of mine ever since I tried it at my first blind wine tasting. I thought that with its tropical fruit flavours and bright, crisp aftertaste it would be the perfect accompaniment to the pineapple-heavy pizza, and I was right!
Jason found that the wine worked particularly well with the cheddar cheese base that Mario's uses, he didn't pick up the pineapple burst that I got but instead found that it enhanced the salty notes of the olives. We both agreed though that it also brought out the flavour of the mushrooms from relative obscurity.
These differences are normal, and fun to discover, as palettes are so uniquely personal. What makes a pairing work is when you find that your preferences overlap and form a harmonious whole, even if the notes diverge from time to time. This is definitely a combination I'll be relying on in the future!
| | |
| --- | --- |
|   | "I've found pairing wines with food to be such an interesting and fun activity. It's a beautiful game of deciphering what notes characterize the wines and how those notes interact with various foods on your palate. I recently took part in my first pairing, and I thought it might be somewhat intimidating, only to discover that it was quite the opposite! There is really nothing scary about it.  Just have fun with it and you'll love it like I did!" – Jason Bodden, Jason Bodden Photography |
Mario's Pizzeria is such a household name that I don't feel I need to share much information here about locations, etc. However what many may not be as familiar with is their active online presence and newsletter (which I subscribe to).
"… the Mario's Pizza Facebook Fan page was launched in 2009 well ahead of local competition. The chain quickly expanded into other popular social networks – Twitter, YouTube and in 2011, Foursquare.

Also eager to interact with customers on a more direct, personal level, Mario's Pizza also offers coupons via email. Mario's facilitates email subscription on both their website and Facebook Fan page, sending coupons on a monthly basis with each coupon valid for 3 months. Not content to stop there, Mario's rewards loyal customers with the pleasant surprise of Birthday Greetings & Birthday Coupons.

In keeping with its focus on being at the forefront of digital ventures, Mario's Pizza also offers absolutely free WiFi hotspots at all its locations."

– Mario's Pizza
Visit them online at www.MyMarios.com
WHERE TO GET THE WINE
"Crisp and clean with lively notes of lime-citrus and white grapefruit. Not overly grassy. Pair with vegetarian dishes."
I regularly buy Monkey Bay Sauvignon Blanc at PriceSmart (locations nationwide) and Bottlestop (Maraval).
---