Arabian Vegetable Medley (recipe)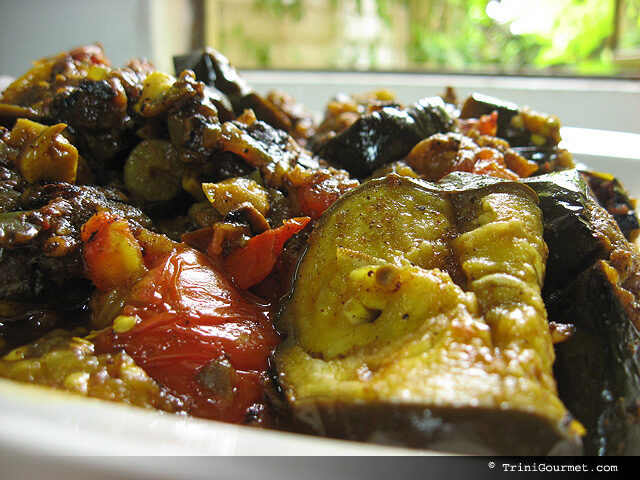 Don't you just love vague 'ethnic' recipe titles? Coming from the American Turkey Federation I'm not sure exactly how 'Arabian' this recipe actually is, but despite that grey area all you really need to know is that it is very very good!
Arabian Vegetable Medley
SERVINGS: 16
SOURCE: National Turkey Federation
INGREDIENTS:
2 Pounds eggplant, Cut in 1-1/2 cubes
2 Tablespoons olive oil, divided
4 cups sliced onion
2 Teaspoons minced garlic
1 Teaspoon salt
1/2 Teaspoon cinnamon
1/2 Teaspoon pepper
2 Cans (1 pound each) tomatoes, undrained and coarsely chopped
1 Can (16 ounces) chick peas, rinsed and drained
METHOD:
1. In large non-stick skillet, over medium-high heat, saute eggplant in 1 tablespoon oil 10 to 12 minutes or until lightly brown and crisp-tender.
2. Remove eggplant from pan; set aside.
3. In same skillet, over medium-high heat, saute onions in remaining oil
6 to 8 minutes or until lightly brown and tender.
4. Stir in garlic, salt, cinnamon and pepper and cook 2 to 3 minutes.
Fold in eggplant, tomatoes and chick peas; bring to boil.
5. Reduce heat to low, cover and simmer 30 minutes or until eggplant is tender.
6. Remove cover and cook 15 minutes or until most of the liquid is absorbed.
This post was originally published March 29, 2009. It has been updated once since then.
---