"Blanched" Basil Pesto (recipe)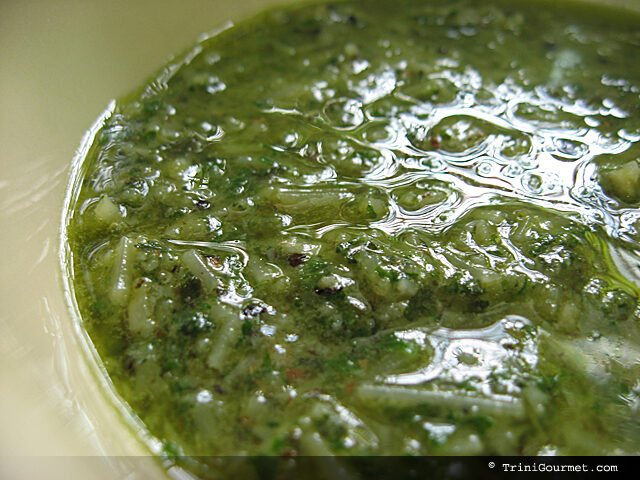 Writing is a funny thing. Some days the words seem to flow effortlessly and other days it's a struggle. I've spent the last few hours hemming and hawing around beginning this post and it really isn't anything that complex or profound. If it wasn't for the fact that it's for an online event that ends today I probably would just leave it with the
1000+ drafts
that I currently have floating in cyberspace 😆
What makes this lethargy even more confounding, is that in the length of time it's taken me to actually sit down and write these sentences I could have started and completed another batch of the pesto which forms the basis of this post. That's how quick and easy it is! And in fact, I'm getting so giddy remembering how it tasted that my writer's block is fading rapidly now. Aw yeah! 😀
This batch of "Blanched" Basil Pesto was whipped up especially for this month's installation of Hay Hay it's Donna Day, a regular food event that I was honored to win (and host) in 2007 before I went on a blogging hiatus… This time around it's hosted by a blogger whose site I have lurked on for quite some time, Joey at 80 breakfasts. The recipe comes from that king of lifestyle simplicity Michael Chiarello and it differs from most pesto recipes that I've used in the past in that it requires you to blanch the greens before blending them with the nuts and olive oil. This is a touch that I believe was added to preserve the vivid green color and to soften the powerful punch that one would expect 3 cups of basil leaves to have!
Our basil 'crop'
So what is pesto exactly?
According to Wikipedia:

Pesto (Italian ['pesto], Genoese ['pestu]) is a sauce originating in Genoa in the Liguria region of northern Italy (pesto alla genovese). The name is the contracted past participle of pestâ ("to pound, to crush", from the same Latin root as the English word pestle), in reference to the sauce's crushed herbs and garlic.
Immediately after completing this recipe (which start to finish probably took about 10 minutes) I put it to use. Not only did I toss it with some fettucine – yum!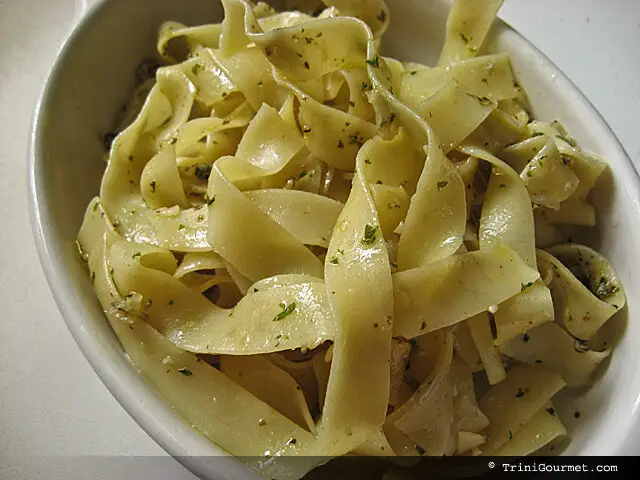 I also used dollops of it on that evening's Eggplant Cutlets (recipe coming soon!) and gave the last bit to my mom to use as her spread in her arepas (also coming soon!)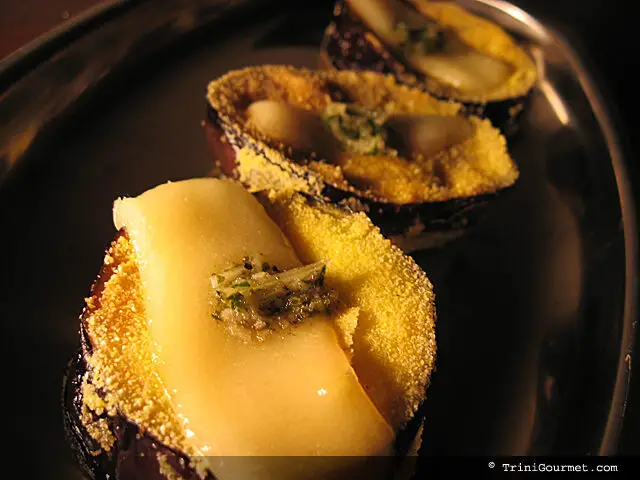 "Blanched" Basil Pesto
Source: Food Network/Michael Chiarello
INGREDIENTS:
3 cups lightly packed fresh basil
1 cup lightly packed Italian parsley leaves
1/2 cup pure olive oil
1 tablespoon toasted pine nuts, see note
1 teaspoon minced garlic cloves
1/2 teaspoon fine salt
1/4 teaspoon coarsely ground black pepper
1/8 teaspoon powdered ascorbic acid (vitamin C)
1 cup freshly grated Parmesan
METHOD:
1. Prepare a bowl of ice water.
2. Bring a large pot of water to a boil.
3. Put the basil and parsley in a sieve and plunge it into the boiling water, pushing the leaves down into the water and stirring them so they blanch evenly. (I just placed them in the top of a steamer)
4. Blanch for 15 seconds, then plunge the herbs into the ice water to stop the cooking. Drain immediately, squeeze the herbs dry, and roughly chop.
5. In a blender, puree the herbs with the oil, pine nuts, garlic, salt, pepper, and ascorbic acid.
6. When well blended, add the cheese and whir briefly just to mix.
7. Transfer to a bowl and adjust the seasoning.
8. Store the pesto in a small, covered container in the refrigerator for 1 to 2 weeks. Or freeze the pesto for as long as 1 month.
---