Curried Potato Chips (recipe)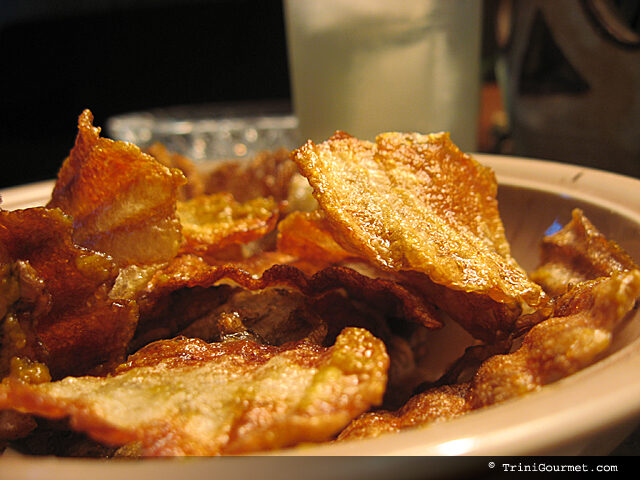 Blog Party #43 is here! The theme this month is "Spice It Up". According to the event's host Stephanie of Dispensing Happiness:
The chill of February has definitely gotten to me. I'm cold. I'm tired of being cold. I want warmth…but it looks like the only place I can find that is in the kitchen!
Well there are definitely no chills here in Trinidad, unless you count the damp rainy days we've been having here on an almost non-stop basis. Although the rain may be worrying the Carnival die-hards, I find it rather cozy, and there is nothing like grey skies that makes me want to whip up a homey thing or two stoveside.
Something homey like these curried potato chips. Curried potato is a regular side here in Trinidad, but rarely does one see it in chip form. That's a shame because the flavours are just as lovely when combined with a salty crunch. With my recently purchased Avon mandoline I was able to make wavy chips, something I've always wanted to be able to do 🙂
To cool things down, I served the chips with some ice-cold basil lemonade. I seem to be on a bit of basil beverage trip recently but as I've said before, the flavour really enhances traditionally sweet drinks, mellowing them out a bit and giving them a rounder profile. I'll post the recipe for the lemonade in a few days, until then here's the one for the chips! Do note that the amounts can easily be scaled upwards to cater for more mouths 🙂
Curried Potato Chips
INGREDIENTS:
2 large Idaho or Russet potatoes
2 cups peanut oil, for frying
1 tsp garlic sauce
2 teaspoons madras curry powder
kosher salt
METHOD:
1. Using a mandolin, thinly slice the potatoes
2. In a large heavy pot, heat the oil to 360F.
3. Fry the chips in batches, draining on a stack of paper towels. Be sure to salt each batch while it's still hot!
4. In a small bowl, add 2 teaspoons of frying oil with the garlic sauce and the curry powder and salt and stir well.
5. Carefully toss the chips with the oil mixture.
6. Serve immediately.
This recipe is an exclusive TriniGourmet original. Please do not share it or post it to your site without crediting TriniGourmet.com. A link back to our site is not necessary but always appreciated 🙂
---