Pumpkin Pone (recipe)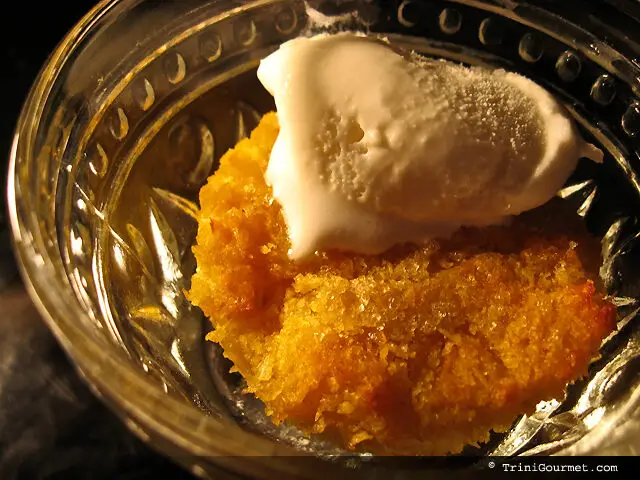 First of all, thanks so much for all the kind comments and messages from those of you who took a moment to send my mom your support as she adjusts to her new gluten-free life. We were all quite surprised and happy 🙂 Thanks also to Johanna who let me know that many brands of cornflakes contain malt extract, a no-no for those with celiac disease. I had no idea about this, and as always knowledge is power when it comes to matters such as these!
As I had mentioned in my first post about my mom's first gluten-free birthday surprise, I had made not one but two desserts for her. The first of course was my Glittery Gelatin Torte, and now here's the second one! This recipe for Pumpkin Pone came from the Naparima Girls High School Cookbook
and is cited as being Guyanese in origin. Now if this attribution is incorrect feel free to 'school me', but do know I'm just relaying what was printed 😆
One of the things that I love about this pone recipe is that it is low in sugar. It also provides a satisfying chewy texture, ideal for mom who was grateful to feel as though she was eating 'cake' without compromising her health. With only 1/4 cup of sugar, this recipe made the ideal submission for Low Sugar Sweet Treats. Now, as I had mentioned in my post for Cassava Pone, one of the best parts of pone is the crust that forms as it bakes. This is where the sweetness of the natural flavours really shine. That's why I was so happy to receive the following tip from a reader named Michelle…
here's a secret:
most people like the burnt edge and would fight for the corners.
I use foil tart tins and make mini ponelets, that way everyone gets some edge.
What a brilliant idea! I couldn't wait to try it. Not only did this method make cleanup a breeze, it was so much more attractive to portion and serve that I don't think I'll ever make pone in a bread pan again!
To make the dish even more luxurious I served it in crystal goblets with a dollop of sugar-free coconut icecream. This boosted the complexity of flavours and provided a lovely contrast in texture. Being guilt-free rarely feels or tastes this good! 🙂
Pumpkin Pone
Source: Naparima Girls High School Cookbook
Makes 12 servings
Ingredients:
1 lb. pumpkin
1 dry coconut (I used 1 250g packet of dessicated coconut)
1 cup cornmeal
1 cup water
1 tsp. vanilla
3 Tbsp. margarine
1 tsp. cinnamon
1/4 cup sugar (or honey)
1/2 tsp. grated nutmeg
Directions:
1. Peel, wash and grate pumpkin and the coconut.
2. Add the cornmeal, sugar (or honey) and margarine.
3. Add the water to give it a dropping consistency.
4. Add the cinnamon, nutmeg and vanilla. Mix well.
5. Pour into a greased pan (or cupcake sheet/tart tins)
6. Bake at 350 degrees until browned (45 minutes – 1 hour)
Note: I like to sprinkle the top of the pone with brown sugar just before placing into the oven 🙂
---