Blog Party #22: Jalapeno Bites & Smalta (video)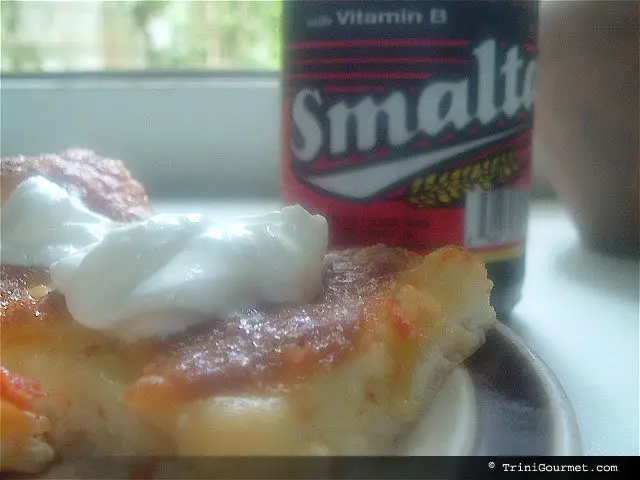 It's been several months since I've last taken part in Happy Sorceress' monthly Blog Parties, and I've missed them!
This month's theme is the 'Wild Wild West' and it took me a while to figure out how to interpret it. One of my first thoughts was to take it into a Wild Wild West Indian direction, but I thought that that would be copping out. Let me challenge myself and learn more about US Western cuisine.
When I think of the Wild Wild West, like most foreigners I think I instantly think of cowboys, wagons and cattle (I also think of Kool Moe Dee and wraparound shades but that's another story!).
I have quite a lot of Tex-Mex recipes so finding one to adapt into an appetizer wasn't particularly hard, but what would I do for a drink?
According to The Good Home Cookbook: More Than 1000 Classic American Recipes
, margaritas are a common accompaniment to Tex-Mex dishes, unfortunately I did not have the necessary components on hand and they were out of my budget… I would have to dig further. That's when a recipe for a drink called Switchel caught my eye.
From The Good Home Cookbook:
Before there was Gatorade, there was switchel, also known as haymaker's punch. This drink was kept cool in the cellar and hauled out to relieve the thirst of the men and women who worked the fields.
This really piqued my interest. Not only was it cheap and easy to put together it sounded like something that frontier-styled peoples would really prepare. It also intrigued me because it sounded eerily similar to a drink that was loved by the characters in one of my favorite childhood books 'What Katy Did'. I had always wondered why and how diluted vinegar could be so poetic, maybe this would be my chance!
So how did everything turn out?
Well the jalapeno bites were definitely yum, especially with a dollop of sour cream on top. The switchel however was a disaster. I mean people drank this? Really? I mean seriously, that's one recipe that needed to stay in the 1800s, it should carry a warning label! I needed something to get the taste out of my mouth and fast! I turned to a Smalta. Smalta, for those not familiar with Trinidadian beverages is a non-alcoholic carbonated malt beverage. It's often touted as being healthful because of its B vitamin content.
Malta/Smalta is a non-fermented, malt beverage. It is a dark, sweet, lightly carbonated, non-alcoholic drink enhanced by a hint of bitterness derived from hops. It is a wholly natural drink made from malted barley and contains energy-giving carbohydrates, minerals, and proteins.
Aaaaaaah that was much better. If I had had beer on hand I would have gone with that as well. And I'm sure that many a cowboy would agree with my judgment call as well! 😆 Looks like I ended up being a little Wild Wild West Indian after all 😛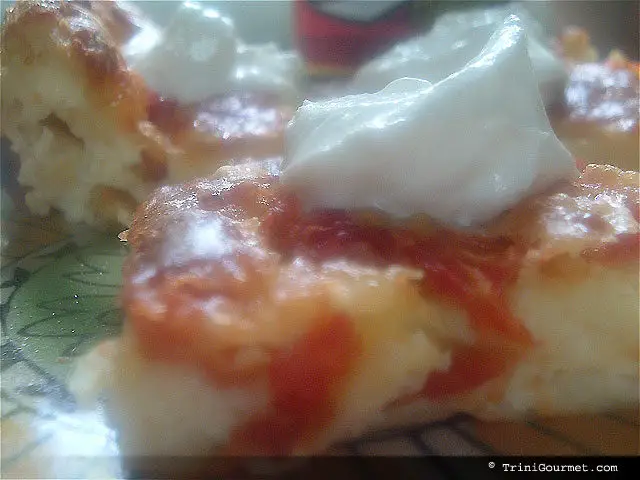 Jalapeno Bites
——————————————————————————–
Recipe By: TriniGourmet.com
Serving Size: 6
Ingredients:
2 large green jalapeno chiles, sliced horizontally into strips
1 1/2 cups shredded Monterey Jack cheese and/or cheddar cheese
3 medium tomatoes, peeled, sliced
3 large eggs
1 1/2 cups milk
1/4 cup flour
1 teaspoon salt
sour cream for garnish
Directions:
Preheat oven to 350 degrees.
Lightly butter an 11×7 glass baking pan.
Arrange the chilies on the bottom of the casserole.
Top with an even layer of the cheese and then the sliced tomatoes.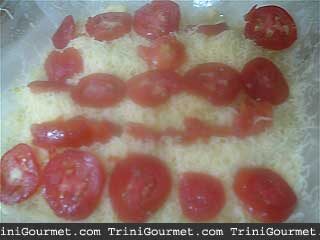 In a large bowl, whisk the eggs until they are frothy.
Gradually whisk in the milk, flour and salt.
Carefully pour over the layers in the dish.
Bake 50-60 minutes, or until lightly browned.
Serve in squares and garnish with sour cream.
---