Carmen's Carrot Muffins (recipe)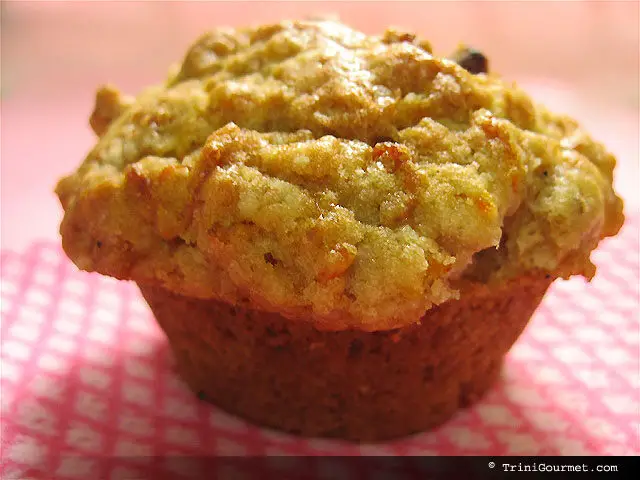 This post was originally published August 10, 2007. It has been updated once since then.
This recipe is one of many to be found in mom's homemade scrapbooks. She's been compiling them since the 1970's and as a toddler I would occupy myself on the kitchen floor by flipping through them, amazed at the colours and scribbles contained within.
Some of that must have rubbed off on me because as a teenager I began collecting recipes myself, pages from Seventeen and Teen magazines loosely held in various Lisa Frank folders. My enthusiasm for recipe collecting however was not matched by the quality of creations at that time though, and the files eventually grew dust.
It wasn't until my first engagement (yes there've been more than one) that I gave cooking another try, and this time I found out I was pretty good at it! From that point on I kept my recipes in plastic page covers, neatly held together by three ring binders. A method that worked rather wonderfully until I stumbled across MacGourmet and learnt the wonders and advantages of recipe databases. I've been leisurely converting my considerable recipe collection into digital format ever since, and in the process have also found myself coming full circle, as I've also found myself rereading my mother's scrapbooks with a new more appreciative eye.
My mom's recipe scrapbooks came into being as she ventured into two unknowns. One, married life, and the second, married life in Trinidad. Many of the recipes chronicle Trinidadian recipes that obviously intrigued and/or delighted her. Many were clipped from newspapers and magazines, others were typed and/or stenographed, and others still were scrawled in various hands, their owners long forgotten. Most of the recipes appear to also have been forgotten, as I have not heard of quite a few them, and mom never got around to making them. Something that I plan to rectify 😉
One of the big surprises of this carrot muffin recipe is that it doesn't call for wholewheat flour. This was probably an addition that my mother made on her own, she's even more of a health nut than I am 😀 I decided to stay true to the recipe and stuck to 100% all-purpose. I also lowered the cooking temperature from 375 to 350 degrees. The results were light and moist. It is not a sweet muffin, the only sweetness comes from the raisins and carrots, so it is quite healthy in that respect. This is the only dessert/snack that my mother makes on any regular basis and, when made with wholewheat flour (replace 1 cup of the all-purpose with wholewheat), it also has a nutty aspect. To be honest though, I didn't miss the wholewheat flour, and neither did my mother apparently cos she said "hey it tastes better than when I make it". 😉
Carmen's Carrot Muffins
Makes 12 muffins
INGREDIENTS:
3 cups all-purpose flour
1/2 cup brown sugar
1 1/2 tbsp baking powder
1/2 tsp baking soda
3 eggs
2 or 3 cups finely shredded carrots
3/4 cup vegetable oil
1/2 tsp nutmeg
1/2 cup raisins
1 tsp vanilla essence
DIRECTIONS:
1. Preheat oven to 350F
2. Combine flour, baking powder, baking soda and brown sugar. Set aside.
3. Beat eggs and add vegetable oil, nutmeg, vanilla essence, raisins and carrots.
4. Combine flour mixture with egg mixutre, stirring until just combined. (If the mixture is too dry, add up to 1/2 cup water to keep it moist and 'gloppy' as shown below)
5. Pour into muffin tins
6. Bake 20-25 minutes, or until golden brown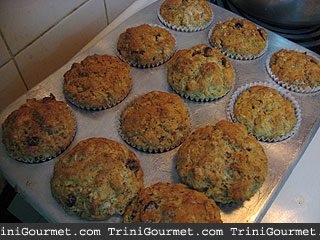 This recipe is an exclusive TriniGourmet original. Please do not share it or post it to your site without crediting TriniGourmet.com. A link back to our site is not necessary but always appreciated 🙂
For more recipes like these check out the Bread, Baking & Desserts section of Veni Mangé – The Trinigourmet Amazon Bookstore! 🙂
---