Trinidad Sada Roti (recipe)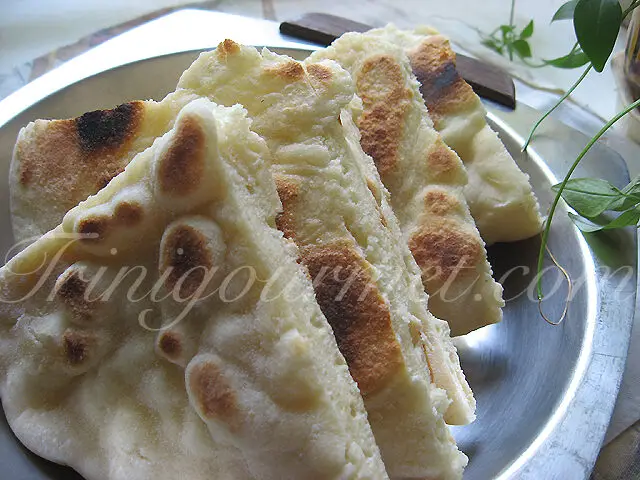 Hoorah for World Bread Day! It's been 2 years since I last participated and I was extremely not to miss the deadline this time around. Hosted each year by kochtopf World Bread Day aims to highlight bakers and bread recipes from around the world.
Around this time of year the food blogosphere proliferates with temperate climate fall recipes. Pumpkin bread recipes especially abound and, for a moment or two, I was tempted to give one or two of them a try. That was until a hankering for curry created a simultaneous craving for sada roti, and voila! I could kill two birds with one stone! 😀
So, what is Sada Roti? Well all Trini readers out there already know the answer this question however, for those who are not aware, the following definition from Wikipedia should do the job.
From Wikipedia:

Sada Roti: This is a plain roti, made of white flour. Because it is the simplest roti to make, it is the most commonly consumed roti in Trinidad. It is a popular breakfast option in Trinidad, in combination with tomato choka, baigan choka (eggplant), and other vegetable dishes.
From start to finish this is a pretty straightforward recipe. The main things to monitor is the texture of the dough. You want it silky, smooth and elastic. You also want to make sure that the tawah is at a good steady heat. I really wanted to try the "sakay" step that Chennette used in her excellent roti flickr set, but alas it does not appear to work with electric stoves… Still everything tasted great, and I did'nt experience any of the raw dough spots that the 'sakay' is supposed to eliminate. Still i wouldn't have minded seeing the balloon effect 😆
Later that day J and I enjoyed my endeavour with some insanely delicious curries from my latest obsession, Tandoori Hut in Shoppes of Maraval. More on them soon! 🙂

Sada Roti
INGREDIENTS:
4 cups flour
4 teaspoons baking powder
1 teaspoon salt
1 1/2 – 1 3/4 cups water
1/2 teaspoon vegetable oil
METHOD:
1. Mix dry ingredients together in a bowl.
2. Add water gradually, mixing until soft and pliable into a smooth dough.
3. Knead well and place into a greased bowl.
4. Pour oil into the palms of your hand and rub over dough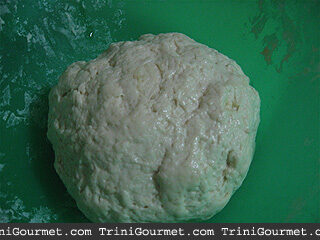 5. Cover with damp cloth and leave for 30 minutes
6. Divide dough into four pieces and shape into round balls.
7. Rest for another 30 minutes
8. Roll each ball of dough on a floured board into a flat round shape, ½ inch thick.
9. Heat tawa over medium flame until moderately hot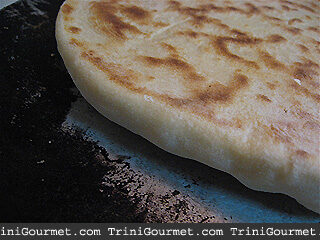 10. Place one roti on tawa until it rises, bubbles appear and underside is lightly browned with flecks.
11. Turn to other side and cook.
12. Cut into quarters
---