Amour et Café (review)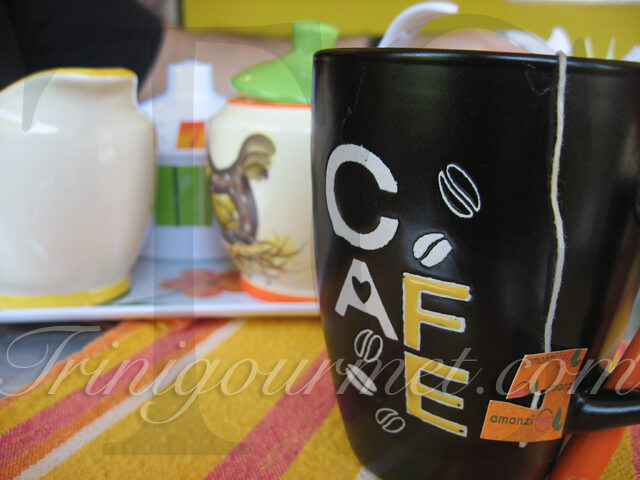 There's something underfoot here in Trinidad. A movement of eager, innovative food lovers, opening small intimate locations where fresh ingredients shine and combine in ways that are delicious, surprising and, even better, affordable!
For far too long Rituals has been the only option around for those who craved a relaxed, low-pressure environment, complete with coffees, pastries and ambience. Unfortunately, with the chain continuing to expand, their offerings have come to feel more cookie-cutter, the staff more detached, and the experience less impressive. Stepping in to fill that void establishments such as Amour et Café and Café Marrakesh (which I will also feature in an upcoming post) have begun to appear.
I first learnt about Amour et Café and their unique approach to all-day breakfast farein a July issue of the Trinidad Exprress. The grainy picture didn't make much of an impression, but the enthusiasm of the young proprietors did:
"For Ramsubag and Litren, there is nothing more important than breakfast. Though neither attended any professional cooking school, they believe the heart and sou l they put into each dish more than makes up for any professional training."
A quick look at their Facebook page (and menu) sealed the deal and one sunny morning, when my schedule was relatively light I decided to drop in and see what it was all about.

Upon arriving at lower Phillip Street (on-site parking is available) I was quickly taken aback by the unassuming exterior. Although I'm sure the banner was probably done for free by some well-meaning souls the drab colours and hard to read 'graffiti script' felt much more appropriate for an auto-mechanic shop than a location promising romance and soul-satisfying fare. However, once I reached the top of the steps and stepped inside, I could not be more surprised at how the interior contradicted everything that had met my eyes to that point.
Warm tropical colors played against the plush couches which offered alternate seating to the jaunty chrome chairs and tables. Instantly, you felt relaxed and 'at home'.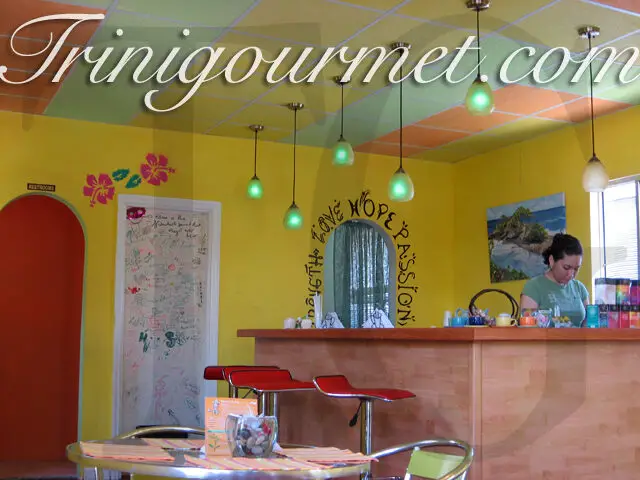 As a low-key mix of alternative female singers and neo-soul played in the background we were greeted by a young woman I recognized from the Express article as Vanessa Litren. Personable, yet somewhat reserved she helped us with our menu choices, offered helpful recommendations before taking our order. She lit up talking about the unusual combinations on their menu and how she had come up with them. When she disappeared for some time, and the sound and aromas of kitchen prep floated through the area it hit me that she was doing everything by herself! This impressed me even more. It was clear from the onset that first and foremost Amour et Café is a labour of love and a genuine expression of its owners passion for food and good company. I hoped that the patronage and money would follow, and wondered how they would manage if it should. At least one or two extra hands may need to come on board!
As she put our orders together I continued to take a look around.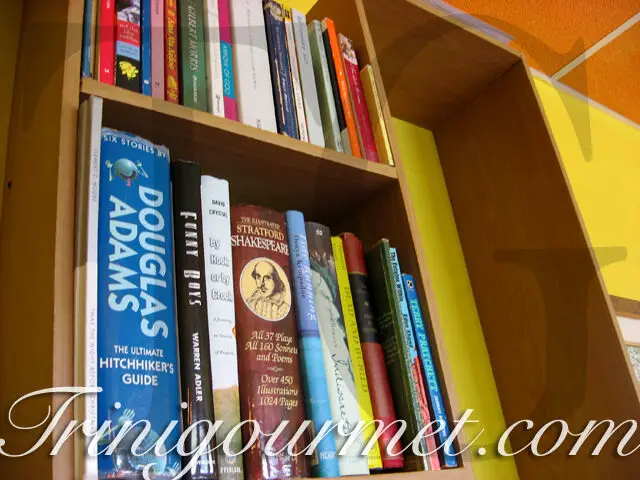 On designated evenings Amour et Café also doubles as an acoustic performance space for local musicians and poets. It also exhibits the work of emerging visual artists.
(artwork by Robyn Knaggs)
Finally our orders arrived! Breathtaking, don't you think? 🙂
(clockwise from top: Pineapple-Banana & Blueberry-Bannana smoothies, seating area, maple syrup, stuffed french toast with strawberries and cream cheese)

Mmm.. Let's take a closer look at that French Toast, shall we?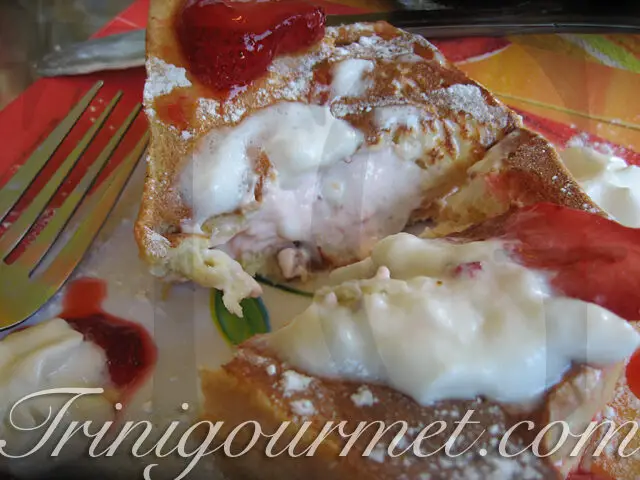 Awww… yeah….
Beautiful isn't it? Everything clearly reflected the pride and emotional investment she has in her dishes. I really admired and respected that. I only hoped it tasted 1/2 as good as it looked! No worries there. It tasted twice as good! No seriously. And once I poured the maple syrup on… O.M.G. Nuff said.
Hearing our murmurs and sighs she asked tentatively if everything was OK. I hope our mutterings appeased her because the experience really was sublime!
I hadn't intended on eating anything else. But once that was done, I just wanted to linger and drink in the ambience a little more.
Tea seemed to be the perfect choice at that moment for a digestif.
Amour et Café offers a wide range of teas, both domestic and international. Their guide lists all the flavours and the purported benefits of each brew. I settled on a 'Tiramisu Tea' flavour, curious as to what it would hold.
As with their food, the presentation was flawless and full of flair. The tea was enjoyable with distinctive caramel flavours and an almond aroma.
All in all my first visit to Amour et Café was an overwhelmingly positive experience. From the welcome ambience, to the prompt service to the outstandingly good food and fresh approach to the notion of breakfast fare. Do drop in if/when you get a chance. I hope that they will be able to bring on some extra hands in time to handle the demand as word-of-mouth hopefully grows!
I have read some criticisms in the past on the lack of variety in 'local fruit' offerings, and I do hope that they integrate more tropical fare at a later date (I'd love to see what they would come up with for guava and carambola!). Having seen the operations first-hand though and having read about their commitment to not using processed/artificial ingredients I do believe that their current menu is more reflective of what is most affordable and easiest to prep and assemble on short notice using fresh ingredients. It makes sense at this point in their development to focus on a few well-made offerings before looking to source a wider array of local fruits that may or may not be popular or cost-effective in smaller batches (not to mention more labour-intensive).
Kudos to Candice Ramsubag and Vanessa Litren for creating an unforgettable destination!
To learn more about Amour et Café visit their Facebook page at http://www.facebook.com/pages/Woodbrook-Trinidad-and-Tobago/Amour-et-Cafe/103002863071058

Amour et Café
4 Phillip Street
Woodbrook
868-489-6089

TG Rates This Experience:

Taste – 5/5
Ambience – 5/5
Price – 5/5

Overall Rating: 5/5
---