Cauliflower au Gratin (recipe)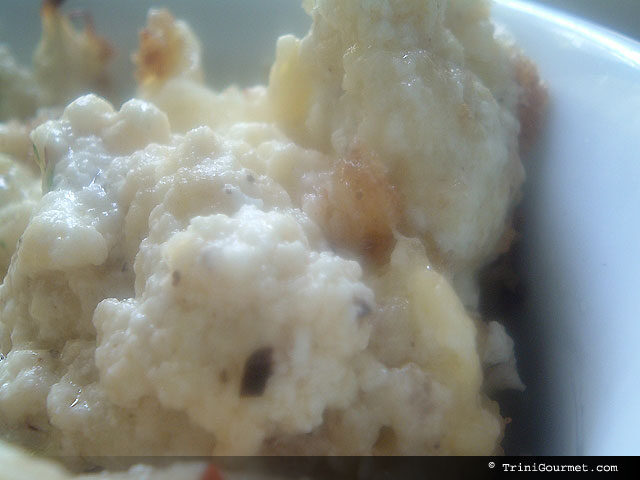 Cheesy and tangy, this is a rich, buttery ,and all-so-easy, way to enjoy your vegetables 😀
Cauliflower Au Gratin
——————————————————————————–
Recipe By: The Good Home Cookbook: More Than 1000 Classic American Recipes

Serving Size: 4
Ingredients:

1 large cauliflower head, broken into florets
4 tablespoons (1/2 stick) butter
1/2 medium onion, diced
1 1/2 cups grated Cheddar cheese
1 cup sour cream
salt and pepper
1/2 cup dry bread crumbs
Directions:
1. Cook the cauliflower in a large pot of salted boiling water until tender-crisp, about 10 minutes
2. Drain well
3. Preheat the oven to 350F
4. Grease a 1 1/2 quart baking dish
5. Combine the cauliflower with 2 tablespoons of butter, the onion, cheese, and sour cream in a large bowl
6. Season to taste with salt and pepper
7. Spoon into the prepared dish
8. Melt the remaining butter and toss with the bread crumbs
9. Sprinkle over the cauliflower mixture
10. Bake for 30 minutes or until heated through.
---