French Onion Soup (recipe)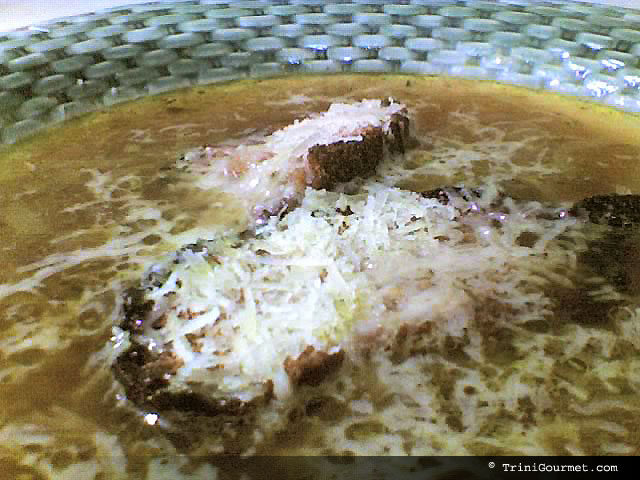 I was unable to handle solid food the other night and instead of Jamaican Cornmeal Porridge, this time around I was in the mood for French Onion Soup. I usually make mine using a recipe from Cooking with Three Ingredients: Flavorful Food, Easy as 1, 2, 3
, however since I am still going through my copy of the Good Home Cookbook I thought I would use the recipe in there this time around.
As I've mentioned before The Good Home Cookbook: More Than 1000 Classic American Recipes
is quickly becoming my stand-by cookbook. And the more I go through it and experiment the deeper my love grows (you can look forward to a full review soon) 🙂
The most labour intensive part of this recipe is the browning of the onions which takes almost an hour. The results are well worth it though. The onions become melt in your mouth, and decadently sweet and flavourful 🙂
I cut thin slices of my Brother's Bread to top the broth and grated concrete-old Cheddar cheese on top of it all 🙂 Yum Yum Yum 😀
French Onion Soup
serves 6
Recipe by: The Good Home Cookbook: More Than 1000 Classic American Recipes
Description:
Onion soups were enjoyed by ancient Greeks and Romans; they can also be found in the earliest American cookbooks. French Onion soup (with the characteristic bread and cheese topping) is highly reminiscent of medieval soups. It enjoyed a resurgence of popularity in the 1960's, when famed chef Julia Child introduced French home cooking to a wide American TV audience.
Ingredients:
3 tablespoons butter
2 tablespoons oil
5 medium onions, thinly sliced
1/2 cup dry sherry or cognac
8 cups vegetable broth
1/2 tsp dried thyme
salt and pepper
12 slices baguette, cut 1/4 inch thick
1 1/4 cups shredded gruyere or swiss cheese
Method:
1. Melt the butter with the oil in a large soup pot or saucepan over medium heat
2. Add the onions and saute, stirring frequently, until they began to brown, about 15 minutes.
3. Reduce the heat to medium-low and continue to saute, still stiring frequently until the onions are a rich brown, about 30 minutes
4. Add the sherry, increase the heat to high, and cook until most of the liquid evaporates 4 to 5 minutes
5. Stir in the broth, bring to a boil, and reduce the heat.
6. Add the thyme, season to taste with salt and pepper, and simmer partially covered for 30 minutes
7. Meanwhile, preheat the oven to 350F
8. Arrange the bread slices in a single layer on a baking sheet and toast in the oven until dry and lightly colored, 10 to 15 minutes
9. Remove the bread from the oven and increase the oven temperature to 450F
10. Place 6 ovenproof soup bowls or crocks on a baking sheet
11. Ladle the hot soup into the bowls.
12. Top each bowl with 2 slices of bread and top each slice with about 3 tablespoons shredded cheese
13. Place the baking sheet with the bowls in the oven and bake for 4 to 6 minutes, until the cheese is melted and bubbling.
---