Sarina's Cranberry Almond Slaw (recipe)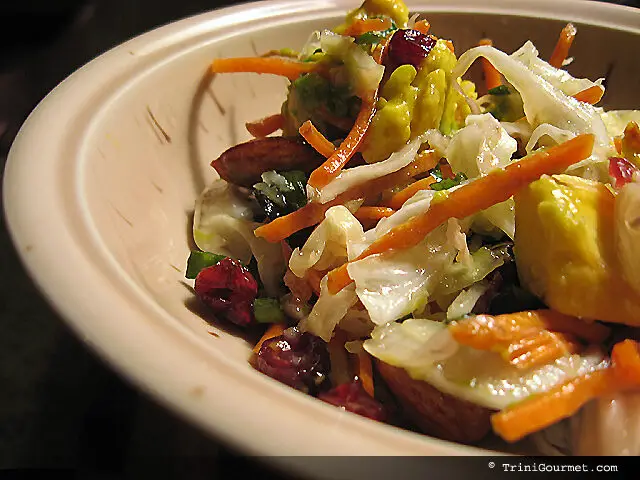 Salads in Trinidad are traditionally a disheartening affair that leaves you wondering why the cook/establishment even bothered. Two wilted lettuce leaves, a force-ripe watery slice of tomato, and some slivers of cucumber served either unadorned, or swimming in some vague mystery oil with specks of pepper flecked throughout. All that's missing is a headstone for your plate. Most people down it ASAP so that they can focus on the 'real' part of their plate, or they simple leave it behind. For this reason, I don't take it personally when guests express a sound/look of disappointment, when I announce that the 'salad course' is about to begin. It makes the moment even sweeter when I see their eyes open wide as they see (and taste) whatever my latest combination is.
I have a rather loose approach to salads, I'm more concerned with the balance of my favourite elements. I like to combine colours, include sweet and sour elements, throw in some crunch, and I try to keep my dressings sparing and simple. When the salad is shimmering and bursting with all these dimensions, it would a travesty to drown it in glop 🙂 Some good olive oil, freshly cracked pepper (try those multicolored assortments for more punch), sea salt, and a splash of lime juice (or cider vinegar) are my favourite accompaniments. It's meant a lot to me that even my own mother is playing around with this simple formula now and branching out of her own 'box'. I'm a firm believer that vegetables don't have to be dull, and that it really doesn't take much more than some imagination to incorporate them into our daily lives. This salad is one of my faves and one that I get repeat requests for.
If you are a lettuce and tomato 'salad' maker (or know someone who is), now is the time to hit 'Print' and Share 😉 Sometimes it -is- OK to throw out the old time ways 😉
Cranberry Almond Slaw
INGREDIENTS:
1/4 of a green cabbage, shredded
1 cup cilantro (or chadon beni), roughly chopped
1 large carrot, shredded or grated
1/4 cup almonds
1/3 cup dried cranberries (easily replaced with raisins or sweet corn kernels – this is flexible!)
2 T. red onion, minced
1 large avocado, cut into bite-sized pieces
DRESSING:
Juice of 1 lime
2 T. olive oil
2 T. agave nectar (or honey)
Sea salt
Freshly cracked pepper
METHOD:
1. Prepare vegetables
2. Combine and toss.
3. You can now combine the dressing ingredients and pour them over everything. I myself prefer to drizzle the ingredients separately as it creates an exciting variety of flavours with each bite
How easy was that?!! 🙂
This recipe is an exclusive TriniGourmet original. Please do not share it or post it to your site without crediting TriniGourmet.com. A link back to our site is not necessary but always appreciated 🙂
---