Ensalada Chilena (recipe)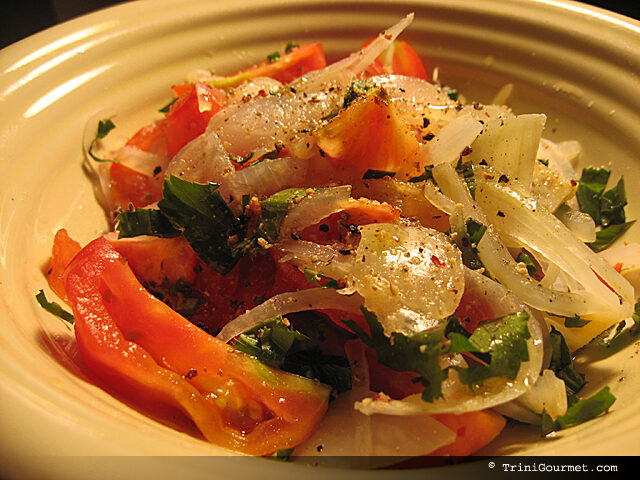 Earlier this year when Trinidad hosted the Summit of the Americas, I came up with the idea to try to cook my way through the recipes of the attending nations. That never quite materialized in the timely manner that I had envisioned. This recipe was one of those.
This simple tomato and onion salad is a customary accompaniment to meals in Chile. Its name echoes not only its popularity in that country, but also the fact that its main colors (red and white), mirror the colors of the Chilean flag.
Although the ingredients and preparations are blissfully elementary, the flavour profile is surprisingly complex, and for me and those who ate it, quite unexpected! One of the joys I had with my 'Summit of the America's food challenge, was realizing how many ways ingredients we take for granted can be given new life when approached from a different cultural lens.
Although most recipes for the salad use raw onions, a quick pre-boiling of the onions in salted water (be generous with the salt) as in the below version helps to take the bitterness out of less sweet varieties. Feel free to omit this step though if you are using a mild sweet onion, or if it's just your preference 🙂 Because the ingredients are so few, it is even more important that you pick the freshest, most flavourful varieties of each component as possible.
Ensalada Chilena
Source: About.com

INGREDIENTS:
4 ripe tomatoes
1 medium onion sliced julienne style
cilantro
salt to taste
oil, preferably olive
METHOD:
1. Soak the onion in salted boiling water.
2. This softens and removes some of the sharpness from the onion.
3. Wash, peel and slice the tomatoes.
4. Finely chop the cilantro.
5. Drain and rinse the onion, squeezing out all the water.
6. Add to the tomatoes and cilantro and dress with oil and salt to taste.
---