Fried Eggplant (recipe)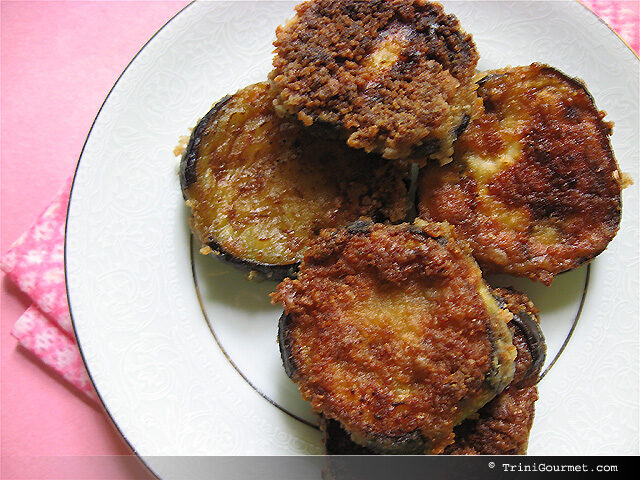 You know one of the unexpected discoveries of having a food blog is realizing how much our parents keep from us about -their- culinary pasts. Before I started TriniGourmet I thought it was reasonable to assume that the foods my parents made were accurate reflections of their respective heritages (Trinidad and Jamaica respectively), and as such included faves from their own childhoods. Not so. It has happened on more than one occasion that a dish I have made here (often for the first time) unlocks a flood gates of "MMMM, I used to eat this all the time as a child". WHAT?! So how come you never made it for me then? *shrug* "Didn't seem important" or "Youse forget these things" are the most common variant of reply 🙁 In that respect being a Caribbean food blogger seems even more important when it comes to documenting and preserving these culinary gems in as 'authentic' a format as possible. It really boggles my mind. If many of these recipes have fallen to the wayside in a 100% Caribbean home I can only imagine what is going on in the Diaspora! This recipe for fried eggplant was another of those 'culinary flashbacks'. My father thanked me for making them and told me that yes, again, he ate this often as a boy. Well I never did as no ever made it for me :crying:
Slivers of seasoned eggplant (or melongene as it is more commonly called here in Trinidad) are floured and breaded before being pan fried. The results are a light flavourful crust with a warm molten center. If you are not traditionally a fan of eggplants, this may be just the thing to turn you into a convert! 🙂
Fried Eggplant
From: Caribbean Cookbook
INGREDIENTS:
1 lb eggplant
salt and pepper to taste
flour and breadcrumbs
oil for frying
DIRECTIONS:
1. Peel, wash and cut egplant in 1/2 in thick slices
2. Cover slices thoroughly in a mixture of salt, black pepper, flour and breadcrumbs
3. Let stand for about 10 minutes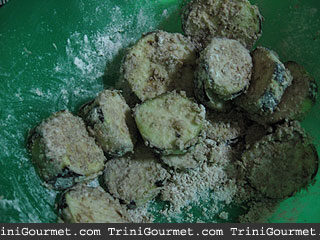 4. Shake off excess flour
5. Fry in hot fat til golden brown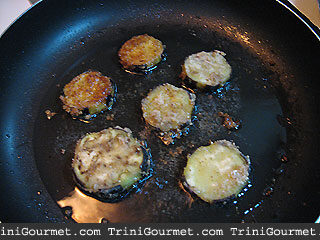 For this and other Caribbean recipes visit the Caribbean Cooking section of Veni Mangé – The Trinigourmet Amazon Bookstore!
This post was originally published August 28, 2007. It has been updated once since then.
---