Looking for Lentil Soup?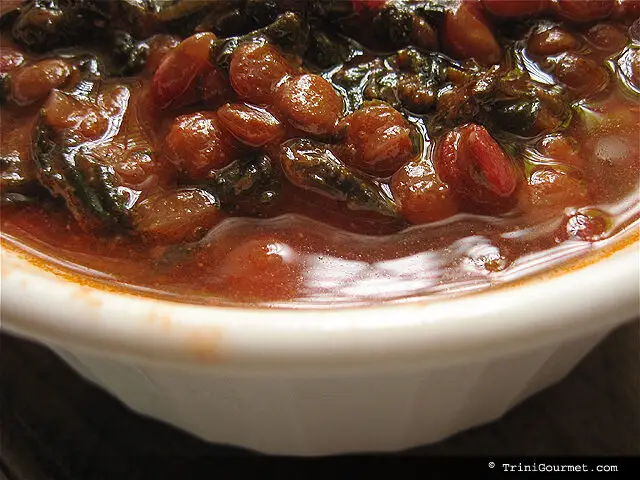 "Best Ever Lentil Soup" (link to recipe, below)
On a semi-regular basis I like to check what keywords are driving people to this site. Without fail "lentil soup" in one form or another is on the list. This surprises me as I often think that I am the only person who loves these humble brown beans (they certainly don't elicit much response when I mention them to others 🙂 ). If you are one such search engine browser feel free to check out any of the 3 most popular lentil posts on this site. And, if you are looking for a traditional Trinidadian lentil soup, you know the one that is bursting with chunks of sweet potato and fluffy dumplings, scroll to the end for details on my ebook "Glam by Request: 30+ Easy Caribbean Recipes"! 🙂
1. Best Ever Lentil Soup (recipe)
This recipe is redolent with the tastes of smells of what I associate with quintessential French cuisine. As the aroma of bay leaves and herbs meld with the tastes of rich red wine, tangy Dijon, and creamy spinach you are left with a soup that is robust, earthy and wholly comforting. Combine with a rustic slice of bread and a simple green salad and you have a perfect no-fuss, no-mess lunch or dinner.

2. Sarina's Coconut Rice with Lentils and Cashews (recipe)

This recipe is a staple side dish of mine that I've adapted and modified at length through the years. Both colorful and flavourful I think it creates a texturally interesting background for spicy curries and other East Indian flavoured entrees.

3. Sprouting Lentils
Fresh sprouts. There is nothing like them. They are crunchier, sweeter, more vibrant in flavour than anything you can buy on a supermarket shelf.
For more lentil recipes than you can shake a stick at (great expression isn't that?!)
1. Easy Beans: Fast and Delicious Bean, Pea, and Lentil Recipes, Second Edition

The new edition of the popular bean cookbook, Easy Beans, has been fully updated and revised. There are over 20 new recipes and nutritional analysis for the over 100 fast, healthy and tasty bean, pea and lentil recipes.

2. More Easy Beans: Quick and tasty bean, pea and lentil recipes

More Easy Beans is a cookbook with great recipes for beans, peas and lentils. Mouth watering, inexpensive, low fat recipes for appetizers, soups, salads and main dishes are all quick and easy to prepare.
For these and other General Cookbooks visit Veni Mangé – Trinigourmet's handpicked Amazon bookstore!
OUT NOW! GLAM BY REQUEST: 30+ Easy Caribbean Recipes – $6.95 USD

A compilation of popular reader requests, the majority of the 30+ recipes in "Glam By Request" have never appeared on TriniGourmet.com.

These recipes include:

Aloo Puri (Potato Roti)
Beef Pies
Butter Loaf
Carrot Punch
Coconut Sweetbread
Fizzy Mauby
Floats
Honey Roasted Nuts
Jamaican Escovitch Fish
Lentil Soup
Lime Pepper Jelly
Trinidad Parsad
Trinidad 'Stew Fish
'Tun Cornmeal
Vegan Punch de Creme
And much much more!

Beautifully shot, with simple step by step instructions and tips, these recipes have been tested exhaustively to ensure that you get the best possible results time after time. Each chapter also opens with stunning tablescape vignettes, designed to inspire your next dinner party!

Visit GlamByRequest.com to learn more or click below to order!

ORDER TODAY FOR ONLY $6.95 USD!
[EJUNKIE_ADD2CART Item="1139130″][EJUNKIE_VIEWCART]
This post was originally published April 13, 2010. It has been updated twice since then.
---