Best Ever Lentil Soup (recipe)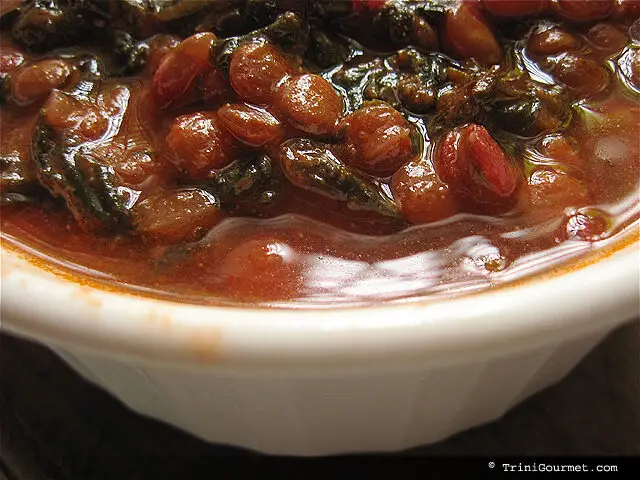 Don't you just love when a recipe has superlatives built right into the title? 😆 This recipe for 'Best Ever Lentil Soup' was one that came bundled with my copy of MacGourmet and comes from the beautiful vegan blog Vegalicious. In the past the only lentil soups that I've tried have had either a West Indian flair, or an East Indian slant, so the first few sips of this version came as quite a shock to my tastebuds. Instead of the sweetness of plaintains, or the aromatics of cumin, this recipe is redolent with the tastes of smells of what I associate with quintessential French cuisine. As the aroma of bay leaves and herbs meld with the tastes of rich red wine, tangy Dijon, and creamy spinach you are left with a soup that is robust, earthy and wholly comforting. Combine with a rustic slice of bread and a simple green salad and you have a perfect no-fuss, no-mess lunch or dinner.
Best Ever Lentil Soup
Source: Vegalicious.org

INGREDIENTS:
3 tbs. olive oil
1 onion, chopped
2 stalks celery, chopped
3 cloves garlic, minced
2 bay leaves
1 can tomato paste
1 cup red wine
1 cup lentils (brown or green Le Puy), sorted and rinsed
3 cups water
2 vegetable bouillon cubes
2 tbs. thyme or oregano
2 tbs. Dijon mustard
pepper to taste
1 cup leaf spinach (frozen or fresh), slightly chopped
METHOD:
1. Using a large soup pot, heat the oil and add the onions and celery.
2. Saute until they are golden.
3. Add bay leaves and garlic.
4. After two minutes add the tomato paste and wine.
5. Add the lentils and enough broth to cover with a couple inches of liquid.
6. Simmer uncovered, stirring from time to time to keep the lentils from sticking on the bottom.
7. Add water, wine or vegetable bouillon as needed.
8. The soup should cook for about 40 minutes or until the lentils are tender.
9. Add a couple tablespoons of thyme or oregano, and season to taste with pepper.
10. Add the spinach and cook gently until the spinach is cooked.
11. At the last minute stir in 2 tablespoons of Dijon mustard and serve immediately.
---