Trinigourmet's Amazon Hotlist for July 2010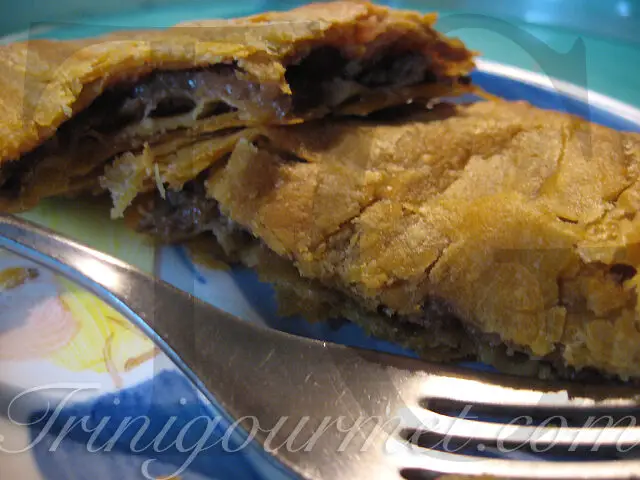 A Jamaican Patty from Rituals Trinidad is a weekly 'ritual' of my own 🙂
It's the start of another month, and with that comes the posting of my monthly roundup of those items that you all have been clicking (and purchasing) this month. Ramin Ganeshram's ode to local cuisine "Sweet Hands" took a bit of a hit this month, falling out of the top spot. This may partly be due to it going (temporarily) out of print. However, I am happy to say that it is now in a new run and super-affordable once again 🙂
At #1 this time around is Dorie Greenspan's "Baking". I love this cookbook, a lot. Dotted with personal anecdotes and glorious full-page photographs, it also gives you a very sound understanding of baking and pastry techniques, and simplifies the process for even the novice through extremely detailed instructions.
Now on to the countdown!
*note: Hover your mouse over each title for more details!
1. Baking: From My Home to Yours

Description: Greenspan, coauthor of books with culinary icons such as Julia Child (Baking with Julia), Daniel Boulud and Pierre Hermé, shares her favorite recipes in this tantalizing collection, which covers all the baking bases, from muffins, cookies and brownies to spoon desserts, pies and cobblers. Instructions are clear and easy to follow, and Greenspan uses everyday ingredients readily available to the home chef.

For this and other books on Baking & Desserts check out the Bread, Baking & Desserts section of my Veni Mangé Amazon Store!

2. The Multi-Cultural Cuisine of Trinidad & Tobago & the Caribbean

Description: This book features the multi-cultural Cuisine of Trinidad & Tobago and the Caribbean on a whole. It has received glowing praises and is regarded amongst many as a premier guide to Caribbean cooking. If you'd like to try your hand at the delicious Caribbean dishes that you have tasted, this is definitely the cookbook to buy.

For this and other Caribbean Cookbooks check out the Caribbean section of my Veni Mangé Amazon Store!

3. The Sephardic Table: The Vibrant Cooking of the Mediterranean Jews

Description: A collection of 175 recipes from Morocco, Libya, Algeria, and Tunisia in North Africa; from the Ottoman communities of Turkey, Rhodes, and Greece; from Syria, Lebanon, Egypt, Iraq, and Iran in the Middle East.

For this and other kosher cookbooks check out the Jewish Cuisine section of my Veni Mangé Amazon Store!

4. Corelle Hearthstone Stoneware Square 16-Piece Dinnerware Set, Service for 4
5. Sweet Hands: Island Cooking from Trinidad and Tobago
6. Julia Child – The French Chef
7. Cooking with Three Ingredients: Flavorful Food, Easy as 1, 2, 3
8. Caribbean Cookbook: A Lifetime of Recipes – Rita Springer
9. Jewish Cooking in America: Expanded Edition
10. O, The Oprah Magazine (1-year)
---