Meatless Cassava Oiled-Down (recipe)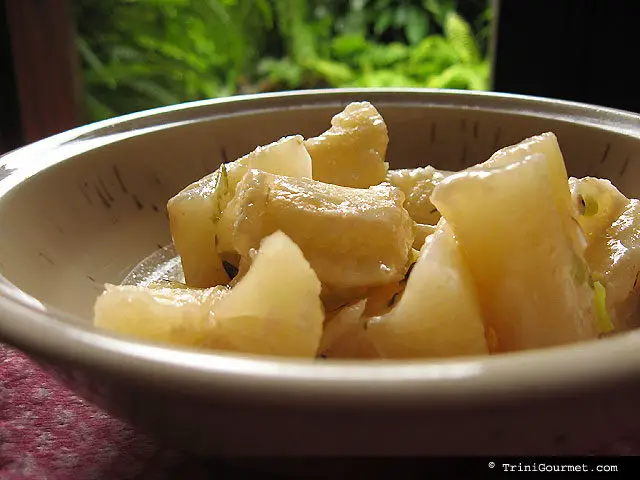 Oiled down (also more commonly referred to as 'oildown') is one of those truly transcendent West Indian delights. As I wrote, in one of this blog's first entries:
"Oil Down, is a colloquial Caribbean name for any dish of starchy vegetables cooked in coconut milk until all the milk is absorbed and the ingredients have turned into a creamy mush (or have 'oiled down'). The two most popular oil downs are breadfruit oil down and cassava oil down. Oil down is really something to experience first-hand, I am not sure that I can convey the creamy, buttery, saltiness that envelops one with each bite. Just trust me, it's something you want to try for yourself"
The local government here has been trying to encourage cassava production and for this I am glad. Mostly because it means that it can now be found in the frozen section of my neighbourhood supermarket already peeled and cored. Now even though I believe in buying from local farmers markets when it comes to ground provisions any method that I can see what I am getting before I buy it I am all for. Too many times we have bought ground provisions in the market and when you cut it open there are worms or rotten spots that render the useable part of one's purchase much less than budgeted for (and as a result more expensive in sum). So for the frozen cassava I am eternally grateful.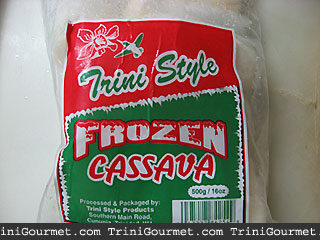 From Privilege: Cooking in the Caribbean

Cassava (Manioc, yuca, tapioca plant, mandioca, mogo, farine) originated in tropical Brazil. Long irregularly-shaped root – dark brown skin, white starchy flesh. Bitter variety poisonous until cooked. Also used for making laundry starch. Can be made into flour.
Once the cassava is defrosted and chopped (and a few of the inner fibrous veins that still remained removed) this recipe couldn't be any simpler. And the final result is to die for. It has all the aroma and texture that characterizes oil down. Fragrant theme, buttery creamed coconut sauce, and the cassava? It is rendered melt in your mouth succulent and tender, and absorbs all the aroma and flavour of the coconut sauce.
Meatless Cassava Oiled-Down
From: Angostura.com
Makes 6 servings
INGREDIENTS:
3 lbs cassava
2 tbsp vegetable oil
1 cup chopped onion
4 cloves garlic, chopped
½ hot pepper, seeded and minced, optional
2 large pimento peppers, seeded and chopped
3/4 cup fresh chive, chopped
2 tbsp fresh thyme, chopped
3 cups coconut milk
2 tsp Angostura aromatic bitters
1 hot pepper, left whole, optional
15m l tbsp) (1 cooking margarine
3 teaspoons salt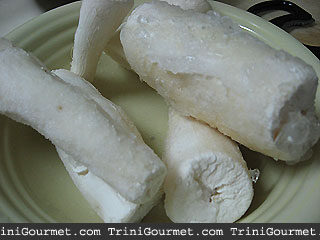 DIRECTIONS:
1. Peel and cut cassava into 2″ lengths, slice the pieces down the centre and remove the coarse inner vein.
2. In a large heavy skillet heat oil, add onions, garlic, pepper, pimentos, chive and thyme.
3. Sauté until fragrant, about 4 minutes.
4. Add the coconut milk and Angostura® aromatic bitters and bring mixture to a boil, lower heat and add cassava.
5. Drop in whole hot pepper at this point.
6. Add cooking margarine and salt and stir.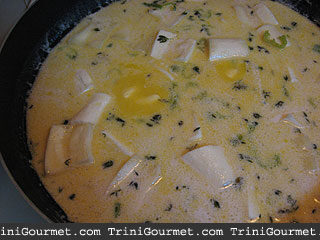 7. Cover mixture and simmer for about 25 to 30 minutes until all the coconut milk has been absorbed and the cassava is cooked and tender. There should be only a small amount of coconut oil in the pan.
8. Remove whole hot pepper before serving.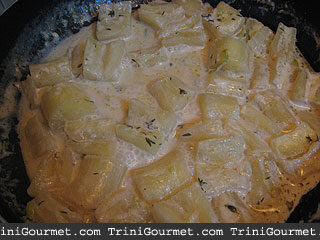 For more West Indian recipes check out the Caribbean Cookbook section of Veni Mangé – the Trinigourmet Amazon bookstore!
This post was originally published on September 13, 2007. It has been updated once since then.
---