Trinidad Pastelles (recipe) now with Delicious Vegan Option!
One of Trinidad's seasonal delights, pastelles are a steamed cornmeal pie wrapped in banana leaves and filled with stewed meat, olives, and raisins. I've been told that they are very similar to Latin American tamales, and indeed Venezualan foodblogger Tomasnomas has a link to the exact same dish, referring to it on his blog as Tamal Navideño. In recent years I have also seen Venezuelan migrants refer to the Trinidad Pastelle as a hallaca.  It makes me so happy that this dish is yet another cultural tie that our geographic neighbour shares with us, despite our language differences 🙂
On this page you will find two approaches towards pastelles. Firstly there is the traditional meat-based recipe for pastelles which comes from Wendy Rahamut,  author of Modern Caribbean Cuisine
and Caribbean Flavors
, the second is decidedly non-traditional yet and was developed in response to the many requests I have gotten through the years for a vegetarian alternative.
Up until now most of the local attempts at a meat-free pastelle have used soya mince or lentils as fillings and, at the risk of causing offense, I have usually found them rather underwhelming. We're a creative people, surely we could come up with something exciting, something that would make meat-eaters want seconds for themselves, something a little more Caribbean Glam! Yet I myself, wasn't sure what direction to go in.
It wasn't until I received a copy of Taymer Mason's "Caribbean Vegan
" that I realized what the missing link would be. In her book, Taymer takes on that most meat-centric of traditional Caribbean dishes, black pudding. Recreating something that most people would think of as impossible to do with nothing but plant based ingredients. Her secret weapon? Sweet potato! Shocked? So was I. When combined with browning, the potato (grated finely) takes on the color and texture of high quality ground meat. The bitterness of the browning turns the potato into an ingredient more savory than sweet, and heightens the silky feel. I knew that this approach would be the one to create a vegan pastelle filling that would both amaze and delight. Because the base of this recipe is naturally milder in profile it needs to be more strongly seasoned. Feel free to adjust the balance and sweet and sour to suit your own preferences, in my original testings I omitted capers and used more raisins than olives. Again, shift the ratios to suit your own tastes. To date my taste testers have all given this recipe two hearty thumbs up and none were able to identify the 'secret ingredient'. It sure was fun to see them try though 🙂 I hope you enjoy it as well!
Note: I often get asked about fish pastelles. For fish pastelles I prefer working with steamed and shredded mild white fish. Tuna is a common choice but I find that it often imparts a dry, harsh quality to the pastelle. Taking the extra time to steam and shred white fish lends to a much moister and delicately flavoured result. It can then be combined with the remaining ingredients of the meat-based filling.

Also, for those with problems with the cornmeal coming together. It's very important to use hot water otherwise the cornmeal will not swell adequately. The original recipe called for lukewarm, but I have modified it to reflect my own practice. 😉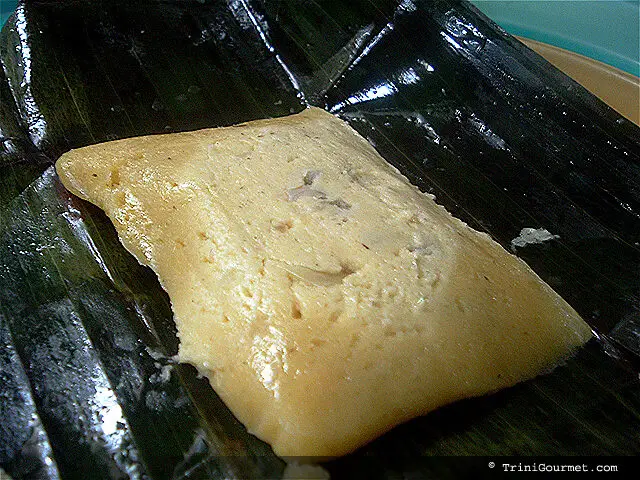 Trinidadian Beef/Chicken Pastelles
To prepare fig leaves, steam them in a large pot of boiling water for ten minutes until they become pliable and soft. They may also be softened by waving them over an open flame. You can also use sheets of tin foil.
Cornmeal dough and pastelle assembly
Ingredients
2 cups yellow cornmeal
3 cups hot water
1/2 cup butter
1 1/4 tsp salt
1. In a food processor or by hand, combine cornmeal with butter and salt.
2. Add water and process to make a soft, pliable dough.
3. Divide the dough into 12 balls. Cover with a damp cloth to prevent drying.
4. Place one piece of dough on a greased fig leaf and press into an eight-inch square.
5. Spoon two tablespoons of filling onto the middle of the dough and fold and seal pastelles.
6. Wrap in fig leaf and tie into a neat package. (you can also use foil)
7. Steam pastelles for 45 minutes until cooked.

Makes 12-15 pastelles.
Chicken and Beef pastelle filling
1 lb chopped beef and chicken, chicken only, or beef only
2 onions, finely chopped
2 tbs olive oil
1 cup chopped chives
1/4 cup chopped fresh thyme
2 pimento peppers, chopped
4 cloves garlic, chopped
1 tbs chopped celery
1/2 Congo pepper, seeded and chopped (optional)
1 tsp freshly ground black pepper
1 tsp salt
1/4 cup tomato sauce
4 tbs capers
3 tbs stuffed olives, sliced
1/4 cup raisins
2 tbs fresh thyme
1. Combine beef with chicken. Add salt and black pepper.
2. Add a quarter-cup chopped chives and one tablespoon thyme.
3. In a large saute pan heat olive oil.
4. Add onion and garlic. Saute until fragrant.
5. Add pimento peppers, remaining chive, pepper and thyme.
6. Add meat and cook until brown.
7. Add tomato sauce, cover and simmer for about 15 minutes.
8. Add raisins, capers and olives and stir to combine.
9. Cook for about five minutes more. Taste and adjust seasoning.
10. Add two tablespoons fresh thyme and stir to combine.
11. Remove from heat and cool.
12. Prepare dough as in recipe above and fill and fold pastelles as indicated.
Makes 12-15 pastelles.

Sarina's Vegan Sweet Potato Pastelles
Ingredients
2½ cups finely grated sweet potato
2 medium-large onions, minced
1 cup chopped chives
2 pimento peppers, minced
2 cloves garlic, minced
1 tablespoon dried thyme
1 tsp freshly ground black pepper
1 tsp salt
1 tablespoon olive oil
3 tablespoons chopped olives
¼ cup raisins
¼ cup water
3 tablespoons margarine
1 tablespoon browning
¼ cup brown sugar
1 tablespoon tomato paste
Instructions
Combine first 8 ingredients (sweet potato through salt) in large mixing bowl.
Heat olive oil over medium heat
Add potato mixture, sauté for 5 minutes.
Turn off heat
Add water, margarine, browning, brown sugar and tomato paste.
Stir to combine.
Add raisins and olives.
Stir to combine.
Taste and adjust seasonings (especially salt and pepper) to suit.
Proceed to fill pastelles as above 🙂
---